World
Lipavský at the UN called for the creation of a tribunal to prosecute Russian aggression World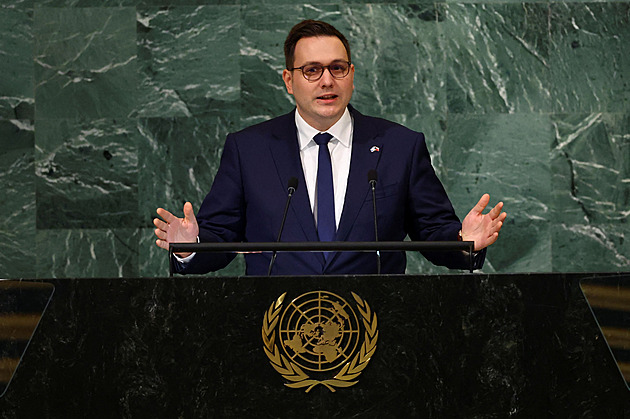 Lipavský, in the beginning of his speech on the topic of "preservation of peace and security in Ukraine", described Russian aggression in Ukraine as "colonial, unprovoked and illegal" and noted that the Czechia received the largest number of refugees from Ukraine per capita, more than 400,000.
"Russian aggression is probably the most dangerous threat to world peace in the last decade. Today it concerns Ukraine, tomorrow it may concern another country," he said.
"In August 1968, it was Czechoslovakia that was invaded by troops led by Moscow. Suppression of the so-called Prague Spring, violent interference in the peaceful life of another country, turned my country into an occupied colony," added Lipavský, whose speech was the first appearance by the representative of the Czech Republic at the UN Security Council in almost thirty years.
The Czech head of diplomacy also emphasized that Ukraine has rejected enslavement and is bravely fighting for a multilateral world where rules protect peace.
"We are horrified by the atrocities committed by Russian troops in Mariupol, Bucha, Irpini, Izjum and other places. We are also extremely concerned about the reports about the so-called filter camps that Russia operates in Ukraine," he said.
"Hundreds of thousands of Ukrainian civilians were taken to Russia, including children. There are testimonies of sexual abuse and gender-based abuse being used as tools of war," he stated.
The minister noted that these crimes need to be investigated and punished. "More than 40 states, including the Czech Republic, reported the situation in Ukraine to the International Criminal Court (ICC), which began investigating the events in Ukraine in March," he said.
The head of Czech diplomacy also called for the establishment of a special international tribunal to investigate the crime of aggression committed by Russia in Ukraine.
On Wednesday, Lipavský already spoke at a meeting of the UN General Assembly, where he said that Russia is trying to "dismantle the security architecture of the European continent." He called the Russian invasion "unwarranted, unprovoked and illegal." He reminded that the Czechia supports the sovereignty, unity and independence of Ukraine within its internationally recognized borders.