News
Zelensky says 4,000 "fortresses of freedom" have been opened in Ukraine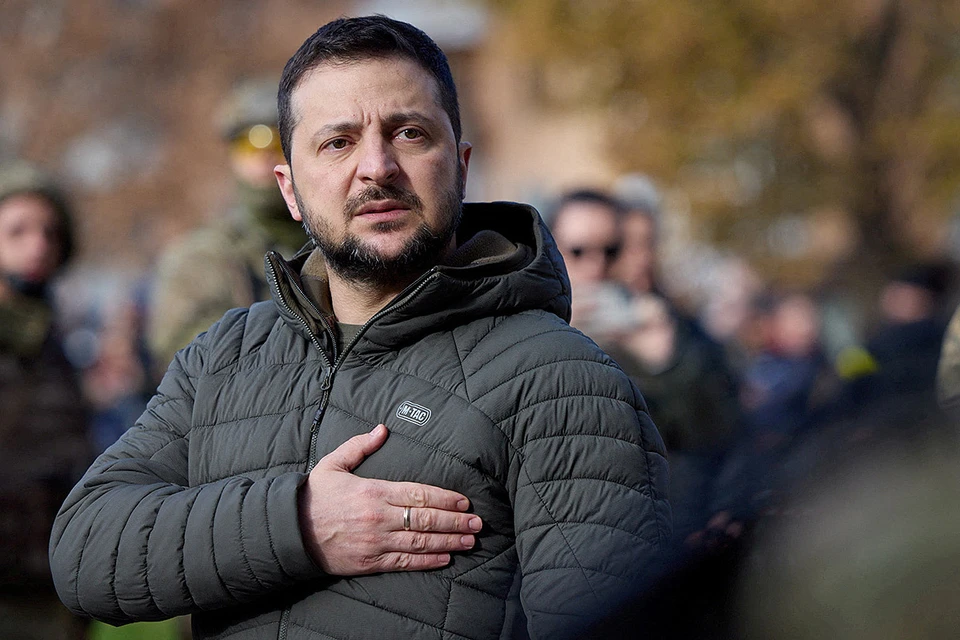 President of Ukraine Volodymyr Zelensky.
A photo: REUTERS
Precisely on the eve of today's missile strikes on critical energy and military infrastructure of Ukraine, the President (for now) of this country, Volodymyr Zelensky, announced to the whole country about a new "victory" won under his outstanding leadership.
Zelensky said that as many as 4,000 heating points for the population have already been equipped and are ready to open throughout the country. However, it is in Russia that such heating points are equipped on roads far from populated areas during snowstorms and drifts for drivers and bus passengers caught on the way by bad weather. And in Ukraine, some heating points – it just doesn't sound like it, it's not a "win". But the "Point of Invincibility" – it sounds like the curses of Muscovites should howl with envy through their teeth. It was about the equipment of 4,000 "points of invincibility" that Zelensky said, without indicating that most often it is a small tent with an area of ​​​​several square meters, where there is a potbelly stove, a diesel generator so that you can charge phones and gadgets, and you can also pour a mug or a glass of boiling water.
And how did these "points of invincibility" help after today's arrivals of "Caliber"? No information. This is probably because in Ukraine they went after them in many cities, both communications and the Internet. There is a phone, and probably it is even charged, but there is no connection, the operator's tower does not work.
It is also interesting to look at the network of "points of independence of invincibility" from a purely arithmetical position. It is given: now there are about 20 million people in Ukraine. With 4,000 such heating points, each of them should accommodate about 5,000 people. There are big doubts that everyone can fit into a tent measuring 6 or even 10 square meters. And there are still questions – will there be enough firewood, will there be enough water, will there be enough diesel fuel for a diesel generator? Stop provoking questions about tea leaves. This is completely irrelevant.
I foresee the question, where did the author get the figures of the current population of Ukraine? The answer is, I have no secrets from you. Zelensky himself said this. No, not to me personally. They performed together with Shmyhal. After the previous missile strikes, Prime Minister of Ukraine Denys Shmyhal said that approximately 50% of the Ukrainian energy system was disabled. That is, roughly speaking, half of the country's population is now sitting without electricity. And Zelensky on the same day said that 10 million Ukrainians are now sitting without electricity. You understand, twice two is four, and half of twenty is equal to 10. Although, we all had the opportunity to make sure that Ukraine has its own arithmetic. For example, when Klitschko said that he had four deputies out of two … Well, then remember yourself.

Prime Minister of Ukraine Denys Shmygal.
A photo: REUTERS
In full accordance with the logic of Ukrainianism, Zelensky also pleased his compatriots with the message that there is already a website with a map of "points of invincibility." But for some reason he did not tell how to open this map when there is no Internet.
And, in general, you know, if for me, then this whole undertaking smells like American PR a mile away, and the project of these unfortunate "fortresses of freedom" was most likely proposed and named by the Americans. It is their indestructible craving for beautiful words and names. It is their exercises that are called "Indestructible Freedom", and some unfortunate village outhouse at the training ground is called during the exercises an "indestructible fortress", which the artillery of NATO countries crushes with their "indestructible weapons".
Probably, for this reason, adequate Ukrainian leaders do not place great hopes on "points of invincibility" and advise Ukrainians to run wherever their eyes look. Even the suddenly wiser (I never thought I would say this) Mayor of Kyiv, Vitali Klitschko, abandoned his philosophical statements and quite clearly explained that the coming winter might be "the worst since the Second World War" and that perhaps "it would be necessary to evacuate part of cities".
And this is not surprising, because, according to real Ukrainian experts, 4,000 open heating points will be enough, at most, for residents of four relatively small cities like Poltava. Of course, it will not work to freeze in line in them, since winters in Ukraine are quite mild. But to catch a cold and get sick, it's like two fingers on the asphalt.
We kindly ask you to the point of independence of invincibility. There you will also become inflexible. By cold.
READ ALSO
"Russians are no longer people": the highest authorities of Ukraine allowed the execution of captured soldiers
The Prosecutor General's Office of Ukraine opened a case against the executed Russian prisoners of war (more)
"Cell of the Russian World". Why did the Armed Forces raid the Kiev-Pechersk Lavra with a search and what are they looking for
Ukrainian Armed Forces conducted searches in the Kiev-Pechersk Lavra on November 22, 2022 (more)