News
you can't win stop the war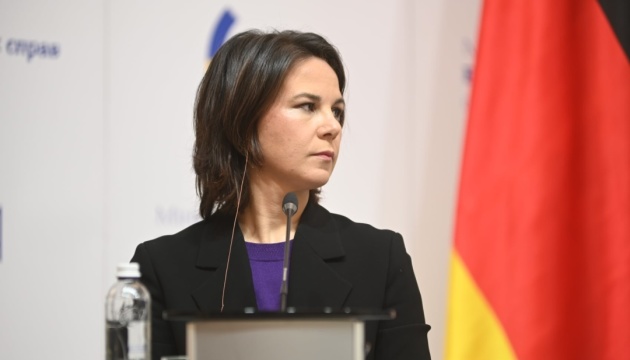 German Foreign Minister Annalena Burbock appealed to the Russian Federation to stop the war, because the Russian Federation will not win this war.
She did this at a ministerial-level meeting of the UN Security Council on Thursday, an Ukrinform correspondent reports.
"I call on Russia: this is a war you will not win, so end the war. Stop the suffering of Ukrainians, stop sending your own people to their deaths; cancel your shameful "referendums" as illegal as the war they are supposed to legitimize. Stop the grain war, which causes hunger on the planet… And stop paralyzing the work of the UN Security Council," said the head of German diplomacy.
She noted that President Putin's recent statements clearly showed that Russia is not conducting any "special military operation", Russia is waging a full-scale aggressive war, with war crimes, with torture, rape, even children.
Burbock noted that perhaps for many in the world, the war in Ukraine could seem like a distant regional war. But this war for more than 200 days now affects everyone, it increases impoverishment, hunger, uncertainty around the world.
The Minister drew attention to the fact that Russian Minister Sergey Lavrov was in the hall just long enough to deliver his long speech, without mentioning such concepts as "hunger", "poverty", etc. in it at all.
"All this war brings is pain, death and destruction," the minister said.
She urged the audience to ask themselves: "If we allow one of the permanent members of the UN Security Council to unleash such a war of conquest against a neighbor, what will it mean for the United Nations?"
Burbock referred to the provision of the UN Charter and stressed that nations should not be inactive if this permanent member abuses its special right – the veto. The UN is not Russia, the UN is all states, big and small, stressed the head of the German Foreign Ministry.
As Ukrinform reported, high-level meetings of the 77th UN General Assembly began this week in New York with the participation of delegations of member countries headed by heads of state and government. On Thursday, the UN headquarters hosted a meeting of the Security Council to fight impunity in connection with the Russian war in Ukraine.