News
Who turns Armenia away from Russia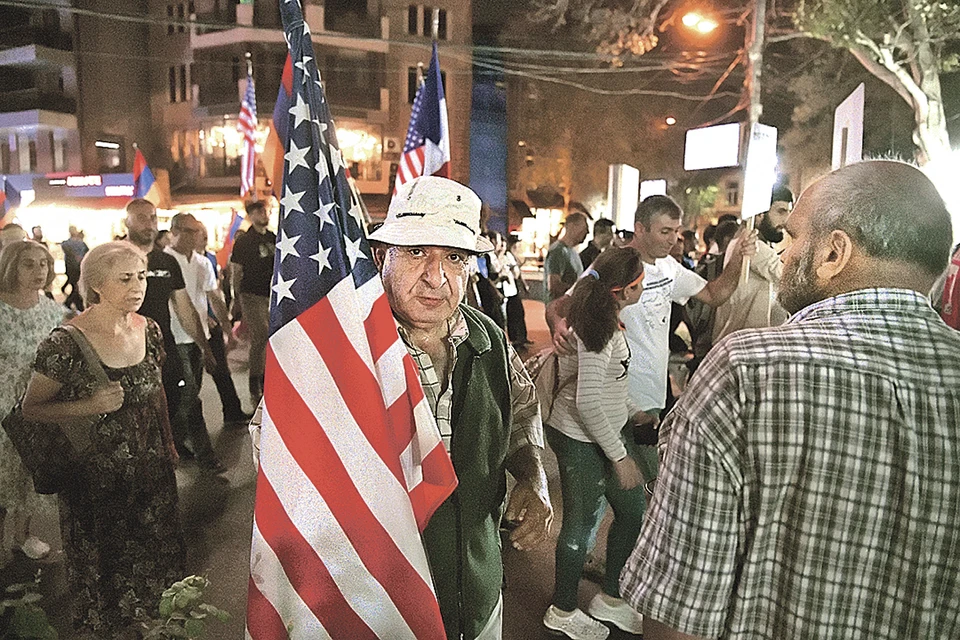 An anti-Russian rally in Yerevan on Freedom Square near the opera house: the circle of these Russophobes is narrow. Bye…
A photo: Dina KARPITSKAYA
Toggle switch switched
Hellish vinaigrette is now in Armenia. Military conflict on the border with Azerbaijan, American visitors in the form of saviors, cries and opposition rallies: "Armenia without the CSTO!" And all this against the backdrop of thousands of Russians rushing here, running away from mobilization.
I went to a beauty salon in Yerevan. A sort of women's club.
– Everything is fine, Armenia is about to become part of the United States, – a girl with extended hair and pumped lips tells her friend on the phone. – So the war with Azerbaijan will end soon. They are not fools to attack the United States, think for yourself.
All other visitors chuckle at the infusoria in shoes. Of course, there is no question of any entry of Armenia into the United States, but the Americans are already walking around Yerevan with might and main, including high-ranking ones, expressing all kinds of understanding and support for the long-suffering Armenian people.
And it's amazing how instantly the public opinion toggle switch switched. Literally six months ago, at the beginning of March 2022, I was in Armenia, everyone here, no matter who you ask, was for Russia, for Putin and the special operation. They welcomed the first wave of Russian relocators with warmth, but argued with them to the point of hoarseness that, they say, your president is doing everything right.
Moreover, Ukraine distinguished itself – in the Karabakh conflict of 2020, it openly supported Azerbaijan. And not only in word, as they are sure here, but also in deed. The entire Armenian press was full of headlines that the independent supplied banned phosphorus bombs. And no matter how much after Zelensky denied it, no one believed him. Neighboring Georgia, I saw with my own eyes, was hung up and down with Ukrainian flags. Here, in Yerevan, they drove around the city with Russian flags and the letter Z.

Collection points for aid to Armenian soldiers appeared in many places in Yerevan. Some are original.
A photo: Dina KARPITSKAYA
Is Pashinyan pro-Russian or pro-American?
In Armenia, where there are only three million inhabitants, everyone is his own political scientist. Each! The country has not yet recovered from the war two years ago, and here again and again. Discussions about what is happening are actively going on at all levels. And now they do not understand who is friend, who is enemy, and who is so …
Armenian Prime Minister Nikol Pashinyan is an ambiguous person for his people. Then they love him incredibly (he came to power on the crest of the revolution, it was called velvet). And everyone hoped for the changes that he generously promised. Then they hate him just as incredibly, believing that he deliberately did everything so that Armenia would lose the war in Karabakh. And the whole country perceives the results of the 44-day clash in this way.
They called him pro-American. They accused him of hiding throughout the war in the embassy of this country and counting the dollars transferred to him for Karabakh. That he is cutting ties with Russia at the instigation of his foreign curators.
Now, after the latest events, on the contrary, he is accused of exactly the opposite, that he is pro-Putin and agreed with Russia and President Aliyev on the surrender of Armenian lands. Raz does not immediately terminate the agreement with the CSTO and does not accept US assistance. He doesn't want to build a relationship with them. Although, it would seem, it is much closer than it is now, when the constant visits of the Armenian leadership to New York and the adoption in Yerevan of the doves of peace in the person of Nancy Pelosi are taking place.
And the Americans keep pouring oil on the inflamed and anxious consciousness of the Armenian people, telling them exactly what they have long dreamed of hearing. And Azerbaijan is called the occupiers, and government telegrams are sent signed by Biden, in which the Karabakh people are even mentioned. And they call on Azerbaijan to immediately withdraw its troops.
People don't seem to be able to figure out what's what. But everyone is almost sure that Russia has abandoned it. She did not intervene, did not stop the escalation of the conflict, did not send the military here. Everyone in Armenia is discussing photos from the SCO summit, where the heads of state – Lukashenko, Putin, Xi Jinping – are at the same table … and most importantly – the personal enemy of every Armenian, Aliyev.
– How could he sit at the same table with him? After all, the troops of Azerbaijan are on our land. Not even in Karabakh, but here in Jermuk. We are allies with you like, – I heard everywhere and everywhere.

Our special correspondent Dina Karpitskaya is on the spot watching how Armenia turns into a hellish vinaigrette.
A photo: Dina KARPITSKAYA
Undercarpet and sofa policy
– In my opinion, the Georgians intercept our pro-Russian position in the Transcaucasus. Their government is acting like they are more pro-Russian than we are. Here, it seems, we have taken a completely different course, – argues a politician who grew out of a blogger, Mikael Badalyan.
Mika is one of the few who, as before, firmly stands on their positions that Armenia and Russia are indivisible. For which he is raking both literally and figuratively – the guy spent two months in a local pre-trial detention center and is still under investigation. According to him, it is precisely for his political pro-Russian views.
"Our prime minister was clearly given certain promises to continue developing anti-Russian sentiments," he continues. – And these sentiments have been slowly growing since the very beginning of the special military operation that Russia began to carry out. And as soon as the offensive of the Armed Forces of Ukraine began, here we immediately begin an escalation of the conflict on the border with Azerbaijan. And the conflict happened as if on purpose two days before the start of the SCO summit, where, as a result, our Pashinyan did not fly. But he calmly met Nancy Pelosi here and told us how America would help. Our authorities greeted the American here as if they themselves were ready to lie down instead of the red carpet. He (Pashinyan. – Ed.) Works for the United States and does everything to open a second front for the Russian Federation here. As I wrote in one of my posts, Pashinyan kept trying to gain the loyalty of the bear in order to stab him in the back. And now he's stuck it in.
As for the assistance to the CSTO, Pashinyan says that Russia does not provide assistance, but at the same time, Armenia itself does not introduce martial law, does not declare mobilization. And the pro-government deputies themselves call everything that is happening a local conflict on the border. At the same time, in the international arena, they behave in a completely different way. And they do it solely in order to discredit Russia, add a wave of Russophobic sentiments and, as a result, plan to withdraw from the CSTO.
If Armenia leaves the CSTO and quarrels with Russia, it will be a disaster. We will not have friends here, we will have to be friends with our enemies – Turkey and Azerbaijan, and this is impossible. Their task is to destroy Armenia, and they will do it. And Iran will not understand this, because it will have pro-American forces at its side. And it is much more convenient for the West if the conflict with Iran starts from Armenia. That is, our country will become a field of great war. Whether something will remain from Armenia is a big question. And America will not quarrel with either Turkey or Azerbaijan because of us. Our future is possible only with Russia. I'm already talking about the economy. If they stop selling Russian gas to us at a discounted price, then what will happen to prices … Electricity is also Russian. These Russophobes are screaming about Iran. But if we are under America, then which Iran? We will have to pray to Turkey and Azerbaijan. And if we also leave the Customs Union, where will we put our products? Who needs them here in the region? There is no logistics with anyone. Everyone, our production facilities will be closed. And Russian goods will be replaced again by Turkish ones.
American stars to replace the tricolor
Passions are heating up. The Independence Day of Armenia was marked by a tough conflict between the security forces and the parents of the heroes who died in the last war at the cemetery. People gathered to prevent Pashinyan from attending the mourning events. As a result, they were all hard twisted and screwed. The people did not understand this. At all. In Armenia, it is not customary to offend women. And the mothers of dead heroes can do anything. And here is…
Freedom Square at the Opera House. The most favorite place of all rallies. I take coffee and drink it with a view of the anti-Russian rally. In front of my eyes, the organizers are unfurling American and Ukrainian flags. Banners against the CSTO… There are few people, 10 times less than what I saw at the pro-Russian actions in November 2020, immediately after the signing of that very trilateral peace agreement.

Planes from Yerevan fly back to Moscow empty.
A photo: Dina KARPITSKAYA
The action begins with cheerful Armenian music. The people stand in ranks, obviously they came collectively. They shouted, they acted. Everything is in Armenian, I only caught separate words – Putin, Pashinyan, Ukraine, Belarus.
– What they're saying? – I ask a woman selling flowers right there on the square.
While we were talking, the rally was over. Everyone dispersed quickly, as amicably as they had gathered. While it looks fake. But who knows what will happen next.
Russian relocants – the second wave
In the meantime, everyone is arriving in Yerevan and planes full of our Russians are arriving. Men. The second wave of relocation. Hotels packed. Hostels to capacity. No apartment to be found. Real estate prices, already soaring to the skies in March, jumped again. And not only in Yerevan, in all cities. Our people have already begun to develop small villages.

Russian relocators in Yerevan first master drinking and entertainment establishments. The money hasn't run out yet…
A photo: Dina KARPITSKAYA
Those who are from the first wave that arrived here in March, help their comrades in misfortune in any way they can. The problems are the same – to settle down, to take shape, to find a job, to open a bank account. For the first time in the entire modern history of Armenia, there are queues in the OVIRs. Everyone is in a hurry to get a residence permit, and preferably a passport.
Armenians, forgetting about mourning, opened entertainment establishments – clubs, bars, stripteases. They are already experienced, they know that at first our people will spend money either from joy that they escaped, or from grief that such events are happening. But then they snuggle up. In the meantime, they walk stunned around Yerevan, huddled together, discussing, sighing, hiding from the cameras of journalists.
– Put away the camera. What are you? Do you want me to be seen and put on the wanted list for desertion?
At the same time, no one is surprised by the crowds of Russians here in Yerevan, they are used to it. Treat them more with mild sympathy. But a touch of irritation is already being read: they say, they come in large numbers here, and our prices are rising …