News
Who blew up Nord Stream and who benefits from it – latest news for September 29, 2022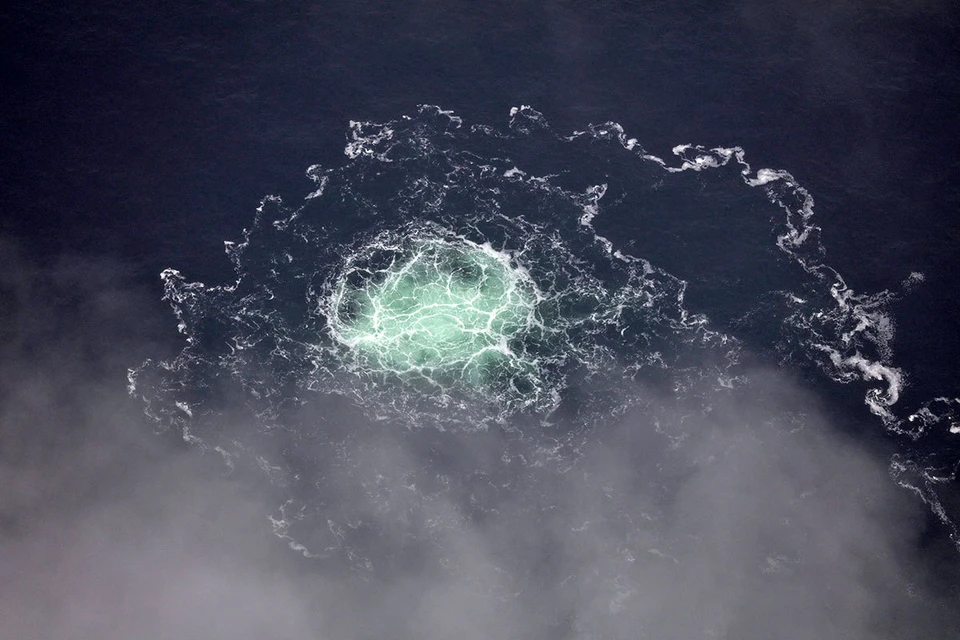 Gas flows from Nord Stream into the Baltic Sea, and the pipes are filled with water.
A photo: REUTERS
There have been no such precedents in economic history. A simultaneous explosion on three lines of the largest gas pipelines at once is an unprecedented case. On the causes of sabotage on the Nord Stream gas pipelines we will not discuss. To answer the key question: who and how organized the explosions on the three lines of the Nord Stream gas pipelines is the work of investigators and operational commissions. Let's try to understand who won and who lost from this sabotage.
NEWS ABOUT NORD STREAM ACCIDENT
Recall that on September 26, reports appeared in the press about accidents on gas pipelines Nord Stream 1 and Nord Stream 2. Both "pipes" were idle. According to the first, the gas supply was stopped, but the gas was pumped inside. On the second transfer did not even start. All this happened in the Baltic Sea in the transboundary area near the island of Bornholm. Speaking in numbers, in the past we shipped about 167 million cubic meters of gas per day via Nord Stream 1. Then the gas pipeline was stopped for repairs, problems arose with it due to sanctions. Nevertheless, they were gradually resolved, and gas supplies to Europe were planned to be resumed in the near future. And then suddenly the pipe burst. But who can benefit from this?
"Although I don't see direct beneficiaries, it can be beneficial for everyone," Georgy Ostapkovich, Director of the Center for Market Research at ISSEK HSE. – And since such a situation happened with these gas pipelines, repetitions with other "threads" are not excluded. This means that it is necessary to revise the security policy and assess the situation differently.
I interviewed several experts in search of an answer about the benefits of the current position. But received no replies.
"How can one assess who and what will benefit from this if the situation is still completely undefined," they told me.
Nevertheless, we will try to put the information on the shelves with the help of economic analysts. Who could blow up the Nord Streams and what does the latest news say about the beneficiaries?
EUROPEAN UNION
Economist Mikhail Khazin sure, don't go to your grandmother – the situation in the Western economy is deteriorating. This means that it was completely unprofitable for the countries of the European Union to commit such a diversion. After all, the "flows" were at least some hope for the resumption of gas supplies, which Europe badly needs.
While Russia starts a criminal case and begins an investigation, Germany is stormy from mass demonstrations.
"And in a couple of months they would have become quite massive in order to turn on Nord Stream 2," continues Khazin. Because winter is ahead.
It's hard to disagree with an expert here, because Europeans are already getting wild electricity bills and are dreading the onset of cold weather. In the same Austria, Denmark, Sweden, local residents are horrified by the prices for communal energy.
My friend in Austria told me back in August that the bill has already risen in price by 30%, and in October-November they are waiting for new increases.
In general, there is absolutely no need for Europe to step on its own throat.
USA
If we continue to look for an answer to the question of who exactly benefited the most from this, then it is worth taking a closer look at America, Qatar and other countries supplying liquefied natural gas. Most of all, of course, to the USA. Let's add a post on Twitter by MEP Radek Sikorsky to the same box office. He posted a picture of a gas leak in the Baltic Sea and wrote: "Thank you, USA." America remained silent in response and did not take responsibility for the incident. But if you look from the standpoint of economic benefits, then the Americans remain in the black. The disconnection of our gas pipelines from Europe gives them the opportunity to further increase their supplies and raise the price of gas.
True, it is worth considering that the increase in volumes is not solved at once. Years must pass. It's too long term.
UKRAINE
This option is also being discussed. Gas pipelines could have been blown up by Ukrainian saboteurs. Such an assumption was put forward, for example, in Germany. Why can Ukraine benefit from this?
This will ensure gas supplies from Russia to Central Europe only through Ukrainian transit. From this point of view, one can still suspect Poland. They, too, could receive bonuses if the gas went only through the Yamal-Europe pipeline passing through Poland.
– There are versions that connect Ukraine and Poland in this aspiration, – said financial analyst Mikhail Belyaev. – Especially since there are combat swimmers there and there who could lay explosives. The pipes themselves do not run too deep – there are about 70 meters. According to one version, Ukraine could thus please the United States, almost completely ousting our country from the European gas market. Because now the gas pipeline that runs through Ukraine is becoming the most important transit zone, and here you can try to dictate some conditions.
However, there are arguments against. Recently, relations between Gazprom and NaftaGaz have become too hardened. And it is possible that transit through Ukraine will in any case be blocked by Russia. In addition, Ukraine would take a big risk if it decided to sabotage off the coast of European states without the knowledge of Europe, which now supports it.
RUSSIA
In Germany, they are considering a scenario of sabotage on our part. There will be, they say, a reason to raise prices.
But the accusations against us are not logical. It would be strange for Russia to blow up its own infrastructure, risking being caught on foreign territory. Well, just imagine the situation if our explosives were spotted from the ground or air. How much noise would be in the world media. So it is difficult to imagine the owner of the pipelines as a suicide.
Plus, we suffered huge financial losses of hundreds of millions of dollars. Here is a gas leak, and the destruction of the gas pipelines themselves, and the cost of repairs (if it does take place), and an audit to find out the reasons for what happened …
However, now there is a clear understanding that this could happen again, and we need to look for alternative supply options.
The head of the analytical department of the National Energy Security Fund, Alexander Pasechnik, told Komsomolskaya Pravda radio (97.2FM) that Russia is already diversifying its exports.
– It is possible to redirect pipeline gas to other lines, – he explained. – "Power of Siberia", "Power of Siberia-2", plus the Far Eastern route. The last two are still being implemented, but in any case they will be put into operation. Infrastructure for gas supplies to India is under consideration. The gas liquefaction system is being developed. All this as a whole will contribute to the promotion of the export model and its transformation in favor of our friendly countries.
PLANNED VOLUME OF RUSSIAN GAS SUPPLY TO THE EAST
"Power of Siberia" – 50 billion cubic meters per year
"Power of Siberia-2" – from 38 to 50 billion cubic meters per year
Far Eastern route – 10 billion cubic meters per year
WHO BENEFITS THE EXPLOSIONS ON THE NORTH STREAM GAS PIPELINES: CONCLUSION
Summing up the above, it turns out that the United States can be the main beneficiary in the decommissioning of the Nord Stream 1 and Nord Stream 2 gas pipelines in the Baltic Sea. However, they, of course, are silent about their involvement. But they volunteered to actively help in the investigation of the causes of the accident. Didn't the well-known Russian proverb "On the thief and the hat burn" work in this case?
ON THIS TOPIC
Sabotage at the Nord Streams and Euromaidan are parts of the same plan: it is revealed who benefits from the accident on gas pipelines
Expert Khazin said that the explosions and the accident at Nord Stream are part of a plan to eliminate the European Union (more)