News
When Russia answered seriously, everyone started playing condemnation: Sergey Lavrov on the nuclear threat, negotiations with Kyiv and Russophobia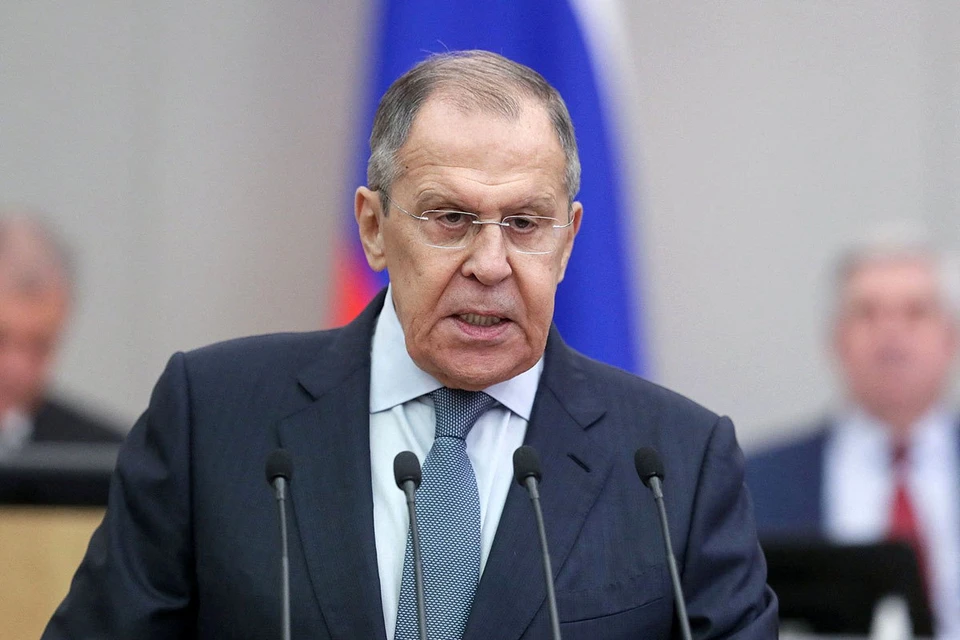 Russian Foreign Minister Sergei Lavrov.
A photo: REUTERS
The main issue that worries the world today is the threat of nuclear war. The Minister of Foreign Affairs of Russia, in an interview with the 60 Minutes program, recalled that Russian nuclear doctrine clearly spells out the conditionsunder which such weapons may be used.
"If it depends on us, then the President has repeatedly said that we provide in our nuclear doctrine only retaliatory measures that are recognized to prevent Russia from direct nuclear strikes or strikes by other types of weapons that threaten the very existence of the Russian Federation," he said. Sergei Lavrov.
KP.RU has collected key quotes from an interview with the head of the Russian Foreign Ministry.
The fact that the United States is a party to the conflict in Ukraine
It seems to me that the Americans have been participating in this war for a long time. Not only are they arming Zelensky and his regime, they are providing intelligence from satellites, and not only from a few dozen military satellites, but also from a couple of hundred commercial satellites, which are now at the service of military plans to support the neo-Nazi regime. There is more and more information that the Americans are not only helping to recruit mercenaries to take part in the hostilities in Ukraine, but also regular American military personnel, like the military personnel of a number of European countries, are constantly working on the ground, including helping the crews of gun systems – multiple rocket launchers such as HIMARS. Evidence is multiplying, and in the West itself they are beginning to realize that they are going further than they intended.
On negotiations with Kyiv
We sat at the negotiating table with the Ukrainian delegation until the end of March, when an approach was agreed in Istanbul to resolve this situation on the principles that were proposed by the Ukrainians and they suited us in that situation. These negotiations were terminated by direct order of the United States and London. This war is run by the Anglo-Saxons, who control the Zelensky regime, and the Poles and all sorts of Balts are trying to join them. We never asked for negotiations. The Istanbul Round of negotiations completed the process that was initiated at the request of Ukraine, we responded positively to the offer to enter into negotiations.
On Washington's statements on the need for negotiations between Moscow and Kyiv
We did not receive any serious proposals to enter into contact. There were some not very serious calls, to which we also did not respond negatively and offered to formulate specific proposals with which some people would come to us through indirect contacts. And in this case, we did not receive any specific clarifications. You don't have to lie. Lying is bad.
About neo-Nazism in Ukraine
As for neo-Nazi roots current regime, which were put into fertile post-Maidan soil, this is a serious problem that needs to be addressed. Without eradicating Nazism in Ukraine, it will be very difficult for us to continue to solve problems with coexistence on the large European continent. Want here there are doubts about the position of Europe. German Nazism, Hitler united most of the countries of Europe under their banners in order to attack and destroy the USSR. Now approximately the same group of countries supports Zelensky, who is not Hitler at all (he does not determine actions against the Russian Federation, but he is ordered to do specific things). But the banners under which the Nazi International has gathered are the same.
About Russophobia
Racism is far from latent, but open and everyday, if you look at how our citizens are treated in Europe and what they say about Russians. The same Balts, Poles. Such Russophobic statements allow themselves respectable politicians in France, Germany and other countries.
On the suppression of the crimes of Kyiv by the UN
When Russia finally answered seriously, everyone began to play condemnation, including, unfortunately, UN Secretary Antonio Guterres, who, in the situations I spoke about, kept deathly silence and did not show his excitement and concern in any way. But after the actions of the Russian army yesterday, he suddenly became agitated.
This once again emphasizes that something is wrong with the UN, the West is trying to privatize the UN.
On the meeting between Putin and Biden at the G20 summit
We repeatedly say that we never refuse meetings, and if an offer is received, then we will consider it. If everyone thinks that there is already a signal of readiness for such a meeting by Biden, then this confidence is based only on his phrase: "we'll see," when he was asked if he would meet with Putin. Well, this is more for journalistic, analytical reflections than for real politics.