News
What pension did the stars earn: foreign agent Andrei Makarevich * receives 50 thousand rubles, and Nikolai Drozdov and Larisa Rubalskaya receive a third less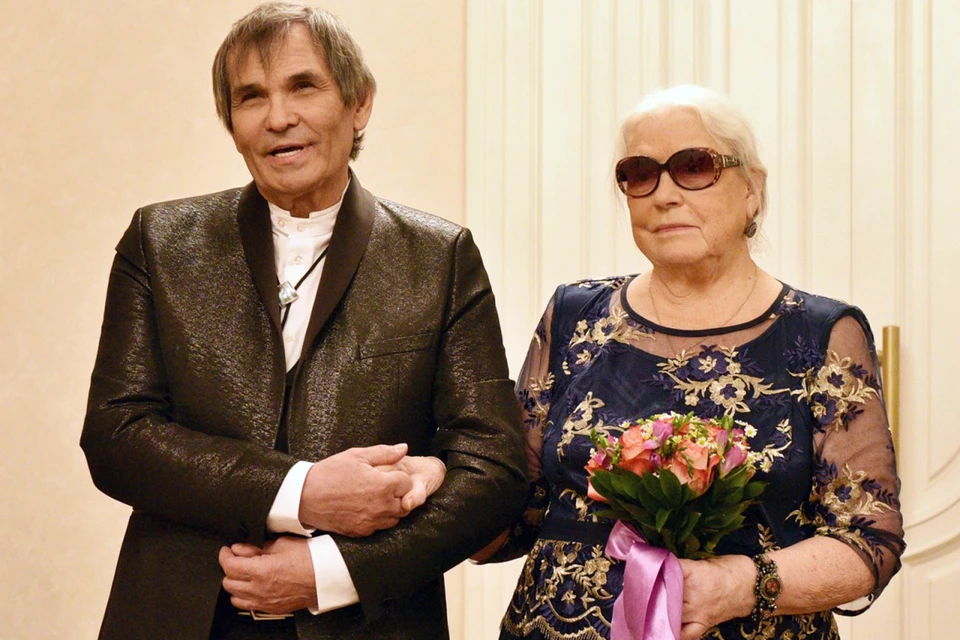 Pensioners Bari Alibasov and Lydia Fedoseeva-Shukshina lead an active life. They played a wedding, then divorced. Can afford. Their pension is equally decent – about 55 thousand rubles each
A photo: Social network
The stars not only have fees, but also pensions are often higher than those of their fans. True, not everyone has – there are people whose songs everyone knows, but they also have a pension like everyone else. On the eve of the day of the elderly, which is celebrated on the first day of October, we tell you what different pensions our stars receive.
The foreign agent left, but the pension goes
Several retired stars after the start of the NWO decided not to return from abroad, where they often visited and where they have housing. At the same time, they continue to receive payments from their homeland to their accounts. So the leader of the Aquarium group, Boris Grebenshchikov, lives in London, rents out one of the apartments in his homeland and receives a pension of about 20 thousand rubles. Foreign agent Andrei Makarevich* lives in his own apartment in Israel with his wife and newborn son. The leader of the Time Machine group has a business in Russia and a monthly pension of about 50,000 rubles. About 57 thousand rubles are received by the singer Valery Leontiev, who, as in the winter, left for his villa in Miami to his wife – and so far he has remained there. Foreign agent Makarevich * and Leontiev have such large sums, thanks to the Moscow allowance of 30 thousand rubles for the title of "People's Artist".
Lawyer, author of the "Accessible Rights" project Sergey Romanov explained to kp.ru: "The legislation on pension provision of citizens does not provide for grounds for deprivation of the right to receive pension payments in connection with recognition as foreign agents or the commission of crimes, as well as in the event of a change of residence of a pensioner, since going abroad does not deprive a person of the right to receive a pension. Pension payments are terminated only in connection with the loss of the circumstances of their appointment or in connection with the death of the recipient of the pension.
Allowances for "people's and deserved"
Most artists with well-known names now receive a very good pension – from 46 to 60 thousand rubles. A monthly allowance of 30 thousand rubles to the basic pension is paid from January 1, 2018 to Muscovites with the title of People's or Honored Artist of the USSR, the Russian Federation or Russia. Each region can establish pension supplements for honorary titles in the field of culture, which was done in Moscow.

Larisa Rubalskaya has no titles, but there are royalties for her hits, performance fees and a pension of 33 thousand rubles
A photo: Social network
"People's" and "deserved" people live differently: therefore, some consider even such a pension insufficient, while others consider it enough. Famous artists are accustomed to good money, so even such a pension is not enough for them – so they work not only for the sake of pleasure in their favorite performances. For example, People's Artist of the Russian Federation Tatyana Vasilyeva plays a lot in the theater, acts in films and commercials, attends scandalous TV shows for a fee – since the pension for a familiar life is not enough: and the star provides vacation at sea and other benefits not only for herself, but also for her family son. Vasilyeva recently complained about the "low pension": "No mountains of gold … I have 30 thousand rubles a month from the state and 30 thousand Moscow bonus for the title." People's Artist of the Russian Federation Alexander Pankratov-Cherny is grateful for the allowance – now his pension is 47 thousand rubles: "There is enough for food, but not for entertainment. For example, going to rest on the sea is a problem. It's good that we're still working."
Honored Artist of the RSFSR Elena Proklova works and explains why one pension is often not enough for artists: "You are an artist and have been accustomed to going to good salons all your life, taking care of yourself, being on a diet, doing massage, dressing according to fashion. Because it is part of your profession. And when you retired, for these 46-47 thousand you can't afford anything from what you did before."
But the People's Artist of the RSFSR Lidia Nikolaevna Fedoseeva-Shukshina does not complain about a pension of 55 thousand and never asked her daughters for financial assistance: "I get 25 thousand, plus allowances. I personally have enough! Grandson Makar recently came – he brought fruit … "The People's Artist of the Russian Federation Viktor Sukhorukov has no children and grandchildren, besides, he recently quit the theater, but is optimistic:" I get a good pension, I'm not complaining. I won't get lost. Besides, I have a job to do."
There is a small group of artists who, in addition to a bonus for titles of 30 thousand rubles, receive another one – for orders, it is called additional material support (DMO). Its size is tied to the basic size of the social pension and is indexed annually. That's just non-working pensioners can receive DMO. For example, holders of the Order "For Merit to the Fatherland" II (among them Alla Pugacheva, Alexandra Pakhmutova, Oleg Strizhenov) are paid extra about 16 thousand rubles. All order bearers have ranks, so their pension runs up to 60 – 70 thousand rubles.
Edita Piekha is a People's Artist of the USSR, living in the Leningrad Region. However, she also has an allowance, as Edita Stanislavovna herself previously spoke about: "I receive two pensions – artistic and miner's. At one time, Aman Tuleev awarded me the title of "Honorary Miner". As a result, Piekha receives about 46 thousand rubles. Some subjects have their own honorary titles, so there may be regional bonuses.

Dmitry Dibrov is satisfied with a pension of 34 thousand. The TV presenter also works on TV and hosts private events to support a country house, a beautiful wife and three minor sons.
A photo: social network
No extras, but everything works!
Artists without titles or with titles, but without a Moscow residence permit, receive less: from 15 to 34 thousand rubles. Almost all pensioners from this group have a permanent job or fees for part-time jobs.
Those who do not have them have to rely on loved ones. So TV presenter Regina Dubovitskaya rarely appears on TV, and her pension is a little more than 16 thousand rubles and, of course, he does not suit her: "Probably I'm not famous enough! Nikolai Nikolaevich Drozdov has 2 times more than Dubovitskaya: "Pension, plus salary at the university. It would be enough for me and my wife, of course … "But the professor and TV presenter helps two daughters and grandchildren, therefore, in addition to teaching and scientific work, he also earns extra money: he acts in commercials, takes tour groups to different continents, gives master classes. TV presenter Dmitry Dibrov was given about 34 thousand rubles, and he is satisfied with the size of his pension, as he works. Larisa Rubalskaya wrote so many hits that royalties and royalties, along with a pension of 33 thousand rubles, are enough for her: "Together with the fact that I earn everything is fine with my income."
In youth, few people think about retirement. So Efim Shifrin receives the "minimal wage" as a working pensioner in Moscow. It turns out that the star has a little more than 15 thousand rubles. And all because at one time he refused the offer of the personnel department of the Variety Theater to collect documents and submit them for the title of "Honored Artist", and now he regrets – because he did not know that as much as 30 thousand rubles would be paid for the title. Shifrin explained why he refused the titles: "Once I ran away from this, it seemed that these were such Soviet attributes. Compared with Western stars. And when in 2018 it became known about the surcharge, he also did not claim the title of "deserved": "It's already too late. It's already a shame to be deserved, because I have people's students. "
Special ballet occasion
Anastasia Volochkova has been fighting for her early retirement in court for a year: she is trying to prove that she has danced the required ballet experience. So far it doesn't work out – the Bolshoi Theater does not confirm the experience of the ballerina. The fact is that ballet theater artists performing solo parts, as well as circus artists (gymnasts, tightrope walkers, acrobats), with at least 15 years of creative work experience, are entitled to an early old-age insurance pension.
Nikolai Tsiskaridze, the premiere of the Bolshoi Theater (this is a lifelong title), issued such a pension on time: "As for the pension, I issued it at the age of 33, when I became a pensioner and a labor veteran." Rector of the Academy of Russian Ballet. Vaganova People's Artist Nikolai Tsiskaridze is now also a TV presenter – he hosts the Tonight program on Channel One. Therefore, the pension is not spent on daily needs, it is accumulated on a special account: "I do not withdraw it. As my nanny said, these are coffin. No one is immune from what will happen tomorrow. I prefer that I have a financial airbag … "It can be assumed that the pension of the People's Artist of the Russian Federation Tsiskaridze is about 45 thousand rubles.
Star pensions:
From 15 to 34 thousand rubles: Zhanna Aguzarova, Larisa Rubalskaya, Lolita, Yuri Loza, Mikhail Muromov, Hmayak Akopyan, Mikhail Boyarsky, Nikolai Drozdov, Efim Shifrin, Regina Dubovitskaya, Semyon Altov, Roza Syabitova, Dmitry Dibrov.
From 46 to 60 thousand rubles: Irina Muravieva, Yuri Stoyanov, Elena Yakovleva, Larisa Luzhina, Tatyana Dogileva, Lidia Fedoseeva-Shukshina, Elena Proklova, Natalia Varley, Larisa Guzeeva, Evgenia Simonova, Elena Safonova, Irina Rozanova, Larisa Udovichenko. Nadezhda Kadysheva, Irina Allegrova, Yuri Antonov, Valery Leontiev, Ekaterina Shavrina, Vyacheslav Dobrynin, Vladimir Kuzmin, Bari Alibasov, Igor Sarukhanov.
* The Ministry of Justice of the Russian Federation included Andrei Makarevich in the list of individuals-foreign agents