News
What is a dirty bomb that Ukraine can create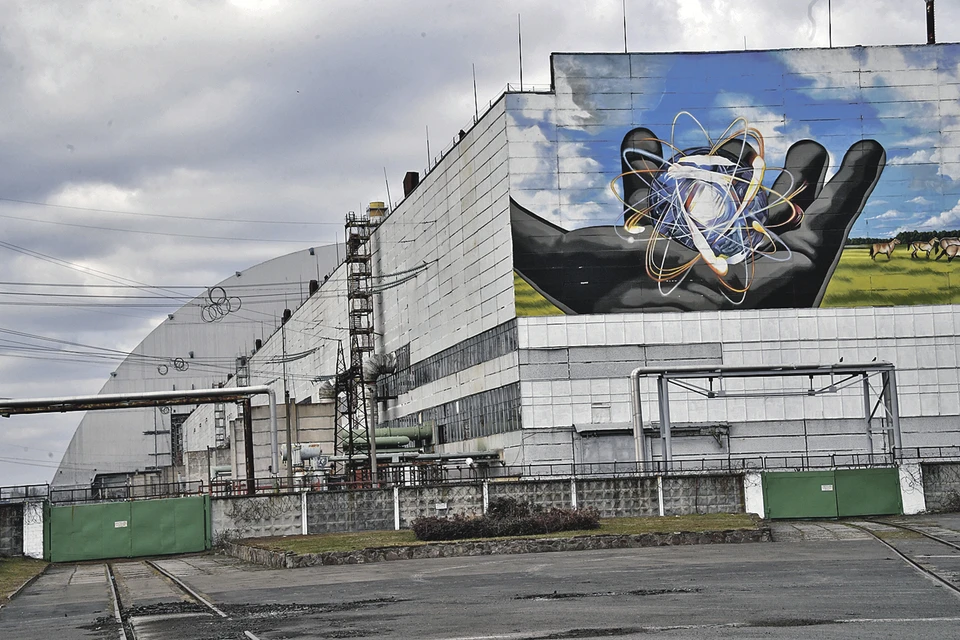 The Chernobyl nuclear power plant, with its elevated radioactive background, could be an ideal testing ground and source of raw materials for clandestine experiments to create banned weapons.
A photo: Vladimir VELENGURIN
Recently, the press secretary of the Russian President Dmitry Peskov declaredthat the threat of using a "dirty bomb" from the Armed Forces of Ukraine is quite real, and the Russian Defense Ministry stressed that such a provocation is being prepared to accuse our country of using weapons of mass destruction.
But what is a "dirty bomb" and where did Kyiv get it from? We deal with experts.
Chernobyl as a testing ground
Experts suggest that secret Ukrainian developments for the manufacture of weapons of mass destruction could be carried out at the closed Chernobyl nuclear power plant under the cover of an increased radioactive background after the 1986 accident. It is possible that Chernobyl was one of those, as the press attache of the Russian Foreign Ministry Maria Zakharova put it, "lacunae" of the diabolical plan.
– Of course, the Chernobyl nuclear power plant is an object of increased attention, – said "KP" Alexander Mikhailov, Major General of the FSB, retired. – Any nuclear power plant has a lot of so-called dirty waste that needs to be disposed of very carefully.
At the Chernobyl station, there is a huge amount of such waste, and their half-life is from 50 to 100 years. Roughly speaking, if we take this waste and spray it, we will get an area of ​​infection. We are talking about creating the so-called dirty bomb. This is not the one that explodes and damages infrastructure, destroys buildings and structures. This is not necessarily a bomb in the truest sense of the word. Rather, we mean a radiological scattering device – a kind of ammunition to which radioactive substances have been added that can cause contamination of the area and people.

The city of Slavutych arose 40 kilometers from the Chernobyl nuclear power plant, connected by an electric train to the station (the station is circled in the photo). Yes, and the city of nuclear scientists is crammed with secret laboratories. Photo: wikimedia.org
It is noteworthy that since 2014, the work of the laboratories of the Chernobyl plant has been funded by the US Department of Defense. If you believe that everything was done with a purely scientific goal, then why the Ministry of Defense?
"Spraying radioactive substances, for example, from a drone is ineffective from the point of view of killing," he expressed his opinion to KP nuclear physicist Andrei Popeko, deputy director of the Flerov Laboratory of Nuclear Reactions. – But to cause panic – yes, this is also a terrible thing. Radiophobia in the world is very strong, people go crazy at the word "radiation". So the so-called dirty weapon, like some kind of explosive device with the addition of radioactive waste, is not so much life-threatening as it generates radiophobia.
"The use of a "dirty bomb" in a populated area will most likely give rise to a colossal panic with all the consequences," explains "KP" Alexander Uvarov, nuclear power specialist. – Unfortunately, there is practically no problem to make such ammunition.
– But who will do it?
– Only not the nuclear powers, they do not need it, – answers Andrey Koshkin, military expert, member of the Association of Military Political Scientists. – But Ukraine – yes, it needs it. She is working in this direction. And it did not limit itself to creating a "dirty bomb" with radioactive waste. There is evidence that plutonium was delivered to Ukraine by America for the initial experiments of a secret nuclear weapons project. Surprisingly, they are not afraid of anything. Now, in order to drag out the conflict, the United States seems to be ready not only to give plutonium, but also to have some kind of superweapon that could decide the outcome of a special military operation. According to my information, Ukraine in the exclusion zone of Chernobyl was secretly engaged in the development of nuclear weapons using radioactive elements. The increased radiation background served as a disguise.

Back in the days of the Soviet Union, active experiments were carried out at the Kharkov Institute of Physics and Technology at a research reactor. It operates even now. Photo: Sergey METELITSA/TASS
In general, according to Andrei Koshkin, three points that participated in the project were previously identified. These are the Institute for Safety Problems of Nuclear Power Plants in Chernobyl, the Kharkov Institute of Physics and Technology and the Lvov Institute of Condensed System Physics. In particular, design developments were carried out in Chernobyl. With the beginning of the special operation, the Ukrainians hastily put all this into disrepair, covering their tracks. They managed to transfer the documentation in computer databases to another nuclear power plant, presumably the South Ukrainian one near Nikolaev. And more serious research, as it turned out, took place in Kharkov.
Zelensky rushes into the "atomic club"

In February, at a security conference in Munich, Zelensky almost openly threatened to end Ukraine's nuclear-free status. Photo: Getty Images
Ukraine is a non-nuclear country and did not have the right to develop nuclear programs. But she did it.
Zelensky indirectly confirmed this. At a security conference in Munich in February of this year, he said: "If there are no guarantees for the security of Ukraine, Ukraine will have every right to believe that the Budapest Memorandum does not work, and all package decisions of 1994 will be called into question." In other words, the Ukrainian president announced his desire to abandon the nuclear-free status.
Vladimir Putin reacted directly and harshly to these words of Zelensky: "Ever since Soviet times, Ukraine has had fairly broad nuclear competencies, there are several nuclear blocks and the nuclear industry is developed quite widely and well. There is only one thing missing, uranium enrichment systems. It's a matter of technique. What is the threat to us? The fact that even the appearance of tactical nuclear weapons in Ukraine means a strategic threat for us. Because from 110 you can raise the range (flight) to 300, to 500, and Moscow will be in the affected area. For us, this is a strategic threat. And we must and will take this very seriously."
In fact, such a threat was one of the most serious reasons for launching a special military operation.
"They want to blackmail us"
– But if America brought plutonium to Ukraine, is it, in fact, a weapon?
– Still not a full-fledged weapon, – Andrey Koshkin explains. – There is a cycle of a peaceful atom. Ukraine has it, they have several nuclear power plants. And there is a combat cycle – that is, nuclear weapons. Ukraine does not yet possess this, but it is striving to master it and was already on the threshold of it. At first, they thought only about a "dirty bomb" – stuffing missile warheads with radioactive waste, and then updated the issue to create a full cycle of development and production of nuclear charges. And who knows what they have come to in this… Why does Ukraine want all this? To blackmail Russia. They say, "we will launch it for you, it will fly to you" … The Ukrainian army, we see, is very seriously processed ideologically, psychologically, and informationally. It was pumped up and armed very seriously, for more than one year they were engaged in preparing for the conduct of hostilities against Russia.
Can real atomic weapons be created there?

At Yuzhmashzavod in Dnepropetrovsk, rocket technology has been preserved from Soviet times. Photo: Sergey Pashchenko/AP/EAST NEWS
– A clean nuclear bomb – in fact, high-tech, high technology. Only the state can do this, and not everyone, – said KP expert Alexander Uvarov. – I can assure you: Ukraine has the ability to make nuclear weapons. But did they do it? Such information is…
According to some reports, the Ukrainians planned to enrich uranium to make weapons.
"It is technically possible to separate plutonium from spent fuel to create weapons," he said. nuclear physicist Andrei Popeko. – At the same Chernobyl nuclear power plant, there is a lot of spent fuel and, accordingly, a sufficient amount of plutonium can be isolated. But the thing is, it's a gigantic plant, you see. It's impossible to hide it. But the fact that they were preparing a "dirty bomb" – for sure.
Also, the means of delivery
But it is not enough to make a bomb – it still needs to be delivered to the explosion site. Of course, you can use a drone, but the drone is low-powered, it won't raise a large charge. Another thing is missiles.
– It is noteworthy that, according to Interfax, the Ukrainian enterprises Yuzhmashzavod and Yuzhnoye Design Bureau in Dnepropetrovsk (now Dnepr. – Ed.) agreed with Turkey to develop a mobile complex equipped with a solid-propellant ballistic missile with a range of up to 1500 km. The development of another missile system was already funded by Saudi Arabia. For testing, they chose the Alibey missile range in the Odessa region, – says military expert Andrey Koshkin. – Yes, and they themselves can work on the most ordinary carriers, for example, Tochka-U missile systems, the same Yuzhmash, that is, increase the delivery distance of the "charge" right up to our cities – in principle, this is all real.
INSTEAD OF AFTERWORD

The miners of the Vostochny GOK in Zhovti Vody, the enterprise Zelensky entrusted with the creation of a "dirty bomb", annually mine and send thousands of tons of uranium ore for enrichment. Photo: wikimedia.org
Russian Defense Minister Sergei Shoigu on the same day held telephone conversations with four heads of defense departments of NATO member countries – the United States, France, Great Britain and Turkey and warned of possible provocations by Ukraine to use a "dirty bomb". Among the addresses where such weapons are being prepared were named the Vostochny mining and processing plant in Zhovti Vody (Dnepropetrovsk region), which mines and enriches uranium, and the Kyiv Institute for Nuclear Research, which Zelensky directly instructed to manufacture a "dirty bomb."
As expected, Shoigu's warning was called "inaccurate", which is understandable: who wants to confess to complicity in a crime…
BY THE WAY
"We studied the effect of radiation on the Slavs"
– Rumor has it that experiments on people were carried out in Ukrainian laboratories. I admit that, perhaps, some kind of "Doctor Mengele" conducted research on a person, – says retired FSB Major General Alexander Mikhailov. – But you and I must understand that all our research, especially those related to human health, is carried out on people. Imagine, a person who has been irradiated or has received a certain dose of radiation, he is, in fact, also a test subject. When they monitor his health, make some kind of analysis, measurements, monitor the development of certain processes in the body – this can also be called experiments on people. They study and watch how processes take place, how they change under the influence of drugs, conditions, etc. It is quite possible that the emphasis in the study was on the Slavs. There is indeed such a tendency, a bias. Some years ago, we discovered that a large amount of biological material from different ethnic groups is sent to the United States for research. For some diseases, we did not have the opportunity to conduct research on the development of a treatment method. And the biomaterial, as a rule, was sent abroad. And suddenly the Americans began to structure the biological material of different ethnic groups, singling out the Slavs separately. For what? Each ethnic group has certain characteristics. If a normal person can get skin cancer from solar radiation, then Africans at least that. And this topic worries us, because the question is: for what purposes can these studies on the biological and other structure of representatives of different nationalities be used? And why not think about how this ethnic group can be influenced based on its weaknesses and vulnerabilities? And the fact that the Slavic ethnos was studied, in particular, also causes some concern. Scientists can draw some conclusions, but again, they can be both in terms of ensuring the safety of a person, and inflicting maximum damage on him. It's all "dual use" again.