News
What happens in Kherson on the second day of voting in the referendum on joining Russia on September 24, 2022: latest news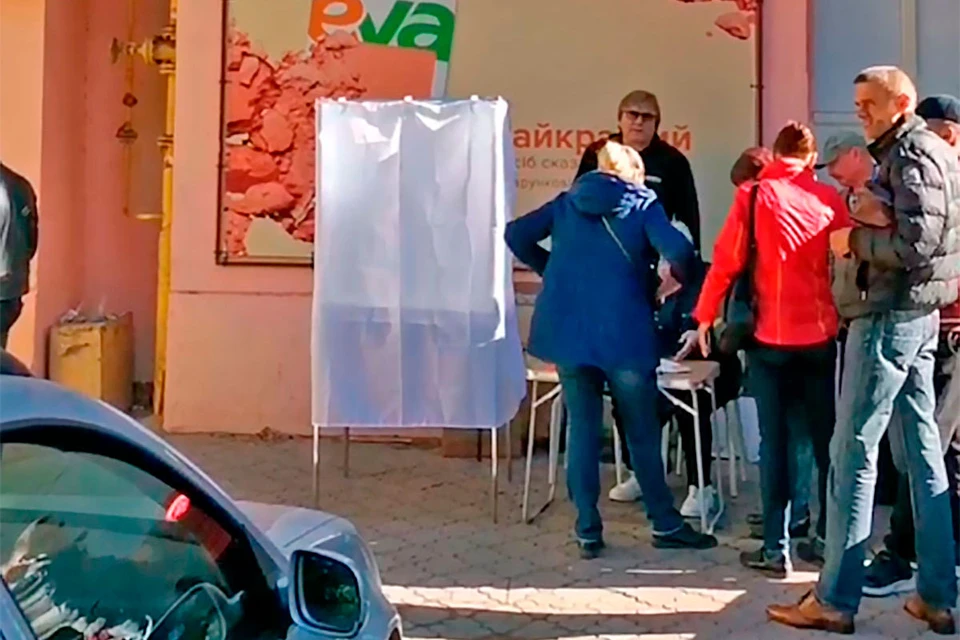 At the Dnieper market, some lined up at the ballot box.
A photo: Igor EMELYANOV
On Saturday, on the second day of voting on joining Russia, the referendum in Kherson did not slow down.
SWIMMING IN ANOTHER'S LINGERIE
The lively Anna, who comes from the Lugansk region, has a conspicuous point of women's underwear in the Dnieper market of Kherson. For every taste and color.
And it just so happened that on the second day of the referendum, one of the mobile voting points from 8 am was located just opposite the center of linen culture.
While Shaman's hits were interspersed with live performances of the killer things of the "disco of the 90s", I tore Anya away from the revision of sensitive goods.
– I'm from the Lugansk region, I moved here a long time ago, even before 2014, but my parents stayed in Rubizhne, their house was smashed, they are trying to build – so again they shoot! – she worries, quickly counting panties of various sizes, – that's why I don't want to act? Not because I'm afraid for myself. But the people in the market are very different. You say something that someone might not like, so they can burn your point!

Prices for lingerie in rubles and hryvnia, but there are few buyers
A photo: Igor EMELYANOV
I ask, did such cases really exist? Well, for one of the sellers or buyers to be featured in the Russian media in the morning – and in the evening, instead of a counter, he has only coals?
Anya thinks and shakes her head. No, she had not heard of anything like this either in this or in the other three markets of Kherson.
– But this can happen, can't it? – looks at me frowningly.
Expressing my doubts and trying to find out how the ladies' accessories business is going. The former Luhansk resident says that she always brought beautiful underwear, which cannot be found anywhere else, from Odessa.
– And now we have to deliver from Simferopol, it is longer and more expensive, and many customers have left the city – she explains why the prices for delicate goods have almost doubled. Moreover, the price tags here in rubles and hryvnias are an infrequent occurrence on the Kherson market.
And when I tell Anya a story I heard from her former fellow countryman from Donbass on a ferry across the Dnieper, where he said that he was refused to sell lard for rubles at the market in Kherson, she dismisses such a story as an annoying fly:
– Yes you sho?! Here they will sell for anything – just to sell!
I point to the opposite side of the shopping street, where a stream of voters flows under the protection of two silently polite National Guardsmen and I ask:
– Are you going to cross the street?
Anna replies without hesitation:
Actually, I was going…
And returns to the calculation of the goods.
DRINKING BUT NOT SNACKING
This Saturday brought good luck to mother Natasha and her daughter Maria. Today, music sounds in the market, music attracts people, and the people need not only to express their will, but also bread and circuses.
Mother and daughter have their own, liquid bread "for bottling". However, among those who stood in a tight queue at the table where people at the Referendum signed for ballots and went behind a snow-white screen, I did not notice those who paid 20 hryvnias (about 30 rubles) for 100 grams of life-giving moisture. Those who, in a sober mind and clear memory, somehow walked in parallel with Natalia's clients and Maria.
On their counter, under a large beach umbrella, was a five-litre canister hand-written "vodka" and a row of two-litre bottles of what appeared to be the same product, conveniently set out in bowls of finely chopped pickled tomatoes. Nearby stood a mountain of jars of honey up to 240 hryvnia per liter.
– This is May, from grandfather, there will be no other, he is afraid, – Maria sighs.
But with the supply of vodka and moonshine, it seems, there are no problems.

Bread is sold at the market and the ruble is bought.
A photo: Igor EMELYANOV
As well as with clients of a certain kind. Natalya knows many people not only by face, but also by name. Tired men, holding out 20 hryvnias, are surprisingly polite. But almost no one had a bite of vegetable cuts free of charge for customers. Someone threw a sacramental: "Appetizer steals a degree!"
When asked if people began to drink more, Natalya smiles mysteriously. And he says that today the trade is brisk precisely because, along with music and flags, some kind of holiday feeling has arisen in the atmosphere.
Her daughter echoes her:
– Music is so good.
Maria in a week – to the third year of college, where she studies as a paramedic, but wants to become a surgeon. When asked what it was like to study from Ukrainian textbooks, where medical terminology was translated into MOV, he shrugs his shoulders:
– And I speak and read equally well in both languages.
She does not know how many of the 26 classmates will sit with her at their desks in October. But she herself intends to finish her studies in any case, although she admits that she is scared because of the artillery cannonade. But Kherson is not going to leave.
– And who needs you at a party? – Mother Natasha asks philosophically.
Until two in the afternoon, when the market closes, they will probably sell out most of the "white goods", but not honey.
The answer to the question – whether they will vote, it is good to go not far, was avoided.
VOTE AND WATCH
The people on the other side of the shopping street were serious and focused.
One of the organizers, my namesake (although callsigns like Botsman or Zolotoy are more accepted here), showed me data on the first day of the referendum on my smartphone: about 20% voted in the Zaporozhye region, and about 15% in the Kherson region. (Total voting days 5)
– Here the people are more "heavy", or something. They did not suffer from the war as much as people in Donetsk and Lugansk. And if someone believes that all the "dill patriots" have left here, I would not want to disappoint them, but … – Igor shakes his head.
Alexander Zaitsev, head of the Kherson Union of Combat Brotherhood of Veterans, tells me how the social and national composition of the Kherson region has changed and about the current "waiters".

Alexander Zaitsev, head of the Combat Brotherhood
A photo: Igor EMELYANOV
– People began to be brought to Kherson since the 70s – there was not enough labor. People from Yaroslavl, Ivanovo were brought to KhBK (cotton mill. – Ed.), – Alexander explains. – And the KhBK region is a region built by the Russians. It was and still is almost completely Russian. And in the collective farms, where there was also not enough labor, people were brought from Western Ukraine. At first they came for temporary summer jobs, and then many stayed here to live. It turned out almost equally Ukrainians and Russians. Moreover, for many years, mainly people from Western Ukraine were appointed to leadership positions.
– These people are unlikely to still remain in Kherson?
– Differently. But now there are more Russians. It is true that most of the pro-Ukrainian people left – some immediately after February 24, and many in the summer. Well, now, probably, the third flow of refugees has begun: after all, they were waiting at the end of August, in September, for the offensive of Ukraine and the "capture of Kherson" – but it didn't work out. I know that some of those who did business here sat and waited. Such people are weathercocks, "waiters".
An interesting observation was shared by one of the two officers of the Russian Guard, who ensure the security of the Referendum on the Dnipro market.
Informing that there were no serious provocations during the first day, and petty attempts to spoil the vote do not count, he said an amazing thing. Moreover, she surprised both him, the military man, and me, a journalist. It is generally accepted that in Ukraine the younger generation has been thoroughly and completely brainwashed. And among the young people there are more "pro-Ukrainian"-minded people than among the older people who managed to live in the USSR. But the National Guard has data that quite a few teenagers report suspicious personalities in Kherson to Russian law enforcement officers, whom they see in their yard or in general "in the area" or in hangout places. Such Timurovites of the 21st century. And those who are older are already coming to sign up, for example, in the new "Russian" police.

In the Dnieper market, some vote, others get drunk
A photo: Igor EMELYANOV
Victoria, who promptly voted in the Referendum, told me on the run that she was selling meat here, on the market, quickly ran, quickly ran away, and was not afraid of anything, because she had a Russian passport and soon everything would be here – Russia.
And the serious Maria with her 10-year-old son, who resolutely held a small tricolor, and not a stick with a lump of free cotton candy, said "off the record" that she works in a state institution, they were told that today it would be possible to vote here – and many came.
– But not all? I clarified
– I see a lot of ours in the queue. In general, you won't get into someone else's head, "she retorted.
– Did you come with your son, because there is no one to leave with?
– Leave, that is, with someone, but let him see how a new life begins.