News
Vladimir Voinovich: My plays were banned in the USSR, explaining: "He was caught at the border when he was exporting diamonds!"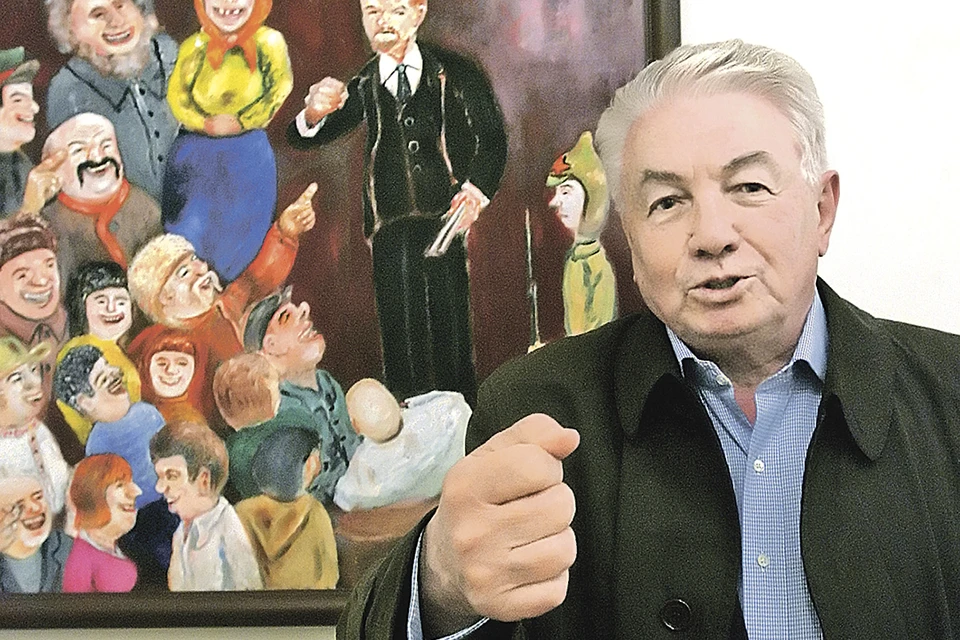 And yes, he was also a painter! He regularly exhibited – for example, in the Stroganov Palace of the Russian Museum, as in this photo. Photo: Yuri BELINSKY
He was born in Dushanbe, which in 1932 was called Stalinabad. When he was four years old, his father, journalist Nikolai Voinovich, was arrested for saying in a conversation: they say, "does not believe in the complete victory of communism." He was unheard of lucky: he was not shot. They gave me five years.
He wrote his first poems in the army, a little envious of his friend, a novice poet. Yes, he became famous as a prose writer, but he started as a lyricist – and in 1956 he came to Moscow with a notebook of compositions, full of hope. True, the selection committee of the Literary Institute did not like these poems very much.
"Misunderstandings occurred mainly because of my last name, which everyone considered Jewish. I was admitted to the Literary Institute, then all cases were reviewed, ten suspicious names were put aside. There was a poet, Kovalenkov, who knew me and invited me to the Institute for his seminars. He was instructed to delete my last name. So I didn't enter there … And when I was already in exile, the Serbian historian Vujnovic sent me his book. From there I learned that on my father's side I belong to an ancient Serbian family, which began from a certain Warrior (the personal name of Prince Uzhitsky, voivode and son-in-law of the Serbian king Stefan Dechansky. – Ed.) in the XIV century, "said the writer shortly before his death.
How to write a hit about astronauts
In 1960, Vladimir became a junior editor in the department of satire and humor at the All-Union Radio. The editors urgently needed the lyrics of the song on a space theme. A colleague of Voinovich called famous songwriters before his eyes. And everyone wandered around: they said that it would take a lot of time to write a poem – after all, the song needs to be "carried out"! And Vladimir timidly offered his services, saying that he would bring the text tomorrow morning.
Brought. The editor read the poem without any expression on her face (Voinovich decided that she did not like it). And then, without saying any extra words, she dialed the number of one of the most popular composers in the country – Oscar Feltsman. And she said: "I have an amazing text for you. Write: "Space maps have been filled into the tablets, and the navigator is specifying the route for the last time. Come on, guys, let's smoke before the start, we still have fourteen minutes left. Recorded? I dictate the chorus: "I believe, friends, the caravans of rockets will rush us forward from star to star …" What? Rhyme? You, Oskar Borisovich, have a spoiled imagination. Our listeners are pure people, it would never occur to them!"
Feltsman wrote the music in a matter of hours. And the song became a hit: Khrushchev quoted it, the text was published in Pravda.
Voinovich wrote many more lyrics, making decent money on them, and he was also successful with prose: the story "We Live Here" was liked by the editors of Novy Mir, it was published, and it caused a flurry of reviews. Alexander Tvardovsky was delighted with the young writer. Jean-Paul Sartre met him during a visit to the USSR. Voinovich was admitted to the Writers' Union. But the thaw was over, and Voinovich had already come up with the main book of his life – "The Life and Extraordinary Adventures of a Soldier Ivan Chonkin." And he began to understand that this novel would turn out to be completely impassable – the freedom that existed in the USSR for writers was clearly not enough for its publication.
"Chonkin" – a hymn to the Russian character"
Lightning flashed above him as he began speaking out in support of the dissidents. He attended trials, spoke out against the events in Czechoslovakia – and was forced to pay for it. The "signers" infuriated the Soviet leadership, and were especially angry at those who received large fees ("We pay him that kind of money, and he signs anti-Soviet letters!").
Performances by Voinovich were staged in dozens of Soviet theaters – by the standards of that time, he was a wealthy man. And then the manuscript of "Chonkin" went for a walk from hand to hand and ended up abroad …
Thus began an odyssey that lasted more than ten years. Voinovich himself began to be considered an anti-Soviet author. All performances based on his texts were immediately removed from the repertoire. Vicious publications appeared in the newspapers: Voinovich was accused of writing "anti-socialist" and "pornographic" plays… because Voinovich was caught at the border when he tried to transport diamonds. In short, they banned it all over the Union with a scandal, "the writer said in an interview. To earn at least some money, I had to write under false names. Just compose songs or scripts for other people or in collaboration with them, without indicating their authorship later …
And in the end, Voinovich decided to leave the USSR. Fortunately, he has accumulated many invitations to the United States and Europe. He thought about going to America, but his wife said, "It's too far," and they ended up going to Bavaria. He guessed that he would be deprived of Soviet citizenship, and did not want this, but …
A triumphant return took place in 1988 – Eldar Ryazanov wanted to film "Chonkin" (which he had read in samizdat) and invited the writer to Russia. The writer was shocked that such a project was possible in principle in the Soviet Union, but, of course, he came. Nothing happened with the film – Voinovich managed to sell the rights to the film adaptation to a British company, and the British demanded that Mikhail Baryshnikov be cast in the lead role. Ryazanov flatly refused. But he retained his love for the novel – he said that "Voinovich's book, if you want to know, is a hymn to the Russian folk character." And the writer himself in the USSR and Russia from the end
80's was a frequent visitor. In order to move here permanently in the mid-2000s and live in the status of a living classic. True, the anti-Soviet Voinovich lived in the dacha village "Soviet Writer" near Moscow – such a joke of fate. And his life turned out to be long – the writer left us at the respectable age of 85 on July 27, 2018.