News
Victoria Tokareva: "I have a happy feature: I loved the period of my life that I live now"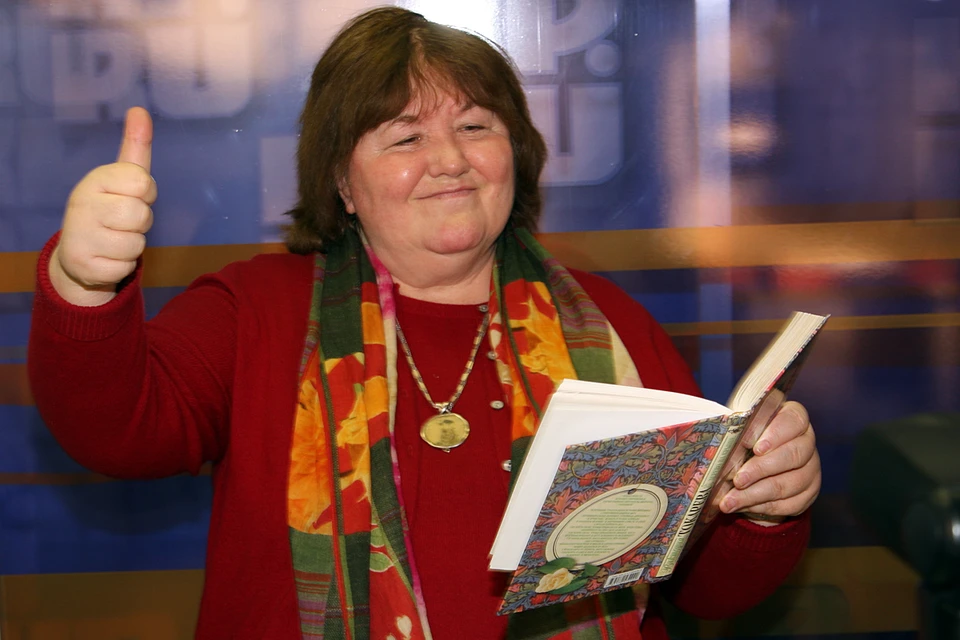 Victoria Samoilovna says that her inner voice helps her
A photo: Vadim SHERSTENIKIN
Victoria Tokareva is in a sense a retrograde. She does not use a mobile phone, although she likes to talk. Doesn't print on computer. He writes his stories with a Parker ink pen and gold nib. In her case, the golden pen is not a figure of speech. Although, of course, she is both a "golden pen", and a modern classic, a cult author, and has been in this status for a long time. We can only envy and wonder how she manages to roll a book of stories and novels every year with this ink pen, albeit the most expensive one?
Victoria Samoilovna says that her inner voice helps her. That is exactly what – "Inner Voice" – is the name of her new book, which was published on the eve of the writer's birthday in the Azbuka publishing house. "KP" also called the day before and asked Tokareva a few questions:
– You once said: a writer comes into our life in order to comprehend it. The writer is like a preacher. What are your thoughts on our life today?
– Let's not talk about politics … I'd rather tell you what I'm waiting for, – Tokareva answered me diplomatically. – I expect every day that the people on whom important decisions depend will sit down at the negotiating table. And the war will end. I feel sorry for both ours and Ukrainians.
I recently watched the movie The Cranes Are Flying again. There, the hero, played by Vasily Merkuriev, says: "Do you think you want to give your son to the war?" What precise words! Better not to say.
– Now they say that artists should comprehend the events in the Donbass in books, films, performances. Do you think it's time already?
I think a lot of people have figured it out already. But the situation in the country is such that it is undesirable to tell the whole truth. Therefore they are silent. And not only artists.
– Well, then let's talk about your new book, which is about people, their passions, love and disappointments … When you take up a pen, how do you know what is interesting to today's reader?
– I think the reader is interested in what reflects our time. I write for myself, about what interests me. If I do it sincerely, honestly, it will be interesting for everyone.
I write for the people of my circle – for the creative intelligentsia. That's why she loves me. And he says good words to me, but does not say bad ones. So it seems to me that everything is in order.
– In the last decade you have a real renaissance. In Soviet times, you published a book every 5 years. Now you delight your readers with a new collection of short stories every year. Did you write less when you were young?
– Just then there was a different policy. I never glorified our road to communism. Therefore, the Soviet state was not interested in me. And now we live in an era of market economy. My books are selling well. And I'm interested in publishers. By the way, many people love my late prose much more than the young Tokareva.
– Your stories are filled with optimism, humor and irony. What makes you happy in today's life?
– I am glad that I am alive. This is the first. Second, that I am relatively healthy. Thirdly, I do not need money. This is important at my age. I am glad that my grandson received the first prize at the Moscow Film Festival (director Pyotr Todorovsky Jr. received the Silver St. George for the film Healthy Man in the competition of the 44th MIFF – Ed.). How can I not enjoy life?
– And what makes your granddaughter happy?
– Katya wrote the script for the series – 11 episodes. And they were interested in her script. My grandchildren are talented. And no bad habits. If in my youth I met a guy like my grandson, I would be happy.
So your husband was good too…
– This is true. Petrusha in many ways went to his grandfather – Tokarev (his second paternal grandfather – director Pyotr Todorovsky – Ed.). He is reserved, as is my husband. Only Petya is a man of action, and her husband was a contemplative. Now I understand that my husband is a gift to me from above. With my character, no one else would have tolerated me. Even the fact that he endured for so many years is strange.
– What is your next book?
– The dog is missing. About how my neighbor's dog was stolen.
Have you already started writing it?
– No, but I started thinking about it. After the release of a new book, I do not write anything for six months. I give myself rest.
– You are not a discouraged person and it is easy to talk to you. Share, if you don't mind, the secret of such an attitude to life. Do you have a creed?
– You are crazy! Once the actress Zhenya Simonova said: "Of course, I have a credo, but I also have a dish that I love very much." What is another credo? What kind of idiot lives by a creed?
– Well: not a creed, but what is the principle of life? Well, to be happy? Don't give in to despondency…
– If I'm sad, I'll be sad. And if not, why then be sad? As I live, so I live. I have a happy feature: I loved the period of my life that I live now. When I had a little daughter, I was sorry that she was growing up. She was so sweet, so defenseless, that I wanted her to always remain the same – sweet and dependent on me. Now I am a long-liver. And I like it. Long life is also a victory.
My father died at 37. I live twice as long now. There is such a film by Gennady Shpalikov "Long and happy life". The name is beautiful and correct: people like life to be long and happy. This is the first. Secondly, I really love my house on earth (in the village of "Soviet Writer" near Troitsk – Ed.), which I built with my own hands. There is nothing special in this house. But for me he is the best. In our village there are huge houses of a thousand square meters. I think: why so big? They need to be cleaned up. To heat … And my house is the way I need it. Isn't that happiness?