News
Verona Eurasian Economic Forum ends in Baku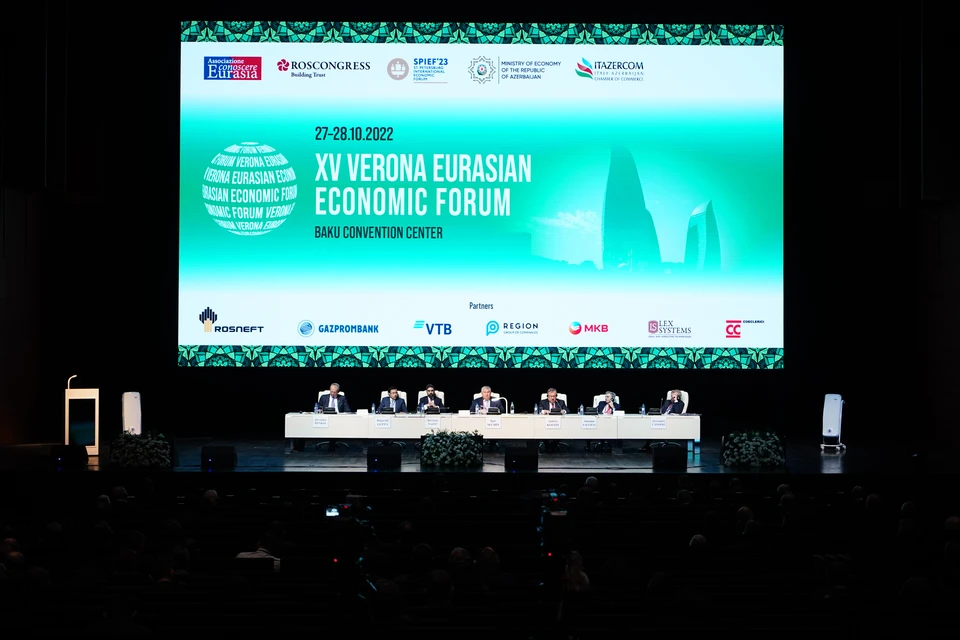 This year, the Eurasian Economic Forum, which was held in Baku on October 27-28, brought together the participants with the global theme "Eurasia on the way to a new geopolitical and socio-economic order: the transition to a new human-centered economy."
The discussions of the Forum were devoted to the transition to a multipolar world order, the new reality of raw materials and energy markets, natural gas as a key resource for the economy of the future, forms of industrial and trade cooperation in a changing world, models of financing and payment mechanisms in a global context, the role of the technological revolution in the development of the economy , ways to ensure food security and promote the development of the agro-industrial sector.
– Why are we discussing the topic of the North-South corridor in Baku, and not, for example, in Moscow or Tehran. The answer to this question was given in the speech of Shahin Abdullayevich, and nevertheless, I want to fix it again. Shahin Abdullayevich said that Azerbaijan, simply because of its geographical location, is the point of intersection of the large-scale corridors "North-South" and "West-East", here I cannot disagree with this on the one hand, on the other hand I completely agree. The point, probably, is not only in the geographical position, but also in the enormous work that has been carried out in recent years by the leadership of Azerbaijan and the people of Azerbaijan to implement a number of investment projects that have truly turned Azerbaijan into the most important transport hub not only in the region but also in in the world," emphasized Andrey Belousov, First Deputy Prime Minister of the Russian Federation.
In the context of the transformation of the world economic architecture, it is more time than ever to start forming a new space of trust, an acute shortage of which is now observed. The most vulnerable area of ​​international trade and economic cooperation turned out to be transport and logistics, the issue of ensuring food security in the world is radically changing the cooperation chains that have been built for decades. New realities show both the deep interdependence of markets and regions, and the need to reorganize cooperation systems and its geography.
The Forum was attended by Russian and Italian business leaders, heads of business associations, governors, politicians, experts, as well as high-ranking representatives of foreign countries.
Summing up the event, Antonio Fallico, President of the Discover Eurasia Association, said: "The Verona Eurasian Economic Forum was held in Baku for the first time, and this experience can be considered very successful, for which we are very grateful to the Ministry of Economy of Azerbaijan and other Azerbaijani partners. Inspired by this result, we intend to continue the chosen course, to go further across the boundless Eurasian space. This will allow both expanding the circle of Forum participants and deepening the content of the discussions taking place there."
The event was organized by the non-profit association "Know Eurasia" and the Roscongress Foundation, the St. Petersburg International Economic Forum with the support of the Ministry of Economy of the Republic of Azerbaijan.