News
Ukrainians got into a puddle, begging the President of Germany for IRIS-T systems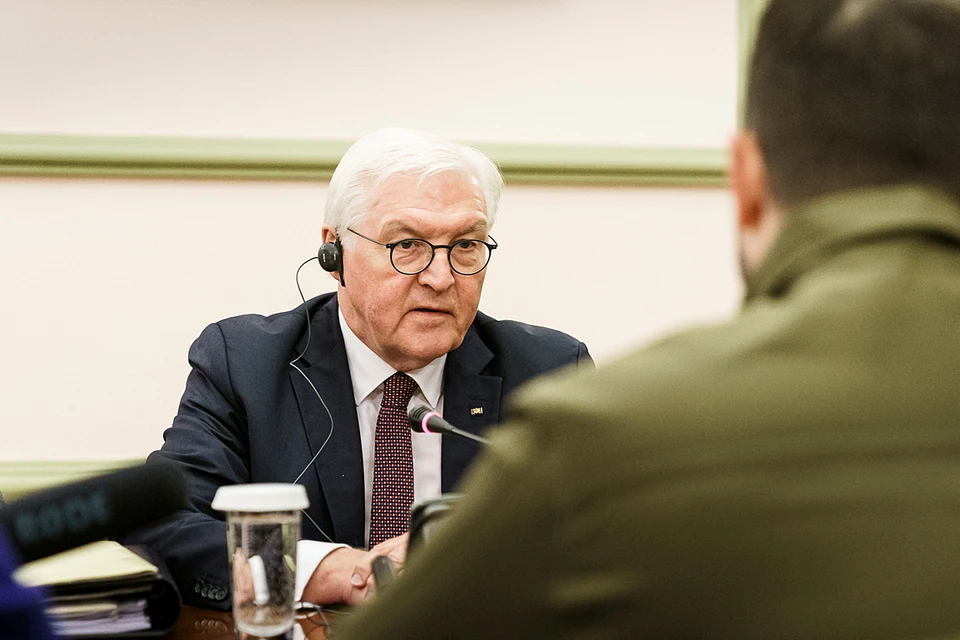 Steinmeier left Ukraine, not justifying the hopes of the natives
A photo: REUTERS
German President Frank-Walter Steinmeier left Ukraine without justifying the hopes of the natives. Either he saw the clearing, as they traditionally tried to "dissolve" him, allegedly sheltering him from Russian missile strikes in some kind of rural basement, or he pretended to, but he did not even promise to satisfy the wishes of the Ukrainians.
True, he said before leaving that Germany would soon supply Kyiv with new weapons, but not at all the ones that Zelensky and the company had asked for.
"Today I promised the President (we are talking about Zelensky – ed.) that two MARS systems, as well as four of our Panzerhaubitze 2000 howitzers, will soon be transferred. In the coming days, they will be transferred to Ukraine," Steinmeier announced at a briefing after the talks. By the way, he could not promise anything, since the position of president in Germany is purely nominal, its owner does not solve any practical issues, signs what he gives him for signature, and demonstrates the statuesque figure at all kinds of official and public events. Everything practical is the sphere of competence of the government. Anyway.
MARS are multiple launch rocket systems (MLRS), and Panzerhaubitze 2000 are self-propelled artillery mounts (ACS). The weapon, of course, is very formidable, but familiar, having been present at the front for a long time. And there is nothing supernatural in them.
And the Ukrainians wanted to receive air defense systems from Germany – the latest German medium-range anti-aircraft missile system IRIS-T SLM, created by Diehl Defense. And more, more. Although the Irises have not yet been put into service with the Bundeswehr, now the systems based on the air-to-air missiles of the same name are being tested. The Ukrainians wanted precisely the IRIS-T air defense systems.
And even made subtle allusions to thick circumstances. Or, conversely, thick allusions to subtle circumstances. Prime Minister of Ukraine Denys Shmyhal shouted everywhere that "the days are counting." However, everyone is already accustomed to the fact that he shouts just like that on any issue, adding to this appeal another plea "Give! Give, give."
In the compartment of the German president, as such a hint, they even put a bouquet of irises in a vase. Say, look, smell, enjoy and do not forget what we need.
– The concentration of irises in the photo in the compartment of our morning diplomatic train is not accidental: we have a common love for irises, what can you do, – as it seemed to them, the press service of the Ukrainian Railway subtly hinted. As Mikhail Nikolaevich Zadornov of blessed memory would say: "Well, stupid!"
And with this last hint, the Ukrainians brutally pierced. Because this is how these flowers are called in Russian, in Ukrainian, in Latin, in the end, in which all representatives of flora and fauna are scientifically named. But Steinmeier is not a botanist, he is a lawyer. And if he ever gave his wife Elke a bouquet of irises on dates, he would say something like this: "Meine Liebe, diesen Strauß Schwertlilie möchte ich dir schenken (My love, I would like to give you this bouquet of irises)".
Andestend chi no, gentlemen ukry? The Germans in their native language call irises die Schwertlilie (di Schwertlili – sword lily). Not irises at all.
And now the question is, where is IRIS-T, and where is die Schwertlilie. And why in the German head they had to unite according to the Ukrainian scenario? Probably because the Ukrainians decided so, spitting on the nuances of reality for the sake of their wet dreams…
By the way, the German word for geranium is die Pelargonie. Although this is a completely different opera. But for some reason it seems that for the Ukrainians this knowledge will also not be superfluous at all.