News
Tomos on joining NATO, sanctions against uncles and shuryas, adamants, emeralds and soft paper, "Free exchange of people and ideas", Agasfera Borisovna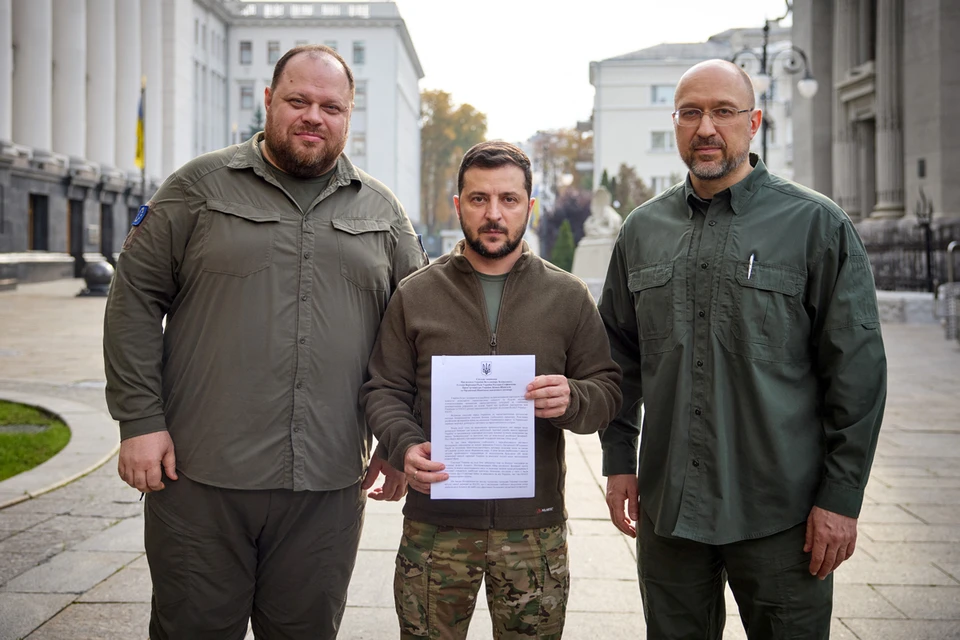 Zelensky held a solemn event in Kyiv – he brought an urn to the square and threw an application for immediate entry into NATO into it
A photo: REUTERS
The referendums on the accession of the Donbass and the east of Novorossiya to the Russian Federation, it seems, also had a secret component. It was she who was guided by V. A. Zelensky, who, simultaneously with the solemn events in the Kremlin, held an equally solemn event in Kyiv – he brought an urn to the square and threw an application for immediate entry into NATO into it.
It was assumed that Biden, Macron, Scholz and Ursula von der Leyen, shaking hands in unison, would immediately grant the petition and hold a rock concert on Khreshchatyk on this joyful occasion. And Zelensky will perform a solo on the piano. But something went wrong.
NATO Secretary General Stoltenberg, EU High Representative Borrell, Secretary of State Blinken, Pentagon Chief Austin and others reacted to the application without due enthusiasm. They spoke in the spirit that, of course, we will lay down our soul and body for your freedom, but at the same time you understand for yourself that, however, this matter does not come to the moment. When Zelensky's predecessor, P. A. Poroshenko, sought an autocephalous tomos in Istanbul, the Phanariots-Bartholomews turned out to be much more responsive. While the Brussels tomos on joining NATO was shelved, Zelensky was told that he was very much loved and appreciated, and when the need for a tomos comes, they will inform him about this additionally.
But new hellish sanctions fell on Moscow, mostly personal ones. US Treasury Secretary Janet Yellen was especially inexorable. Although the matter has not yet come to pets – corgi dogs, owned by the head of VEB I. I. Shuvalov, escaped the wrath of the financier, but it has come to their wives and children quite a lot. The family of the same Shuvalov, as well as S. S. Sobyanin, D. S. Peskov and many others received in full.
Since the show must go on, all new sanctions must be announced constantly, and the list of enemies of freedom and their close relatives is considered exhausted, now, most likely, the sanctioners will turn to the Civil Code, where the degrees of kinship and properties are spelled out in detail. So far, Janet Yellen and her colleagues are working only on the first line (spouses and children of enemies of freedom), but then the sanctions will affect more distant relatives. Brothers and sisters, grandfathers and grandmothers, cousins ​​and great-nephews, grandchildren and great-grandchildren, uncles and shuryas, daughters-in-law and sister-in-laws, etc. – on all of them, in order of strict priority, the punishing sword of democracy will fall.
In the Old World, they also do not forget about personal sanctions, the EU prepared for the slaughter of the philosopher A. G. Dugin and the singer N. V. Rastorguev, but it was decided to inflict the main blow on goods from Russia. It is planned to ban the import of precious stones, soaps and perfumes, as well as toilet paper.
The logic is clear. Soap making, as well as the work of paper mills, is characterized by high energy intensity, and there are difficulties with this in Europe now, the green transition does not benefit at all. Of course, if there is, in the words of the head of the German Ministry of Finance, Herr Lindner, "the energy of freedom", then, probably, there is soap, as well as soft papyrus, which have similar miraculous properties, but so far these sanitary products are only under development. And that means sanctions, sanctions and more sanctions. Sim win.
Moreover, US Secretary of State Blinken said after the explosions on the SP-1 and SP-2 pipelines: "This is an incredible opportunity to get rid of dependence on Russian energy resources once and for all." And if, in addition, you still manage to get rid of soap and toilet paper once and for all, it will be very good.
The current sanctions struggle forces to correct the formula "Free exchange of people and ideas", once beloved by Western shortwave radio stations. With the exchange of ideas, everything has not been so simple for a long time – there are ideas, but there is Russian disinformation, to which lofty formulas do not apply, only to jam. But there are problems with the exchange of people.
Presenting updated EU guidelines on issuing visas to Russians, European Commissioner for Home Affairs Ylva Johansson pointed out to overly optimistic deserters: "Just because you don't want to go to Ukraine to fight doesn't mean you don't pose a threat to the European Union." Representatives of Georgian civil society are in full solidarity with the European Commissioner, who staged a demonstration in Tiflis against deserters with the slogans "Ugly Russian pigs. Go . Leave our country. You are not welcome here."

A. B. Pugacheva, pushing around in Moscow in unsuccessful attempts to sell the enchanted castle in the village. Mud for 1 billion rubles, departed by special plane back to the Holy Land
Where the poor peasant should go now is completely incomprehensible. Though deserters don't seem to get sympathy anywhere –
"We are also alien to their sorrows,
As we and ours are alien to them."
And it's not just the creative hipster who suffers. People's Artist of the USSR A. B. Pugacheva, pushing around in Moscow in unsuccessful attempts to sell the enchanted castle in the village. Mud for 1 billion rubles, departed by special plane back to the Holy Land. So now it's time to call the singer not Alla Borisovna, but Agasfera Borisovna.