News
"There was only one ideology – aggression against Russia": what our teachers faced in Kherson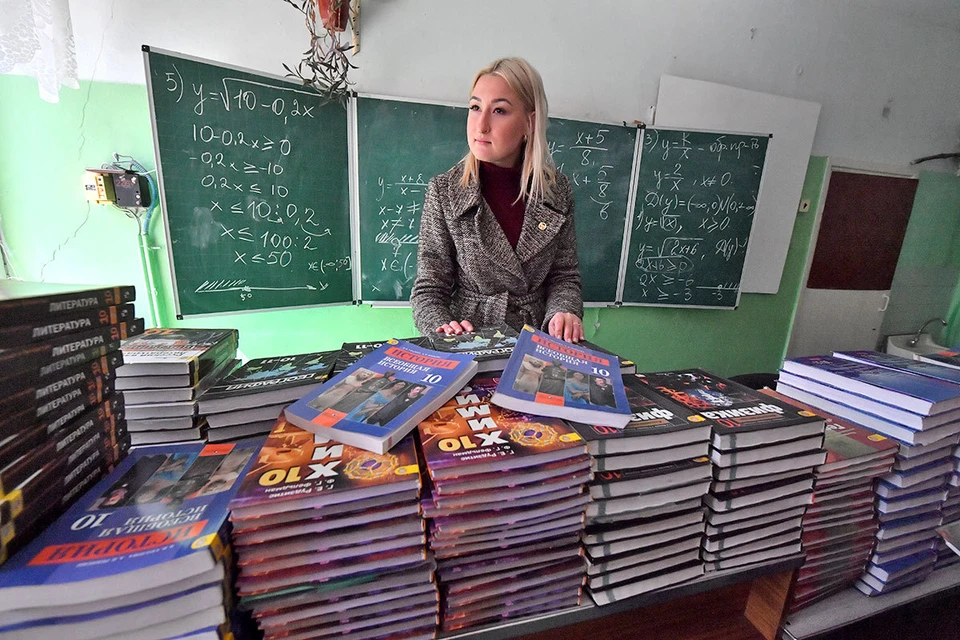 Schools in the liberated territories were replenished with Russian textbooks.
A photo: Vladimir VELENGURIN
The referendum on joining Russia in Kherson passed, the decision was announced, people are returning to their usual affairs, but their life will never be the same. One of the main – and perhaps the most difficult of tasks – will be a new school. Who will teach the people of Kherson and what?
CASES "FOR TREASON" ARE BROUGHT AGAINST THEM
The director of Kherson School No. 55, Elena Savina, saw how the mentality of children was changing before her eyes in the last 8 years. Nationalism was on the rise.
– It was impossible to prevent this in schools?
– Nobody could do it. I tried. It was not easy for me to work for the last 8 years, when elements of Nazism were introduced in schools. I was the deputy director and insisted that study should be study. It is impossible to force children to chant slogans for the glory of Ukraine instead of mathematics or physics.
– Could a teacher in Ukraine be out of politics?
– I was a member of Oleg Lyashko's Radical Party. And she openly said that the new Ukrainian school is the death of education. Therefore, I have three dismissals under the article – from our local Ukrainian authorities. I recovered through the court. Everyone knew that I was against war, violence and Nazism.
– And how did it all fit together?
"I stood for the true story. And not the one in Ukrainian textbooks. When I was present at such history lessons, it was terrible from what was written there. And in kindergartens there was only one ideology – aggression towards Russia. And many of our first-graders now perceive Russia as an aggressor. As a deputy director, my parents called me: why have we not been learning anything in the first grade for half a year, only talking about "patriotism"?
– Is the current generation of schoolchildren who studied in such Ukraine lost?
– Yes, it will be difficult. But there was an opportunity to teach this generation real history. There were no human values ​​in Ukraine – everything was set up only for making money. In schools, a lot of children studied, who were looked after by their grandparents, and their parents went to work.
– How many children did you come to classes this fall?
– We have a third of the children left. Now there are about 200 students. Some sit at home, their parents say: we are afraid. And when I meet guys on the street and ask why they don't go to school, they say: our parents don't let us. Some cannot return due to closed borders. From Ukraine, Poland, Estonia. They write to me that they have a completely different picture there than they draw on television. They were promised mountains of gold, but no one gives anything. Poles are very aggressive. From Estonia, they called me and asked me to reserve places for their children at a school in Kherson.
– Do you have textbooks, but are there teachers?
– Russian textbooks have arrived completely. But for 8 years they did not teach Russian language and literature. I turn to good Ukrainian language specialists. They say the rules are very close. It will be easy for them to switch to Russian. But they are afraid. They say they are being threatened. A historian came to me, who came to Kherson from Odessa, his mother is here. He went straight to the course. He did not accept the previous story. His second education is English. He teaches in a very interesting way. If a person wants to change, he changes. If he doesn't want to, it's his choice.
– Are those who work at the school brave people?
– Teachers took the first blow. All the teachers were exposed in social networks, in the group "Zradnikov Base", that is, traitors. And my data is there too. Criminal cases have been opened against me both in the SBU and in the prosecutor's office of Ukraine for treason. But no one can answer: what is treason and what is patriotism? Patriotism – what is it, "Our Father Bandera"?
– A patriot without a salary will not last long …
– The salaries of teachers are now higher than they used to be in Ukraine. Many teachers received Russian passports and receive ruble salaries on Mir cards.
What about the feeling of need?
– The fact that we opened schools on September 1 already means a lot. Parents walked with smart children to us! And false patriots from the bushes threatened them.
– They are false patriots, and the director of the 55th school is a true patriot?
– Yes, I am a patriot of my land and motherland. And the people who took power over Ukraine made our life unbearable. Specialists with higher education, the best minds, leave to wash floors and clean pigsties in order to feed the children who also go to my school. The Ukrainian authorities themselves brought it to the point that people made a choice in favor of Russia.

Such textbooks for elementary grades were in schools under the Ukrainian regime.
A photo: Dmitry STESHIN
FIND THE COURAGE TO GO TO SCHOOL
Principal of School No. 57 Anna Kravets, in general, agrees with her colleague:
– I now do not have enough teachers of Russian and literature. Two would like to see in our ranks.
– Where can I get them if there was no such subject at school for 8 years?
– I count on the help of colleagues from other regions, but I hope more that people in Kherson itself will find the courage to come to school. Those who taught Russian until 2014. Yes, they were unemployed then. There are hundreds of teachers. Not everyone left. Someone went to the educators, began to trade in the market.
– Well, teachers will return, they will begin to teach children who now write in Russian with difficulty …
– Those who came to the walls of the Russian school today – they already have a different attitude. And the family environment, for sure, is correct.
– What is the correct one?
– With the understanding that we are returning home, we are reuniting with our homeland.
– But the threats remain?
– As the director of the school, I was threatened repeatedly. They called and wrote on social networks. By the way, they themselves are afraid to even pronounce the word "Russia". What is my fault? That I teach children in Russian? They have no answers, due to their limitations.
SOME ARE HIDDEN
Deputy Minister of Education of the Kherson region Tatyana Kuzmich received a term from the former authorities for supporting Russian culture.
– I have headed the Rusich organization since 2003. It united those who were interested in Russian culture.
– In recent years, there have been fewer such people?
– Alas, yes.
– Did February 2022 become a milestone for many?
– Someone did not understand what happened, but someone was scared. Fear was the main motive for non-participation. Half of those who believe that "Ukraine is Europe" sincerely believe in it. Some people can be convinced, some can't. Not everyone can hear you. And not everyone understands.
– What is happening in the pedagogical environment now?
– Half of my colleagues with whom I worked together for 15-20 years, even friends, did not understand my choice. They called him a traitor. They called cursing.
– And what is it that shocked these teachers so much?
– March 13 was the day of the liberation of the Kherson region from the Nazis. And our team, the Rescue Committee, were not afraid to come out on this day to honor the memory of the people who liberated Kherson. There were red banners against our background. And some thought that we were traitors. As a result, some of the people of my former close circle left. And some hid. And they are still waiting for the "return" of the former government.
– What are the main problems in education today?
– Many good specialists, teachers, directors of schools, became victims of propaganda. This is a loss for us. We miss them very much. In June, we somehow had to collect them.
– Managed?
– We tried our best. I talked about this in my videos. But they hid, they were afraid. Only a few are working now. The rest are missing. Only in the Genichesk district, which is closer to the Crimea, 95% of the teachers who were there remained. The process is faster there. Their people are adequate, waiting for these changes.
DO NOT LOVE – DO NOT JOIN THE CLASS
Minister of Education of the Kherson region Mikhail Rodikov arrived here from Sevastopol.
– What are you going to do with the staff?
– We have lost half of the teachers.
Now you just need to recruit people and teach. What we are doing now. But this school year will be extremely difficult. Moreover, my position is a person who does not like Russia and who has a different choice inside – he cannot enter the class with students.
– Teachers of the Russian language?
– Yes, this is a big problem, but now imagine our 11th grader. He never taught Russian at school. And they give him a biology or chemistry textbook in Russian! But he doesn't know Russian! And this is now the most difficult question. With the younger grades, we will still correct this during the year of study, but with the older ones it is more difficult.
– Will you try to invite teachers from the Crimea, other southern regions of Russia?
– They probably won't. We need to work with Kherson residents who are returning, and who are here, but have not yet returned to work – I hope for them.
– Are there managers in education?
– Ask: people who are now in the Ministry of Education – did they previously work in government structures? Most are not. They were not even deputy directors of schools. But people have a very strong desire to learn. If they are comfortable in a normal, heated school, where the teacher receives a good salary on time, they will study.
– How many children are at their desks now?
– 79 schools today operate in the Kherson region, 23 thousand children go to them.