News
There is no longer a single energy market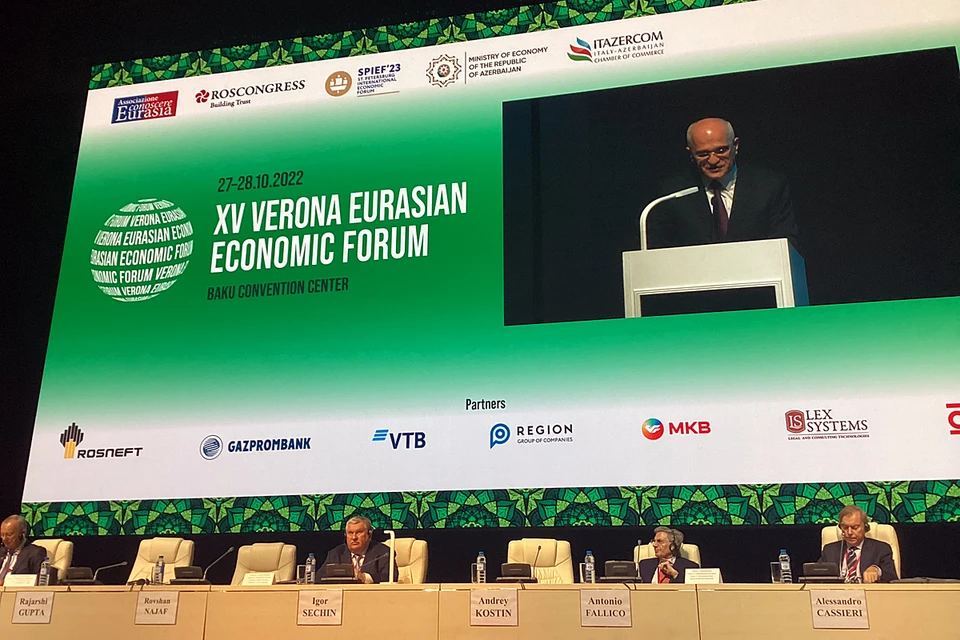 Igor Sechin made a sensational report "Global deluge in the energy market
A photo: Valery CHUMAKOV
In his speech at the XV Verona Eurasian Economic Forum, President of the Forum, Chief Executive Officer of Rosneft Oil Company Igor Sechin stated the death of the Common Energy Market
Within the framework of the special session "The New Reality of Commodity and Energy Markets", the President of the Verona Forum, Chief Executive Officer of Rosneft, Igor Sechin, made a sensational report "Global Flood in the Energy Market. The Second Abduction of Europe"
According to Igor Sechin, the world is plunging into an energy crisis, the cause of which is a colossal underinvestment in the industry: "The sources of the current artificially created energy crisis are not in the events in Ukraine and not in sanctions, but in a colossal underinvestment in the industry, one of the reasons for which is irresponsible and adventurous accelerated green transition policy. And in further anti-Russian sanctions as a powerful additional catalyst for the energy crisis and inflation in general."
The policy of a "green" transition, according to the head of Rosneft, has nothing to do with solving climate problems: "Currently, there are no technologies that allow for a truly effective transition from traditional energy to low-carbon energy."
"There is no single energy market anymore," Igor Sechin noted. – There are no rules. The high volatility that has been observed over the past decade has now become limitless. The trends that we outlined earlier and those that may appear suddenly, each act independently, are not absorbed by each other, completely destroying the foundations of law, private property and the market like a cumulative projectile.
At the same time, Igor Sechin emphasized that sanctions are "destruction of the foundations of corporate law, complete destruction of the foundation of market relations, refusal under far-fetched pretexts with a complete lack of liability for obligations to fulfill contracts, arbitrary illegal seizure of assets from sanctioned persons and entire countries, which in essence there is the abolition of the inviolability of private property, the undermining of the foundations of the legal and judicial system as a result of the abolition of the independence of the judiciary.Thus, the circular letters of the White House and the European Commission are reproduced unchanged in the form of court decisions.Persons included in the sanctions lists, basically without any reason, are now deprived of the right to defense through lawyers.
Competition in the energy market is actually canceled today, Igor Sechin noted, giving way to another innovation of the European Union – the centralization of purchases. "Up to 15% of the gas purchased in storage facilities in Europe," said the head of Rosneft, "is supposed to be purchased and distributed through the European Central Point, which will now decide for itself who and under what conditions will be allowed to distribute resources. And the European Commission believes that the increase in gas prices is caused by competition for suppliers. Until now, in a market economy, it was believed that the competition of suppliers and the diversification of sources of supply are the main tools for reducing prices. Now, according to Igor Sechin, this state of affairs is called into question.