News
The Russians listed the main benefits from the accession of new regions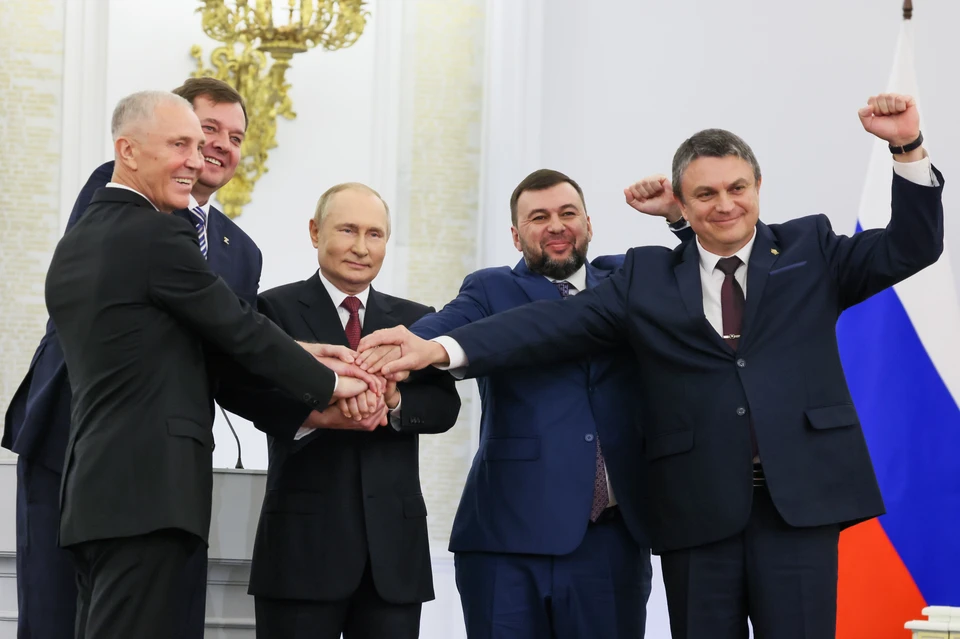 Vladimir Putin signed an agreement on the accession to Russia of the Kherson, Zaporozhye regions, Donetsk and Lugansk People's Republics. Photo: Mikhail Metzel/TASS
Today, September 30, four new regions have joined Russia: the Donetsk and Luhansk republics, Zaporozhye and Kherson regions. The relevant documents have already been signed by Russian President Vladimir Putin. The KP.RU website conducted a survey and found out what, in the opinion of the Russians, the country gains after such a decision is made.
Almost half of the respondents said that the main thing that will be achieved by joining the four new regions is, of course, the security of the inhabitants of these territories. Now, as part of Russia, they will be able to count on stable support and protection. Moreover, now Russia will help local residents to restore the destroyed infrastructure, find work, and establish stable communication with other regions of the country.

A photo: Yulia SHCHERBAKOV
"The most important thing is, of course, saving the lives of civilians in these regions," says a survey participant.
"For me personally, the main goal in humanity is that security will be provided for civilians in these territories!" – agrees the other.
"First of all, it is necessary to ensure security, and then consider all other advantages, because human life is the most important thing that we have," notes a third.
"It's good that today these liberated territories are already part of Russia," another participant in the study rejoices.
In addition, another third of the respondents added that the accession of new territories to Russia would not allow Western countries to move east. If the West planned to transfer its forces, possibly weapons, to the territory of Ukraine, now the entire coast of Azov is under Russian control.
The respondents also noted a number of other advantages that Russia acquires after the annexation of new territories. Thus, 3% of those who voted noted the importance of obtaining the largest ports in Berdyansk and Mariupol, the fertile lands of Kherson and Zaporozhye, which give two crops a year, as well as mines and factories, which once brought up to a quarter of all income in Ukraine.
In addition, 2% of Russians called the acquisition of a land road to the Crimea, which will significantly reduce the cost of supplies between the peninsula and Central Russia, the most important. And another 1% recalled that the Sea of ​​Azov is now becoming inland for Russia, which means that over time, travelers will receive excellent new resorts.
The remaining 14% said they found it difficult to answer. At the same time, many added that in their opinion, all points are equally important.
A study in social networks was conducted by the KP.RU website. 14.9 thousand people took part in the survey.