News
The reason for the explosions in Ukraine October 11, 2022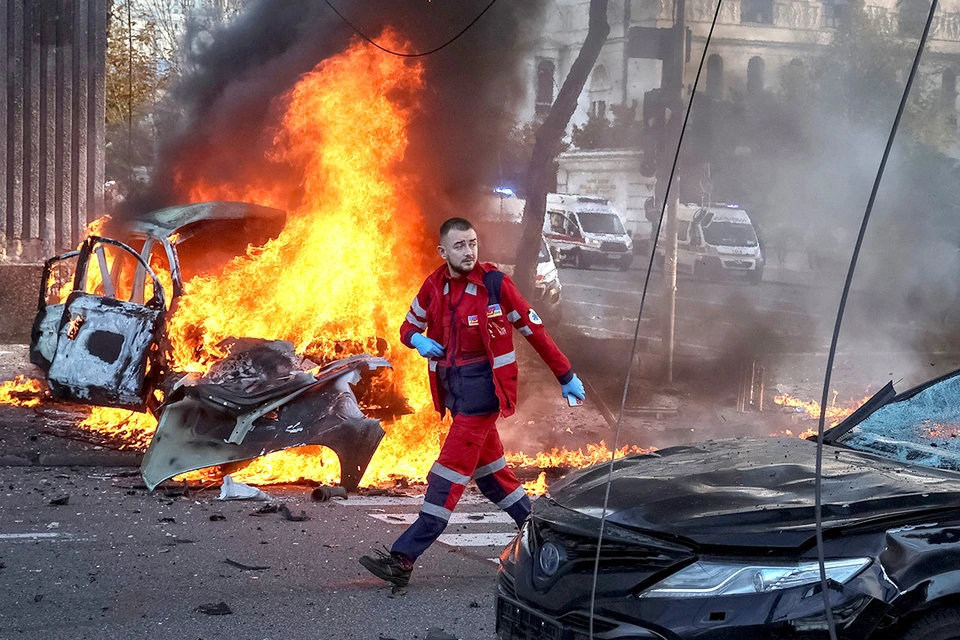 Ukrainian medic at the site of an airstrike in Kyiv.
A photo: REUTERS
– Putin fired so many missiles at once across Ukraine that he probably saved them all summer. He has no more missiles. Run out. And this is good news, – Arestovich, an adviser to the office of the President of Ukraine, philosophized on Monday, reassuring the population of cities left without electricity, water and the Internet.
The reason for the explosions in Ukraine October 11, 2022
It's Tuesday, October 11, 2022. And for critical infrastructure of Ukraine "calibers" flew again. The second day of Armageddon for the Kyiv regime. What is the reason for the explosions in Ukraine?
– Kyiv, Lvov, Rivne, Zaporozhye, Vinnitsa region, Odessa, Khmelnitsky … – the Komsomolskaya Pravda military commander Kots bent his fingers in your telegram channel. – In honor of the birthday of the commander of the special operation, General Surovikin, we broadcast the song by VIA Queen "Don't stop me now."*
And the rockets didn't stop.
Under attack were railway junctions (in Shepetovka and Pavlovgrad), thermal power plants (none of which Ukraine has built itself over the past 30 years – all this is the legacy of the USSR), military warehouses and the Metallurg sanatorium in Zaporozhye (which became a barracks for mercenaries) …
Ukrainian air defense turned out to be powerless. Because Zelensky transferred it to the front in order to ensure his "counterattack", leaving the cities naked. And where the remaining rare anti-aircraft guns still launched their anti-missiles, they hit cars on the streets, then next to the pedestrian "Klitschko bridge" (which certainly could not be a target for the "caliber").
– Give us normal air defense! – begs Zelensky the US and NATO.
And they will. Well, as "normal" – American, German. Let's see how it will show itself against Russian missiles.

Kievans at the broken cars after another missile attack on the capital of Ukraine.
A photo: REUTERS
Or maybe they won't be able to.
Because driving Ukraine into the 18th century – without railways, electricity and water – is not only a response to the terrorist attack on the Crimean bridge. This is forcing America to peace in Ukraine.
Everyone understands that negotiations with Kyiv are useless. Zelensky decides nothing. The collective Biden writes cheat sheets for him (as well as for President Joe himself). And only when America sees that Ukraine is no longer capable of fighting, there is nothing more to take from it, it is time to evacuate from Kyiv by a large helicopter, as from Kabul, the collective Biden will agree to peace.
And this means one thing – "calibers" will arrive in Ukrainian cities tomorrow.
*Don't stop me now