News
"The producers were against it even after the trials": ​​it became known how Sergey Bezrukov got into the "Brigade"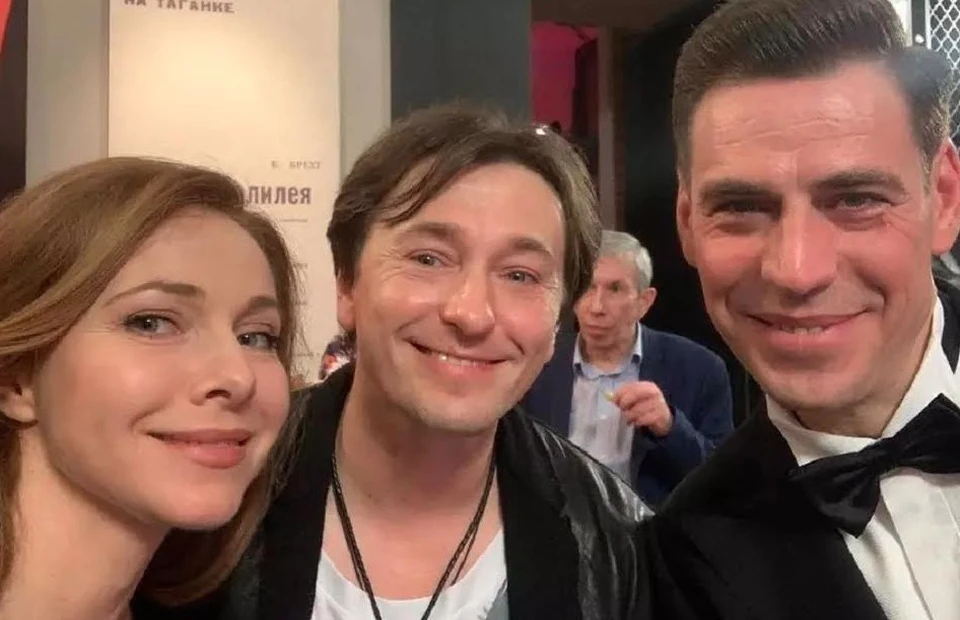 The stars of the "Brigade" Ekaterina Guseva, Sergei Bezrukov and Dmitry Dyuzhev 20 years later.
A photo: Personal page of the hero of the publication in the social network
At the end of November, a book will be released in which for the first time the secrets of the creation of the Brigade series will be revealed. The publishing house "Bombora" publishes a book called "The Brigade. Once Upon a Time in Russia… The history of the creation of the cult series. The first television blockbuster in our country was released 20 years ago. During the showing of the new series of "Brigade" the streets were empty, many people still remember the heroes and are revisiting the series. For the first time, the creators and stars of the "Brigada" reveal the behind the scenes of the creation of the project. We publish excerpts from the new book.
Sergei Bezrukov (Sasha Bely)
1999 – samples of 26-year-old actor Sergei Bezrukov in the "Brigade". By the way, the first name of the series is "Once Upon a Time in Russia". Bezrukov perceived it as shooting in a gangster saga. The actor met Alexei Sidorov, and the director approved him, also one of the producers Alexander Inshakov was in favor of his candidacy. But the series was also produced by: Alexander Akopov, Valery Todorovsky, Anatoly Sivushov. Therefore, Bezrukov, even after being approved by the director, had to audition.

Poster of the legendary series "Brigade".
Here is how the people's artist Bezrukov himself talks about this in the book:
– I replied that since they don't believe me, then I'd better abandon the project. Nevertheless, my first wife Irina convinced me to go to the auditions – thanks to her for that. She advised to step over youthful acting pride. And I went to the test along with everyone else. Dima Dyuzhev has already been approved for the role of Cosmos, who walked with his head held high. He was the first artist to be approved. Dyuzhev is huge, and I am two heads shorter than him. Lesha needed to be shown how I could suppress him by acting. And he put us in a scene together. I had to play. I suppressed. I don't know how depressed Dima was, but for him it was a surprise. Then I auditioned with Katya Guseva. Then I waited to be approved. As a result, the producer still had doubts. Lesha insisted on my candidacy (we are talking about the director – ed. note), for which he is very grateful, and Alexander Ivanovich Inshakov. All other producers of the TV channel "Russia 1" were against it. Even after testing. Polite and kind people told me about it. However, when the first material went, everyone calmed down. And when they say that all the roles are presented to you or someone is ready to rush to your aid, this does not happen. I've been trying all my life. After approval, two years of hard filming began: hard scenes, hard fights, a lot of hard energy. It took two years to be Sasha. Here is such a prelude.
Vladimir Vdovichenkov (Phil)
Actor Vladimir Vdovichenkov, like all his colleagues, became popular after the release of the "Brigade" on the screens. And Vdovichenkov turned out to be in the series by chance: he was invited to audition – the first: it was the film "Citizen Chief" by Nikolai Dostal. Having received an invitation to Mosfilm for the first tests in his life, Vdovichenkov was so delighted that he went to celebrate the night before – to the club.

The cover of the new book, which will be released at the end of November. Photo – publishing house "Bombora".
Here is how Vdovichenkov himself tells in the book how he accidentally got into the series, thanks to which he became a star:
– And I drank for joy with a friend, and we, in general, had a fight there. So much so that my face was a little broken. The next day I thought: "I still need to go to the audition. No matter!" I came to Mosfilm, and when Dostal saw me, he said: "Here, e-May, this is our
hero, everyone! Go (…) to the landing, and we'll discuss it here for now. I went out and I feel so bad at all. I stand (…). And some woman, like this, with glasses, comes up and says: "Hello, are you an artist?" I say: Well, something like that – Judging by the face, you know how to fight! – Judging by the face, I don't know how to fight, – And we, you know, need such a type, let's go. And she brings me to Lesha Sidorov at the Brigade. We talked with him, word for word, remembered past lives. And he says: "Let's try!" So this story ended up happening. I also think: "Damn, sometimes revelry interferes with life, and sometimes it helps." (Laughs.)
Ekaterina Guseva (Olga, wife of Sasha Bely)
Here is how Ekaterina Guseva tells in the book about the selection for her first starring role:
– Valery Petrovich Todorovsky took part in the production of the project. He once launched a project of low-budget films, this package of five modest films at the Gorky studio, where we filmed, included "Snake Spring", where I first appeared on the screen. Valera was a producer. And remembering, apparently, about me in that film, he recommended me. At least that's how it seems to me. And then, somehow, Sasha Inshakov fought very stubbornly for me, so to speak. Somehow he really liked me, although the samples were, to put it mildly, not at all in my favor. Serezha and I auditioned together. Therefore, I was there in the shadow of Sergei Vitalievich. What did they see in me? However, I was approved. And Lyosha Sidorov, in my opinion, somehow … at first he was not satisfied. I don't know, maybe they didn't ask him. (Laughs) Well, he was also a debutant in this story, and whoever they gave him, he filmed. It seems to me so, maybe I'm wrong, because he is still a very tough, unprincipled director who knows how to defend his opinion. Perhaps that is why he does not shoot so often in such a world of film production now. It is difficult with him, he is a flint. I don't know, he was like that when he made his first film. I think that Valera and Sasha chose me.