News
The process of exchanging our citizens with the Russian Federation will become more efficient in the future – Lubinets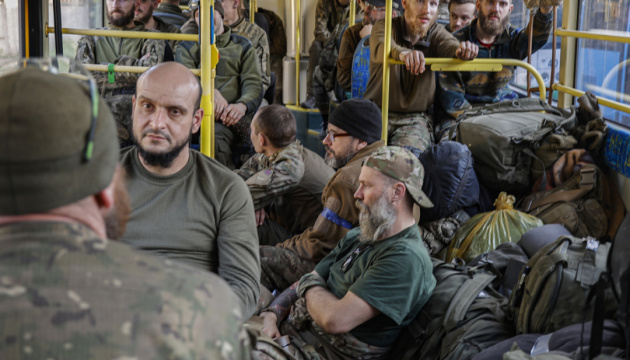 Verkhovna Rada Commissioner for Human Rights Dmitry Lubinets believes that in the future the process of exchanging our citizens with the Russian Federation will become more and more effective.
He stated this on the air of Ukrainian TV channels, an Ukrinform correspondent reports.
"We will put an end (on this issue – ed.) when we return everyone. And everything will be. Wait, there will be good news. Believe me, this process, in my opinion, we have every reason to say that it will become more and more effective," he informed.
The official said that the Ukrainian authorities do not forget about anyone who is in Russian captivity.
"We have guys from Snake Island, we have the National Guardsmen from the Chernobyl nuclear power plant, we have separate units, some of which were captured when Russia was advancing, we have the heroes of Mariupol. That is, we understand that we are pulling everyone. Separately, by the way, we have a case, and very often they say to me: why don't you mention civilians? And I say: we do not forget about them either," said the Ukrainian Ombudsman. The official clarified that the Ukrainian authorities have a separate area of ​​work related to civilian hostages, which Russia is holding.
"If we look at international humanitarian law, civilian hostages need to be released. We separately have prisoners of the Kremlin, these are political prisoners whom Russia detained and convicted from among the residents of the temporarily occupied ARC. That is, we deal with all these our citizens," he assured.
Answering a question about the exchange of Russian military for our citizens, which took place on September 21, Lubinets specified that this was planned in great detail.
"And why didn't we provide (details – ed.), why I always do not publicly comment on the details. This, in particular, may interfere with our exchange in the future, and the task facing us all is to return absolutely everyone," he said.
Speaking about the foreigners released during this exchange, Lubinets informed that the stages of this exchange took place on the sites of 4 countries.
"I can say that all this was successful, because the President was directly involved in this, and the head of the President's Office, and all members of the Coordinating Headquarters for the Treatment of Prisoners of War, even Rustem Umerov took part in this," Lubinets said.
As reported, on September 21, as a result of the exchange, more than 200 Ukrainian defenders were returned from Russian captivity, including 124 officers, as well as 10 foreigners. Viktor Medvedchuk, suspected of treason against Ukraine, and 55 Russian military were handed over to the Russian side.