News
The last bridges between Russia and Europe collapsed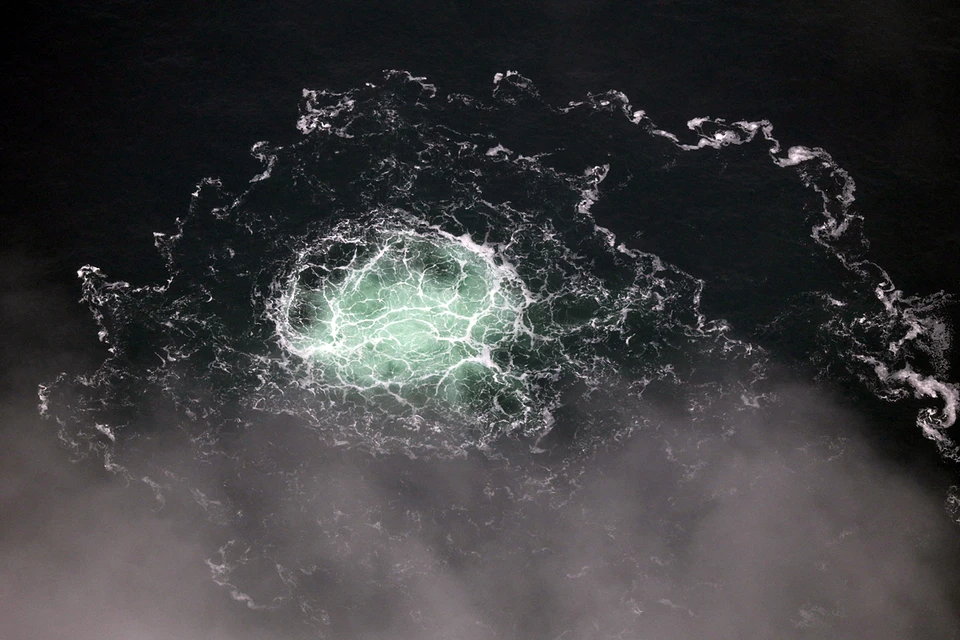 Explosions, according to seismic recorders, occurred on the night of September 26
A photo: REUTERS
"FORGET ABOUT RELATIONS WITH THE RUSSIAN FEDERATION"
As the ancients said, "look for someone who benefits." This principle is still suitable for searching for those who benefited from the accident on the Nord Stream 1 and Nord Stream 2 gas pipelines, pumping Russian gas to Europe along the bottom of the Baltic Sea.
Recall that four leaks have now been discovered – two on each gas pipeline. Explosions, according to seismic recorders, occurred on the night of September 26.
– First of all, the United States benefited from the accident on the Nord Stream gas pipelines, – said leading expert of the National Energy Security Fund Igor Yushkov. – As a result of explosions, they solve several problems at once. First, the last bridges between Russia and Europe are being torn apart. Europe has been buying Russian gas for more than 50 years. And no matter how relations with Russia developed, Europe somehow kept in mind that it would still be possible, under certain conditions, to return to the purchase of our gas. And the Americans, destroying gas pipelines (we proceed from the version that the United States did it), as if they are saying to the Europeans: do not even think that you will ever return to buying Russian gas, to normal economic relations with Russia. And do not take this into account when making decisions regarding anti-Russian sanctions, arms supplies and other issues. We must completely forget about relations with Russia and focus on other gas suppliers – in particular, the United States.
– Is the US already ready with its LNG (liquefied natural gas – Ed.)?
"There are many gas liquefaction projects in the US now, but the plants have not been launched yet, because there is no final decision whether the Europeans will buy American gas or not," the expert continues. – And in such a situation, it is beneficial for the Americans that the Europeans rely only on American LNG, and not on Russian gas. And they went out to sign long-term contracts for the supply of LNG from plants, which will be commissioned from 2025 to 2030.
– Now the Americans have enough gas to meet the needs of Europe?
– Americans don't have additional gas yet. But now they have transferred to Europe the gas that used to go to Asian markets. But not for any political reasons, but simply because it is more profitable. In Europe, there was a severe shortage of gas and prices there became the highest in the world. Any producer wants to make more money, which is why they started sending gas to Europe. All contracts there are tied to the spot market, that is, to the market for short-term contracts – the Europeans themselves insisted on this. And now the price is 1800-2000 dollars per 1000 cubic meters. Super-high prices were formed because Russian gas supplies were reduced.
– And Gazprom sells the same price?
– Yes. But Gazprom could compete on prices by offering a discount. For Germany, for example, the discount ranged from 10 to 20 percent.
MINIMUM HALF A YEAR FOR REPAIR
– Does the accident benefit Europe?
– Germany – no. For her, Nord Stream was insurance. If there is a very difficult situation, then they had the opportunity to go to Russia and agree on supplies – to launch Nord Stream 2 or resolve the issue with turbines for Nord Stream 1. Now that insurance is gone. This is a problem not only for Germany, but also for Italy and France.
– And Poland?
– She is among those who opposed the Nord Stream. Poland, for political reasons, has always been against Russian projects – recently, for example, the Poles called for dismantling the SP-2 so that it would not exist at all. In part, they did this because the Yamal-Europe gas pipeline passes through the territory of Poland. It turns out that now this gas pipeline has no competition from the joint venture. Although it does not work, because it is under sanctions, it still exists and may someday turn on.
– What are the remaining ways to supply Russian gas to Europe?
– Now only in two directions. The gas pipeline through Ukraine, on which only 40 percent is used, and the Turkish Stream. Ukraine also benefits from everything that hits Russia. Plus, it increases its importance as a transit country. But I think it will block its gas pipeline at the insistence of the United States – in order to completely tear Russia away from Europe in the gas sector.
– Is it clear now how long it will take to restore gas pipelines?
– No one will say that now. You need to start by looking at the damage. What is there – a complete gap into two parts or just a hole. But in any case, the sooner you start repairs, the cheaper it will cost. Now salt water has poured in there, it will create corrosion, it will be necessary to remove it. If you start repairs right now, then it will take six months, and it is not even clear yet when the repairs will begin. So this heating season, neither SP-1 nor SP-2 will be launched in the same volume, although one line of Nord Stream-2 seems to be intact.
Experts find it difficult to name the exact amount of repair of gas pipelines, since there have never been such cases in world practice. In any case, we are talking about tens or even hundreds of millions of euros. Who will pay this amount is still a question. It all depends on the investigation – whether they find the culprit. And if (well, you never know) it is recognized as a natural emergency, the insurers can also pay the money.

The Americans do not yet have additional gas. But now they have transferred to Europe the gas that used to go to Asian markets.
A photo: REUTERS
MEANWHILE
"The oil price ceiling is the collapse of the Western economy"
Russian experts have sorted out the situation on the energy market.
Western politicians are breaking spears around the price ceiling for Russian oil. And journalists are no less noisy discussing an article in Forbes magazine about what the introduction of such a ceiling will lead to. "This will be the collapse of the Western economy" – this is the meaning of the economic analysis, which leads the publication.
"There are flaws in this idea," writes columnist Dan Eberhart. – First, large buyers of Russian oil, such as China and India, are likely to ignore or evade the restriction. Second, price caps create significant disruptions to Russian oil supplies, which will lead to a sharp increase in world prices, keeping Russia's oil revenues afloat and hurting the global economy."
In addition, Russia may stop supplying oil to those countries that join the "ceiling agreement". Putin warned about this in early September. And if Russia limits the supply of black gold, then there will be less of it on the market – hence, the price will increase. According to Eberhart's forecasts, if Russian oil is covered with a ceiling, the price on world markets will rise to $150 per barrel. Such prices have never been. Now the cost of a barrel is approaching $90.

Russia may stop supplying oil to those countries that join the "ceiling collusion"
A photo: REUTERS
The fact that serious Western publications warn their politicians against rash steps is a good sign. There are no final decisions yet, and there is time to stop.
– No one has accepted anything yet, – says the head of the analytical department of the National Energy Security Fund Alexander Pasechnik. – On September 2, the Foreign Ministers of the G7 countries only coordinated their actions, decided on the contours. Closer to December, perhaps, something will be legally formalized. Now they are trying to drag Asian countries into their pool, but the large Asian economies are not making steps towards it.
On the contrary, the point is that a circle of serious buyers is being created around Russian oil.
– Now we will have to quickly reorient to the countries of Southeast Asia, the Middle East, – says Pasechnik. – India, China, Pakistan, Indonesia – a big pool can turn out. Turkey will also continue to cooperate with us.
In his opinion, there is a possibility that the ceiling will not be introduced.
– Despite the rhetoric, the task of the European countries with developed economies – Germany, Italy – is to prevent energy shortages. It is impossible to do this without Russian energy carriers. Therefore, it is unlikely that it will come to actual measures, – says Pasechnik.