News
The grandchildren of Oleg Efremov follow in the footsteps of their grandfather and learn to "manage the industry"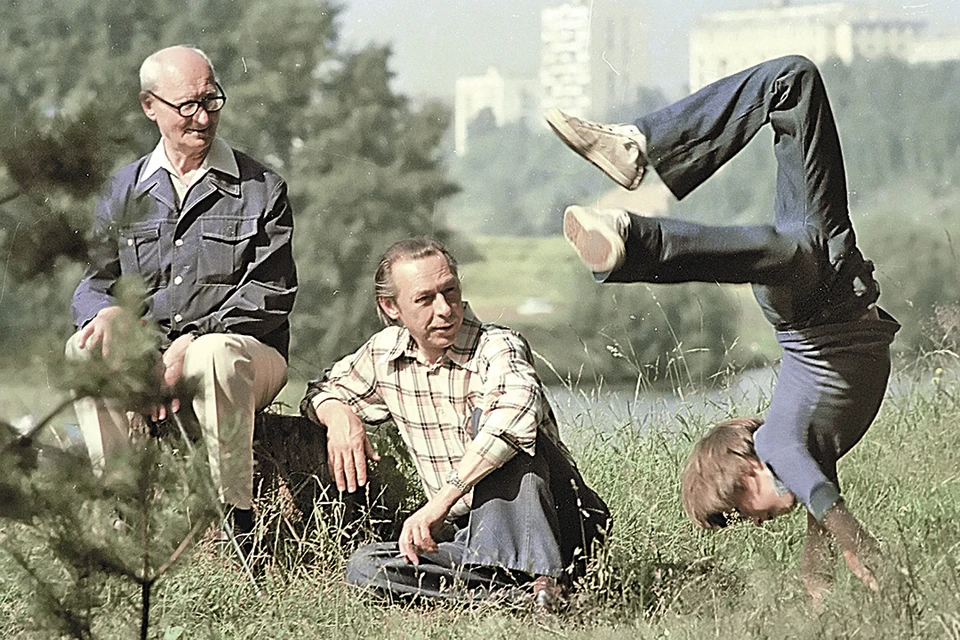 1977, Oleg Efremov with his father, Nikolai Ivanovich, and son Misha, who at the age of 14 behaved like a born artist. Photo: Alexander USTINOV / RIA Novosti
DAUGHTER – CRITICIAN, SON – ARTIST
People's Artist of the USSR, Hero of Socialist Labor, professor, director of performances that are included in the golden fund of Russian culture – all titles and merits cannot be counted. At the same time, being a representative of the creative elite, he was remembered by a wide audience in the images of a simple Russian peasant – a sentimental taxi driver ("Three Poplars on Plyushchikha") and an investigator gravitating towards an amateur theater ("Beware of the Car").
And yet, even such an outstanding person lives not only in his roles and directorial work. First of all, his continuation is his descendants, children and grandchildren. Oleg Nikolaevich has a lot of them. Two children, eight grandchildren (there is also a two-year-old great-granddaughter). What are they doing?
Daughter, 65-year-old Anastasia Efremova, is a theater critic by education, president of the Oleg Efremov Charitable Foundation. The son is Mikhail Efremov, well known to everyone, like his father, a wonderful actor, but, alas, a flawed person. Recall that now the 58-year-old Honored Artist of the Russian Federation is serving a sentence in a penal colony in the Belgorod Region for a fatal accident.
YESTERDAY – GIRL, TODAY – SERGEY
Now about grandchildren. "I have a son and a daughter," Anastasia Efremova told us. – The son has nothing to do with the theater. Daughter (Olga Efremova, 35 years old) is an actress. Once she graduated from the Shchukin School, worked at the Vakhtangov Theater. Now – in free flight.

Efremov's granddaughter Olga followed in his footsteps. Photo: Natalia Shakhanova/globallookpress.com
The eldest son of Mikhail Efremov (from the philologist Asya Vorobyova), 34-year-old Nikita Efremov, is a popular artist, he acts a lot ("Patient Zero", "Summer", "Offline" and other films and TV shows), plays on the stage of "Sovremennik". By the degree of talent (this is especially evident in theatrical works), Nikita is often compared with his great grandfather.

Nikita continued the dynasty and became very popular.
A photo: Larisa KUDRYAVTSEVA/EG
Another son of Mikhail, Nikolai Efremov (31 years old, from actress Evgenia Dobrovolskaya), is also an artist, but not as popular as Nikita. He also acts in films, for example, he played Nikolka Turbin in the serial film-drama directed by Sergei Snezhkin "The White Guard".

Anna Maria is trying to figure out who she is, a girl or a boy.
A photo: SOCIAL NETWORK
Anna Maria – the daughter of Mikhail Efremov from actress Ksenia Kachalina – is the most extravagant granddaughter of Oleg Nikolaevich. "She is now not Anna Maria, but Sergey, as far as I heard," Anastasia Efremova told KP about her niece. Indeed, the 22-year-old girl writes posts on social networks either from a female or from a male person, calling herself a "genderfluid with a bunch of complexes." He says that he wants to start a family with a beautiful woman, with whom he will adopt a child. It's hard to say what else she's doing. According to Anastasia, Anna Maria / Sergei studied at the music and theater school of Sergei Kazarnovsky, after which she entered the philological faculty of the Institute of the Russian Language. Pushkin. Her father supported her financially.

Vera studies management in creative industries.
A photo: SOCIAL NETWORK
From his fifth wife, sound engineer Sofya Kruglikova, Mikhail has three children. Their eldest daughter, 17-year-old Vera, graduated from high school this year and entered the Higher School of Economics at the paid faculty of Management in Creative Industries (few people can explain what it is).
Mikhail's younger children – Nadya (15) and Boris (12) – are still in school.