News
The future has already arrived: PSB launched a new format of bank branches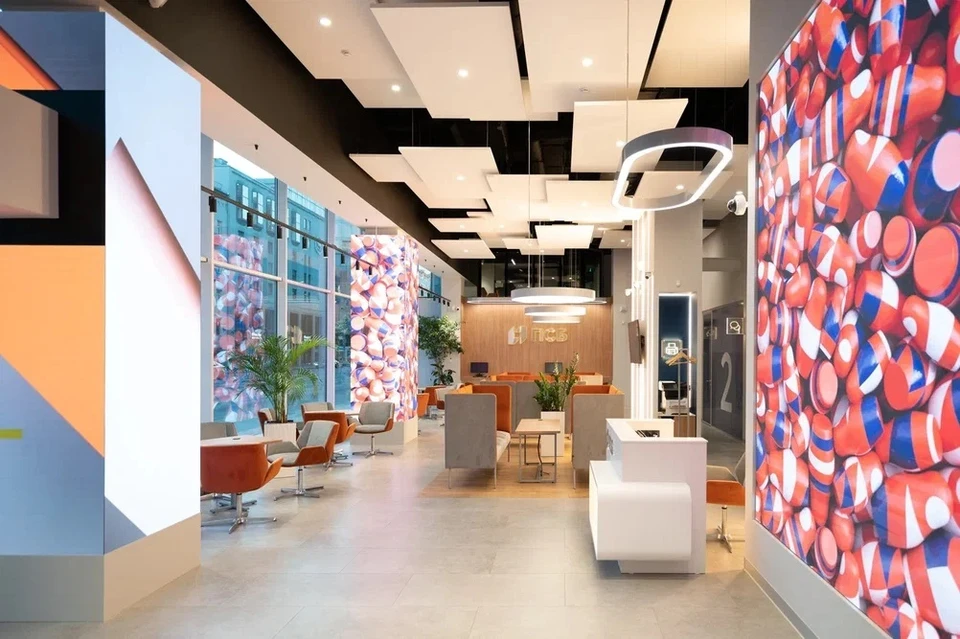 The first feeling: it doesn't quite look like a bank branch – in the sense we are accustomed to. More – on the lobby of a good hotel. Soft sofas, friendly faces of employees, lots of greenery. Although in fact here you can get any banking service in just a few minutes – open an account, consult about a mortgage or issue a new card.
PSB Bank introduced a new format of bank branches. We visited it and state: the future has already arrived!
The first pilot office of the new format is located at 1st Tverskaya-Yamskaya, 24.
IDEAL OFFICE – OFFICE FOR PEOPLE
At first, the "classic" – the guests are met by consultant managers who help to choose the right service, or – if the client came only for a preliminary consultation – they will give him the necessary information.
But then … The usual "clerks in the windows", which previously had to stand in line (well, or sit out), are not here. The visitor of the bank himself chooses a comfortable place in the space of the branch, where it would be more convenient for him to talk with the bank employee. There are comfortable chairs at a table by the window, there are closed sofa areas, there are private areas (soft sofas surrounded on three sides by soundproof walls – closed acoustics are made in such a way that even a person standing a few meters away will not hear anything at all), here you can leave children – in the children's area, cartoons are spinning on the screen, and next to it is a tablet with popular games.
– We call this format "office for people", – tells Senior Vice President, Head of Retail Business at PSB Miguel Markaryants. – There are no barriers. You went to the office, formulated your needs, you were offered to be accommodated in any of the convenient locations. Your tasks may vary. If you want a private conversation, we have soundproof meeting rooms. You can also choose to sit in an armchair at a table or sofa area. Like in a restaurant.

Miguel Markaryants explains why this is important to the bank and its customers.
– It is easier for a person who is comfortable to formulate his desires and needs. With us, you don't have to wait in line. No, you are sitting on the couch and our employee personally approaches you. Moreover, this is a universal office, both individuals and legal entities are served here. And if in the course of a conversation, for example, about a mortgage, you have questions about opening an account for a legal entity or an individual entrepreneur, you do not need to get up, go to another room, and receive a new ticket. You continue to sit on the same couch, and a few minutes later another of our employees who works with legal entities approaches you. This branch even has a depository. Moreover, unlike the depositories of any other banks, it has two pre-depository rooms for serving two clients at once. The client does not waste time waiting. Based on the feedback from our customers during the operation of this office, we understand that they like this format of service, they want to return to us!
COMFORT DESIGNED TO THE SMALL DETAILS
The new PSB branch has vending machines where you can buy chocolate, nuts or a drink (we tested it: prices are 20-30% lower than in similar machines located around the city). There is a machine with delicious coffee. There is a station where you can take a portable battery to recharge your mobile phone.
– Pay attention to ATMs – the screen is at the level of a person's gaze, the client does not need to lift his head or lower it down. So it's more convenient to use it. We try to create comfort even in such trifles, – employees say.
A dedicated area for Orange Premium Club premium clients is a separate conversation. The glasses of the meeting rooms are equipped with an automatic tinting system – if the client wishes, the transparent glass becomes frosted at the touch of a button. This allows for complete confidentiality.

THIS IS JUST THE BEGINNING
One of the main know-how of the bank branch of the new format is the video banker. This is a terminal with a lot of additional features.
– A video banker works in the branch 24 hours a day, 7 days a week. Even at night you can come here and get basic banking services, – He speaks Miguel Markaryants. – Yes, any client can always call the round-the-clock line, but many people have a need to see who they are talking to. Here video consultation is available around the clock. Moreover, through the video banker, you can instantly issue a card. (She will jump right out of the terminal! – Auth.). You never know – a person lost a card, or forgot it at home, but it is now very needed. This service is also available at any time of the day.
As you know, now all services, including banking, are rapidly going digital. People are moving away from paperwork. This is a matter of convenience (no need to carry around a pile of papers, risking forgetting or losing them somewhere) and saving time. Everything you need is available on your mobile phone. But if a person wants to receive paper documents "the old fashioned way", there is no problem with this – the es employee of the department will print everything on paper. – You choose whichever is more convenient for you! Markaryants states.
The new PSB office has a self-service area, if desired, the client can use a computer with Internet access, here the client can log into the Internet bank on his own, print out the necessary documents. Employees will tell and show everything.
– It cannot be said that we made an office of this format and stopped. No, for us this is, in a sense, a testing ground where we test various new formats, based on the requests and desires of our regular customers.– He speaks PSB representative.

In the near future, PSB will open new branches of this format throughout Russia.
– I can say that by the end of October we will have several more such offices. And in general, we have determined for ourselves that this is exactly the concept that we want to implement throughout the network. Therefore, within 3-5 years, all branches of our bank will comply with the new format, – summarizes Miguel Markaryants.