News
Tajiks, Uzbeks, Kyrgyz, natives of Kherson: migrants line up to enlist in the military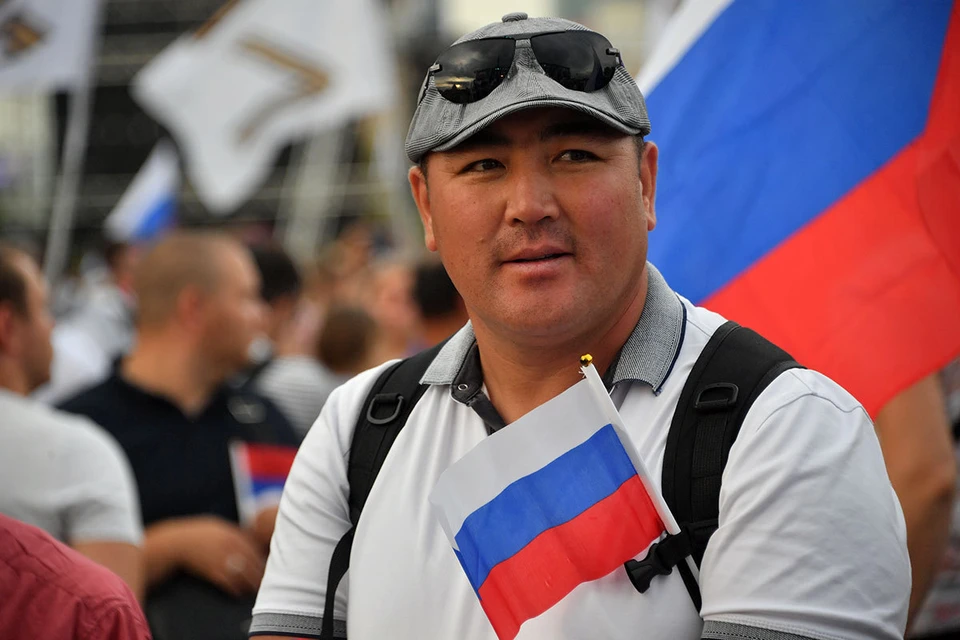 Migrants go to serve in the Russian army
A photo: Vladimir VELENGURIN
As soon as the accordion bus stopped at a stop and opened the doors, people immediately rushed into it. Crush! The woman in the controller's jacket even had to shout. The lucky migrants who found themselves inside immediately took their seats. Within a minute, the bus was packed to capacity. We started.
Five minutes later, one of the passengers – a bearded man in his thirties – staged a "revolt" against social injustice.
– Guys! – he turned to the end of the salon in Russian. – There are women around you. We have at least an hour and a half to go. Give them space. We are men, we will suffer!
Someone "according to the classics" pretended not to hear and generally sleeps. Someone fidgeted, but remained in place. Only one stood up, waving his hand to the "revolutionary".
"Sorry bro, I just didn't see…
Then two more got up.
"YOU DO NOT UNDERSTAND HOW MUCH CITIZENSHIP GIVES!"
City buses that run between Dmitry Donskoy Boulevard metro station and Sakharovo Migration Center in New Moscow depart every 15 minutes. And most often, as the "experienced" say, they are sold out. You can also take a taxi from the metro (300 rubles per person), but most of the savings go by bus.
Migrants from all over the capital visit MC-1. To whom to apply for a patent for work (for this you need to go through a bunch of procedures, including fingerprinting), to whom – to apply for a TRP (temporary residence permit – a necessary condition for obtaining a residence permit (residence permit) in the future), who else. A new service has been launched in Sakharovo since last week. Foreigners wishing to obtain Russian citizenship under a simplified procedure can sign a contract for military service here, and then apply for a coveted Russian passport.
We ask the men standing nearby (90% of them are visitors from Uzbekistan and Tajikistan) if there are any future contract soldiers among them. They shook their heads.
"Actually, I heard that there are a lot of applicants among fellow countrymen," says Firuz, a Tajik. – Yes, you can get to the front, and there it is not known how everything will turn out. But many are willing to take the risk. You don't understand how much citizenship gives if a person wants to stay here permanently!
And he explains with his own example.
– Well, look. I now have a temporary residence permit, just going to apply for a residence permit. I work under a patent – every month I have to pay 6 thousand rubles. In addition, if my patent is issued in Moscow, I do not have the right to work in the Moscow region. And anything can happen with work. Today is, tomorrow lost. Need to spin. I want to get Russian citizenship in the future. But this process can take 5-7 years, or even more. And all this time I have to walk along the line so as not to "screw up" anywhere. Because even crossing the street in the wrong place is a fine under an administrative article. And two administrative cases during the year – deportation, and even with a subsequent ban on entry. I'm holding myself like this, – he folds his fist. – And when I am a citizen, I will be free. I will be able to work where I want, I will be able to receive "social programs" (Firuz is holding the hand of his pregnant wife – Auth.). So… I myself wouldn't want to sign the contract, but many of us think that the law on simplified citizenship is a chance.
ENGINEER WITH AGENDA
For some time our conversation was attentively listened to by a Kyrgyz man leaning against the door. He was the only person on the bus with a book – the memoirs of the American neurosurgeon Henry Marsh. In Russian.
For more than a hundred passengers – just from the heels of "persons of Slavic nationality." Next door is a guy with brown hair.
– And where are you from? Why in Sakharov?
– I am a local, I just work in the MC, in the engineering service. I'm coming from the military office. Received the order yesterday. They gave me a week to get ready. I'll work for a few days and go.
– How old are you?
– 27.
– Served?
– Not. And I have no military specialty.
– You can write to the hotline if you want to challenge the summons. You do not fall under the criteria for partial mobilization.
The engineer was genuinely outraged by such words.
– Yes, I will not dispute anything! I will go. It's just that I've been involved in patriotic clubs since school. I didn't serve, but I know how to shoot, I can make out a Kalashnikov assault rifle with my eyes closed. Perhaps I was in some bases as a person from patriotic clubs, which is why the summons was sent. In a week I have to appear at the military registration and enlistment office. So, if they called me, I'll go.
The recent Kyrgyz with a book raised his eyes to the guy, looked at him with concentration and briefly approved:
– Man!
When they got off the bus in Sakharovo, several people immediately patted the mobilized man on the shoulder:
– Take care!
READY FOR EVERYTHING
In Sakharovo, a separate building was allocated for those wishing to sign a contract. Last Thursday, when Mayor Sergei Sobyanin announced the opening on the territory of the Migration Center of "a full-fledged infrastructure to assist the Ministry of Defense in organizing the entry of foreign citizens into the military service," it was promptly equipped with engineering networks.
– Yes, people go there, they go, – the guard in a light green vest confirmed (they check everyone's passports at the entrance – only foreign ones are allowed in). – Mainly Central Asia.
But day after day is not necessary. For example, on September 26, near the entrance number 6, where a reception center for migrants for military service was organized, there was a crowd of volunteers. Tajiks, Uzbeks, Kirghiz – people of various nationalities, ages and professions. The next day the halls were surprisingly empty. But local officials are sure that this is a temporary lull, and soon there will be more people again.
"We offer a salary of 190 thousand rubles a month, a full package of social guarantees and the opportunity to obtain Russian citizenship in a simplified manner for the two months that a person is being trained," they explained to correspondents KP.RU in the migration center "Sakharovo". – But many do not come here because of money, especially those who came from the territory of Ukraine. Yesterday there was a guy from the Kherson region. At first I wanted to sign up simply as a volunteer, but at the military registration and enlistment office they told him that it would not work without Russian citizenship. He decided to catch both birds with one stone: to obtain citizenship and leave for the war zone. And there are actually quite a lot of such ideological and ready-made people.