News
Strikes on Ukraine October 10, 2022, latest news about explosions in Kyiv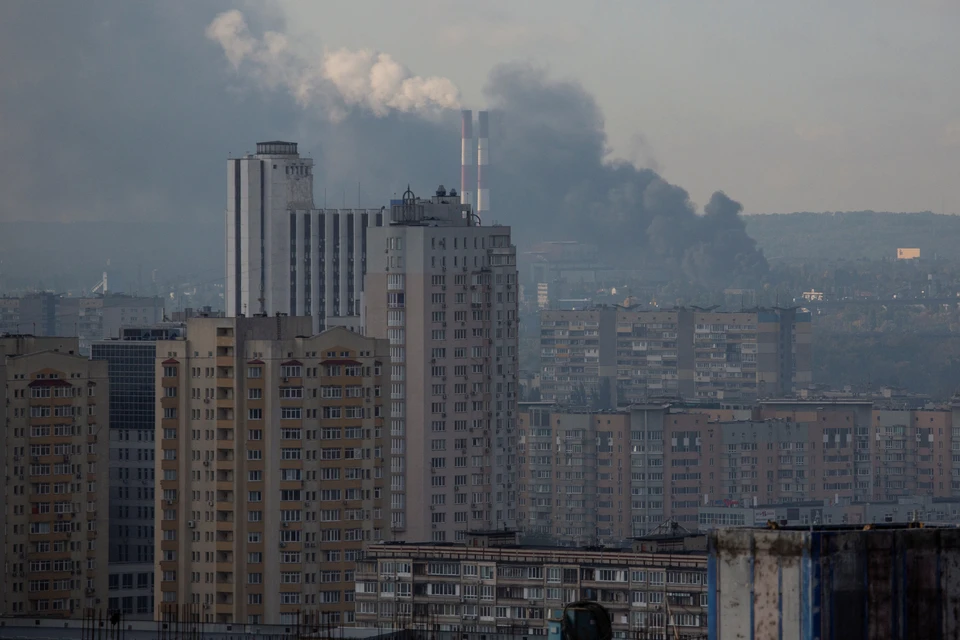 The Russian Armed Forces carried out missile strikes on strategic facilities in the Ukrainian capital.
A photo: REUTERS
The reason for the attacks on Ukraine October 10, 2022
Russia for too long, too patiently warned Kyiv and the West about the "red lines", to cross which meant to wake up the bear in the Russian bear. Moscow seemed to be trying to pick the Bandera anthill with a knight's skewer, so that, God forbid, not a single person who was not involved in the Nazi battalions and the regime was accidentally injured.
And in response there was hooting, sanctions and NATO howitzer strikes on Donetsk, Kherson… On Russian cities.

"Yaka garna novina!" – the people of Kiev walking along Khreshchatyk shone with joy in an interview with German journalists on the day of the terrorist attack on the Crimean bridge. And they were photographed against the background of a postage stamp depicting the explosions of this bridge. Yes, such a stamp has been sold by Ukrposhta for a long time and its large layout is in the center of Kyiv.
But with the Crimean bridge it was already beyond the limit.
For the hundredth time, Russia could no longer promise retribution and do nothing. To educate and not put in a corner presumptuous – only to whet his appetite for new tricks. A terrorist attack must always be followed by a strike against the terrorists' lair – strikes against Ukraine.

A day earlier, residents of Kyiv were enthusiastically photographed in front of a poster with a blown up Crimean bridge.
A photo: REUTERS
Explosions in Kyiv and other cities of Ukraine
And Judgment Day has come.
10/10/2022 was the date of the most powerful strike against Ukraine since the beginning of the special operation. The missiles flew straight at the largest cities – Kyiv, Kharkov, Lvov, Odessa, Krivoy Rog … Pointwise knocking out the infrastructure – communications, electricity. And refuting Zelensky's bravado that "calibers" in Russia are over.
About 200 rockets in one morning provided strikes on Ukraine and explosions in Kyiv. Get it without signing. Everyone already understood everything.

What will happen next
A couple of weeks of such attacks, when Russia can provide explosions in Kyiv, and Ukraine can be driven into the Stone Age, left without electricity, water, heat and the Internet. After that, the Ukrainians will start asking their authorities – maybe that's enough? Are terrorist attacks against Russia necessary, after which Ukraine is in ruins? Maybe it's time to give up or negotiate?

Even the West shyly averts suspicions from itself: the murder of Dasha Dugina? — it's not us, it's Ukraine. Explosion on the Crimean bridge? No, no, we have nothing to do with it. These are the special services of Ukraine.
Although here everyone understood long ago that the West got into Ukraine up to its ears. So he's already there with everything.
And retaliation strikes against Kyiv are also a warning to NATO. Do not tease, do not bury yourself, otherwise there will be missiles for you, only more serious – "Daggers" with "Poseidons".

Someone will say that Ukraine can respond to a blow to its critical infrastructure with new terrorist attacks. And the degree of confrontation will only grow.
The answer to these fears (generally reasonable) is simple – there would certainly have been new Ukrainian terrorist attacks if Russia had not responded.
In any case, the course of the special operation from this day on will be different. We saw, Ukraine felt, and the West realized that Moscow is capable of acting tough. Not with a skewer, but with the whole bear paw.