News
Star street style: Anita Tsoi flaunts in shorts, and Lolita wraps herself in a scarf-arms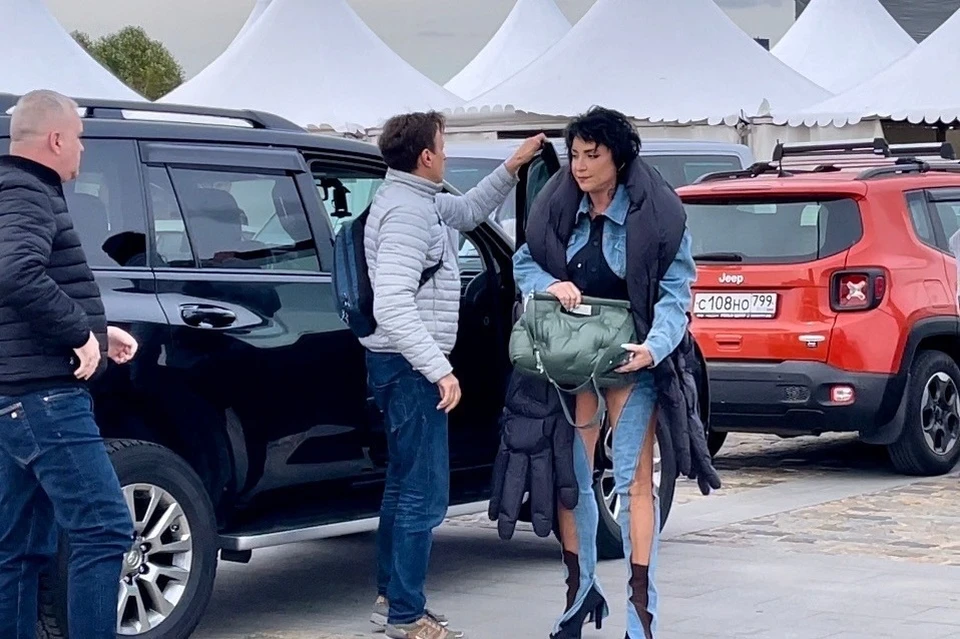 Lolita chooses a shocking style.
A photo: Alena MARTYNOVA
We are accustomed to seeing them in spotlights and evening dresses for red carpet. Meanwhile, celebrities walk around the city, go to the studio and go shopping, after all. And they do it not at all in full dress. What celebrities choose for everyday life, and what ideas can be borrowed from them to be in trend, the KP.RU website sorted out together with stylist Ruslan Gromov.

LOLITA
– A singer in her repertoire. It is unlikely that this bold look with translucent inserts on jeans, through which skin imperfections are visible, can be advised to women under 60. Still, clothes are a brilliant tool to hide flaws, and not put them on display. But try telling Milyavskaya about it – and she will laugh in your face!
The outfit itself is very stylish. Denim is still relevant, and designers do not get tired of fantasizing with creative ideas using this fabric. I am glad that a simple black blouse without unnecessary details is matched to the intricate trousers. A denim jacket simplifies the look a bit, but in combination with a spectacular bologna boa in the shape of giant hands, this is rather a plus. But I don't like ankle boots under a transparent fabric: they "cut" the legs with an inappropriate horizontal line. And yet, the image as a whole is very creative – the attention of the crowd in such an outfit is guaranteed.
TATYANA BRUKHUNOVA

Tatiana Brukhunova.
A photo: Personal page of the hero of the publication in the social network
– As you know, the wife of Evgeny Petrosyan considers herself a great fashionista and carefully selects "bows" for the exit. But here, in my opinion, there is a certain feeling of overloading the image: there are too many accents, and they are fighting among themselves. The gaze now and then jumps from the hat to the bomber jacket, from the bomber jacket to the bag. The color scheme is not sustained, the accessories are of a completely different shade, which spoils the purity and coherence of the image.
In this outfit, the bomber jacket personally attracts me – this is a trendy thing in 2022. You can integrate this jacket into different styles and images. Another fashion trend is a moderate flare on jeans, and Brukhunova is clearly aware of this trend.
NASTYA IVLEEVA

Nastya Ivleeva and Eldzhey.
A photo: Personal page of the hero of the publication in the social network
– In this "look" three trends are very organically intertwined into a single whole: layering, oversized (larger things. – Ed.) and hip-hop. Moreover, the former spouses Ivleeva and Eldzhey demonstrate complete mutual understanding in clothes, as if they selected images taking into account the preferences of a partner.
Sportswear in hip-hop style today again won a place in the wardrobe of young people. The fashion for free and relaxed things was at the beginning of the 2000s, but, as you know, fashion is cyclical. An oversized bomber jacket with a bright lining in a classic design is also part of the modern style. For a street "bow", when you need to go to the store or for some household chores, such an outfit is perfect. But it has one trick that many do not think about. These comfortable, but rustic models look most advantageous on young and slender girls with a bright appearance (like Nastya Ivleeva herself). If you put the same thing on an older lady, with extra pounds and without makeup, the effect of negligence cannot be avoided.
KATYA LEL

Katya Lel.
A photo: Ivan MAKEEV
– Spectacular shot: the singer knows how to stand out from the crowd. The main thing that I want to notice in this image is a plush coat with a straight cut. This is a must have of the season (what is required to be purchased. – Ed), without it there is nowhere. Katya's coat is clearly designer: you won't find such prints in the mass market. But if you are on a budget, just choose bright colors: it is fashionable and useful as color therapy.
Metallic boots and trousers, which ripped the trends last season, are definitely an overabundance. I think that in the case of Katya Lel, this choice is explained by her predilection for the topic of aliens. If you want to stay stylish, such fanaticism is best avoided. A maximum of one silver item is allowed, such as a jacket or shoes.
ANITA TSOI

Anita Tsoi.
A photo: Alena MARTYNOVA
– Black and white – timeless classics. White safari-inspired boots are the focal point of this look. An inflated jacket from a well-known brand not only complemented the look favorably, but also correctly placed accents due to its volume.
Anita made a bet on slender legs, wearing shorts and tight matte tights. This is true in the cold season, and besides, it slims. A massive bag with a belt made of chains also fit in well, adding a slight gloss. But if it were smaller, the image would no longer look so harmonious.