News
Shmyhal held a number of meetings in New York on support and restoration of Ukraine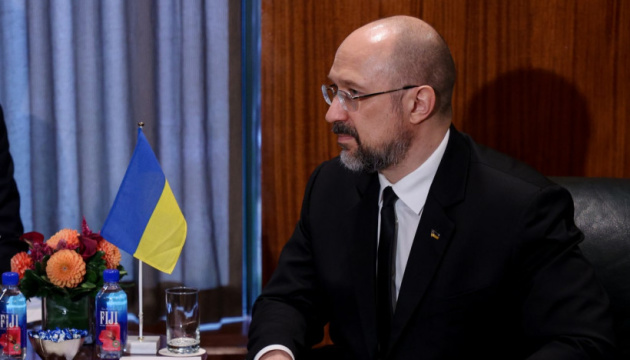 Prime Minister of Ukraine Denys Shmyhal held numerous meetings in New York with state leaders and heads of international organizations on military, economic and political support for Ukraine.
As an Ukrinform correspondent in New York reports, he told reporters about this on Thursday.
In particular, meetings were held with US President Joe Biden, British Prime Minister Liz Truss, Japanese Prime Minister Kishida Fumio.
"We have secured the support of international financial institutions, especially the G7 countries," he said. – An extremely fruitful meeting was held with IMF Managing Director Kristina Georgieva. We agreed that a mission to create a new program for Ukraine will start in October."
The prime minister recalled that this year the IMF announced the allocation of an additional $1.4 billion in emergency assistance to Ukraine.
According to Shmyhal"fruitful negotiations" were held with UN Secretary General António Guterres, with the UN team, with the Global Compact organization to support the process of restoring Ukraine, "and not only after the war, but also insuring businesses, military risks during hostilities."
Shmygal noted that during a discussion with the Secretary General of the grain agreement, he raised the issue of extending its validity, since it is designed for 120 days. Guterres promised that the agreement will be extended, the UN is also working to expand the number of ports involved in it.
According to the prime minister, in the course of negotiations with partners, the need to reform the Security Council was discussed. UN.
"The discussion is open," he said. – We believe that the aggressor country cannot have the right to vote. It either needs to be deprived of this voice, or, perhaps, during military aggression, it should be expelled from the Security Council."
The prime minister noted that Russia is trying to influence the minds of other countries with disinformation and propaganda.
"On the basis of the UN General Assembly, we had many negotiations with African, Latin American countries so that they understand who is the aggressor and who is responsible for everything that happens," he said.
Commenting on Russia's latest statements about holding fake referendums in the occupied territories and partial mobilization in Russia, he stressed that it is necessary to maintain unity both within the country and among foreign partners, "regardless of what the aggressor does."
"This news worries us all, but we understand that we must be united within the country, have political and public unity. We all must work within the state as a single mechanism for our victory," he stressed.
Russia's war against Ukraine has been going on since 2014, and little has changed from announcements inside Russia, Shmyhal said.
"Whether there will be mobilization, whether there will be fake referendums, or some other steps, our task is to liberate our territories within internationally recognized borders. We are working on this task and, I am sure, with the support of our partners, we will successfully implement it," he added.
As reported, on September 20-26, a high-level week is held in New York within the framework of the 77th session of the UN General Assembly, where leaders of states, heads of government, heads of foreign affairs departments of member countries speak. Shmyhal, President's wife Olena Zelinska and Prosecutor General of Ukraine Andriy Kostin take part in a number of events on the sidelines of the General Assembly.
Photo: CMU