News
Shevchenko in Kherson listens to Russian romances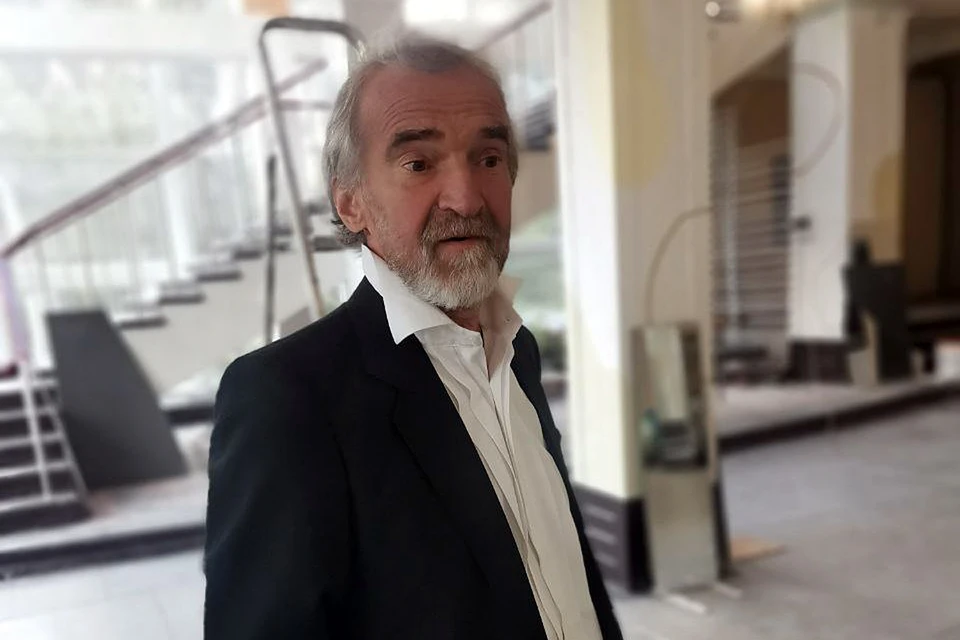 Viktor Georgiev, artistic director of the Kherson Regional Palace of Culture and the Kherson Regional Youth Theater
A photo: Igor EMELYANOV
In the windows of the assembly hall of the Maritime Academy at 8 am on Friday, August 23, it blew. No one opened the transoms to ventilate. In two hundred windows, glass was blown out by the shock wave. Flew to a nearby park. The academy also blew the roof off. Literally.
MARINE CHARACTER
The new rector of the unique university Anna Tikhosova, telling me about the mood in the team and among the students, explains: the former bosses who left took away the electronic keys and uprooted the servers of very expensive simulators. And those who remained want to learn and teach. The graduates of the past years went to sea not under Ukrainian flags, but under foreign flags. Since Ukraine has not had its own fleet for a long time. Current cadets will be able to work on Russian ships.
However, cadets do not vote in the referendum – freshmen were sent home until September 28 for security reasons.
But not all of those descending the main staircase from the assembly hall with the windows blown out by the blast into the hall to the voting point had the courage to say their name, and, moreover, to show their face to the camera.
University employee Vitaly Sokolov had enough.
Vitaliy Danilovich does not hide the fact that he voted for secession from Ukraine and entry into Russia. And that his sons left Kherson "in different directions", to Russia and Poland (there are many such families in Kherson – author).

Vitaliy Danilovich does not hide the fact that he voted for secession from Ukraine and entry into Russia
A photo: Igor EMELYANOV
Here's what he said:
– There were referendums in Soviet times. In 1991, I remember, there was a vote for the preservation of the Soviet Union. And then I definitely voted "for". But even in nightmares, he could not imagine what things would come to in 2022 – (at this time, the head of the security of the university shouted to the dense stream of teaching staff – "please leave the stairs"!)
And Vitaly Danilovich argues that in general, among acquaintances, the attitude towards the referendum is "50 to 50". But in his inner circle, everyone is in favor of joining Russia.
– For sailors who, in general, are people of the world, there are nuances. Among them, there are many who are more likely to lean towards a neutral position. But now you have to choose. And I am sure that the outcome of the referendum will be positive. And Kherson will certainly become a part of Russia. He has always been her and by misunderstanding became Ukraine. And our 200 windows will be inserted – but this, I think, is trifles. But bridges, communication with the "mainland" is an important problem. Calm will come, there will be stability – and people will calm down. And now, after all, many are nervous precisely because of uncertainty.

Physical education teacher and part-time crew commander in the company of cadets Artem Naumenko
A photo: Igor EMELYANOV
Ladies of different ages, one after another, refuse to explain their choice and give their full names, and even more so to be filmed.
The teacher of physical culture and part-time crew commander in the company of cadets Artem Naumenko does not refuse.
– What people are afraid of – the return of the old Ukrainian government. Someone got scared. Including, when at the end of summer and in September there were explosions from sabotage and reconnaissance groups, Artem Vladimirovich argues, – There are too many Kherson residents and they often read Ukrainian social networks. But I think that those who remained here by September are mostly for Russia. And voting in a closed booth is an unnecessary thing. The choice is obvious.
He says that he is satisfied with helping children – he has a 2.5-year-old daughter and a 10-year-old son. And the family already receives much more support than in Ukraine.

Monument to Taras Shevchenko with a torn toast in honor of Ukraine
A photo: Igor EMELYANOV
REAL DIRECTOR
In the House of Culture of Textile Workers, they are invited to vote at about one o'clock in the afternoon. The songs are from the 80s. In live performance.
There are at least a hundred people at the steps of the Palace of Culture, there are not many young people, although some came with children, who are immediately treated to cotton candy.
Sergei, a pensioner who moved to Kherson from the Crimea a long time ago and settled here, voted among the first and sat down on a bench near the monument to Taras Shevchenko, in the square across the road, decided to wait for his wife. While his wife was lingering, he told how the day before they caught a young man who was painting on the walls on the street of Perekopskaya toast in honor of Ukraine and the Armed Forces of Ukraine.
– So he was forced to take paint and a brush and paint over his art, – Sergey chuckles, – and they even showed it on the news. It's amazing how much rubbish came out in Kherson after February 24th. It's good that most of them have already left.
However, his daughter and granddaughter also left the city and now lives in Turkey.
Vadim, who has more than 35 years of experience, received a Russian passport in June, which he readily demonstrates, is now busy with trucking, although he has earned his pension a long time ago.
– In 2014, more than a thousand of us, those who were against the Maidan, gathered in the center on the square. A handful of nationalists came. Why did they prevail in the end and not us? Organizers then sensible was not. But now justice is being restored.
Looking at the monument to Shevchenko, Vadim recalls how for the past 7 years crowds of nationalists gathered around the kobzar for their gatherings, which had never been seen in Kherson before. And, alas, not all of them have disappeared today in the Ukrainian expanses.

Driver Vadim with a Russian passport at the bust of the founder of the Airborne Forces Margelov
A photo: Igor EMELYANOV
And the main result of the referendum, he believes, should be guarantees of peace and the arrival of Russian capital in a semi-empty city, which was once famous for its huge European-level factories.
Viktor Georgiev, artistic director of the Kherson Regional Palace of Culture and the Kherson Regional Youth Theatre, which received hundreds of people on "its territory" on the first day of voting, said that he personally had long ago made up his mind both in relation to Russia and in relation to Kyiv.
– I moved to Kherson from Dnepropetrovsk. And here I used only the Russian language, says Viktor Sergeevich, – I was threatened. But this is my language. Which cannot be eradicated. Despite what the Kyiv regime says. Let then Mr. Zelensky return to his roots and speak Hebrew. And I didn't have productions in Ukrainian. The Russian language makes it possible to get acquainted with the whole world culture. Ukrainian – does not. Translations of Shakespeare into Russian were made by the great Pasternak. And in Ukrainian – a computer program. Where there is neither a spiritual beginning, nor a poetic block.
The artistic director invited me to an evening of "Russian Romance" on Sunday. Alas, it is not yet possible to dream that the entire hall for 800 seats will be filled …
THREE MAIDENS BY THE WINDOW
On a bench at the second entrance of house No. 9 on 295th Division Street, three colorful grandmothers, as if they had come from Soviet jokes, were grinding bones. Until a journalist from Komsomolskaya Pravda approached them.
The reason for the approach was simple – right in front of this nine-story brick building in a quiet central area, the valiant AFU smashed the fire department with a missile attack. It happened on Wednesday, September 21st. All fire brigades were on the road and, fortunately, no one died. And since it was dark and a curfew was approaching, the children did not play in the yard near the fence of the Ministry of Emergency Situations.
But the blast wave and shrapnel knocked out many windows in almost all entrances.
"Shards are whistling, we are lying on the floor, it's scary," says the most "Ukrainian" of the trinity, who communicates in Surzhik.
Another, who looks like a classic Russian grandmother from Pushkin's fairy tales, elaborates in almost exemplary Russian:
– It's just amazing that no one was even injured here, and we were able to clean up the broken glass only recently.
The third, similar in type to a middle-aged lady from the Odessa courtyard, pursing her painted lips, argues:
– This was the quietest part of the city. No military. Schools and kindergartens, pensioners and children. Whom did we hurt?
From their entrance, and indeed from the entire nine-story brick building, after February 24, many people left for Ukraine or further, beyond the "big border". Therefore, two days after arrival, mosquito nets hang on the windows of a number of apartments, which there is no one to remove or fix.
When asked whether they know about the referendum and whether they are going to vote, the whole trio in different ways, but almost in unison they say that they will vote for sure, but they don't know exactly where this can be done.

Retired colonel arrived to vote with his daughter
A photo: Igor EMELYANOV
When a Komsomolskaya Pravda correspondent says that on the first day of the referendum he saw how many people went to vote for a better future at the Naval Academy and at the House of Culture of Textile Workers, they agree that it is possible to get to the moral academy by trolley bus, and not wait, when the urn is brought straight to them.
They are nostalgic for the flourishing city where they spent their youth, where they had jobs at the largest factories, and from where they always went to rest in the Crimea.
All factories have been closed for a long time, getting even to nearby Yevpatoria is a big problem due to broken bridges, and they all want one thing – so that shells or rockets do not explode nearby.
And for young people to have work and hope. So they say, looking at a drunken company, which is clearly not from their yard and is clearly loitering around in the yard, where children's voices do not sound now.
It is deserted and on the forecourt, and the station itself is closed for repairs.
A girl from a company of guard shooters agreed to lead her through the building, shining with fresh paint, but she does not talk much about the referendum.
I ask when and where the trains will leave from here.
– Probably, to the Crimea, but, perhaps, not soon.
But they will surely come.
ON THIS TOPIC
In Kherson, they drink coffee, barbecue and argue in Russian: what can be seen and heard in the liberated territories during the referendum
KP.RU correspondent went to Kherson through the Crimea and shared his impressions (more)