News
Sergey Puskepalis crashed in an accident: where is the funeral, date of farewell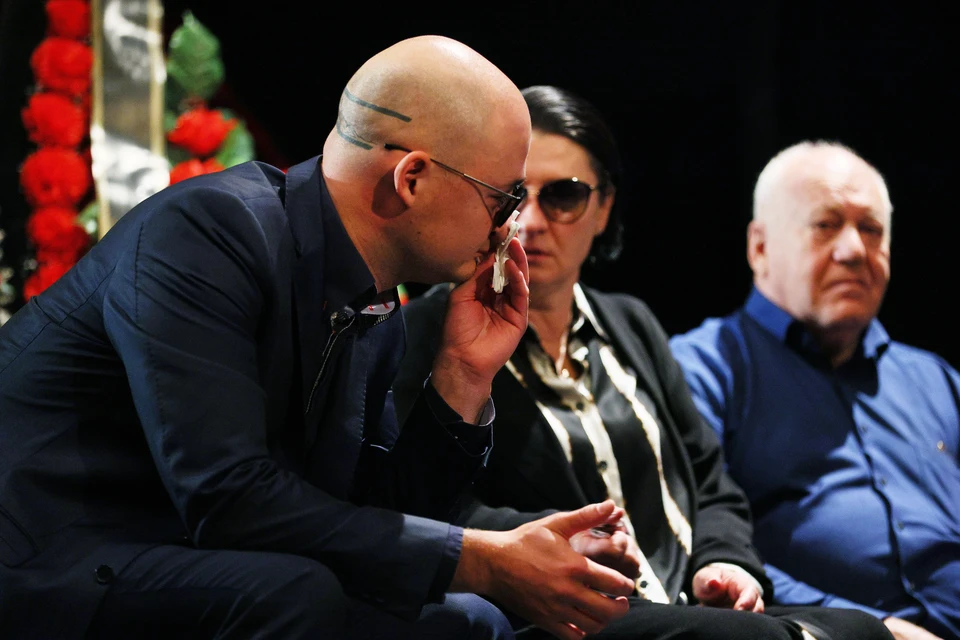 The son and widow of Sergei Puskepalis – Gleb Puskepalis and Elena Petrova at the farewell ceremony. Photo: Vladimir Smirnov/TASS
Sergey Puskepalis crashed in a terrible accident on 20 September. His car collided with a truck on the highway in the Yaroslavl region. The actor had no chance to survive. During the farewell ceremony, the coffin with the body of the artist was closed.
In Yaroslavl they said goodbye to Sergey Puskepalis. The ceremony was held in the large auditorium of the First Russian Theater – since 2019, the actor has been the artistic director of a cultural institution. The hall was buried in flowers and mourning wreaths. Two closed coffins were placed on the stage. In addition to Puskepalis, people also said goodbye to the theater driver Alexander Sinitsyn, who was driving the minibus.
Friends, acquaintances and colleagues came to see the dead. Among the stars at the ceremony were: Irina PegovaAndrey Merzlikin, Nikolai Burlyaev and Edgard Zapashny.
The widow of the artist Elena Petrova and son Gleb Puskepalis did not hide their grief. Puskepalis Jr. sobbed, the widow hid her tear-stained eyes behind dark glasses and cried during heartfelt speeches made by colleagues and friends of Puskepalis.
After the civil memorial service, a funeral service took place. The coffins with Puskepalis and Sinitsyn were carried in their arms to the Kazan Convent. Merzlikin walked at the head of the procession with a portrait of Puskepalis.
The funeral of the actor will be held on September 23 in the city of Zheleznovodsk, Stavropol Territory. Last shelter Sergey Puskepalis finds near his own parents. The funeral ceremony will be open only to the family and friends of the artist.