News
Sergei Stepashin: We need to be prepared for a tough response to the reaction of Kyiv and Washington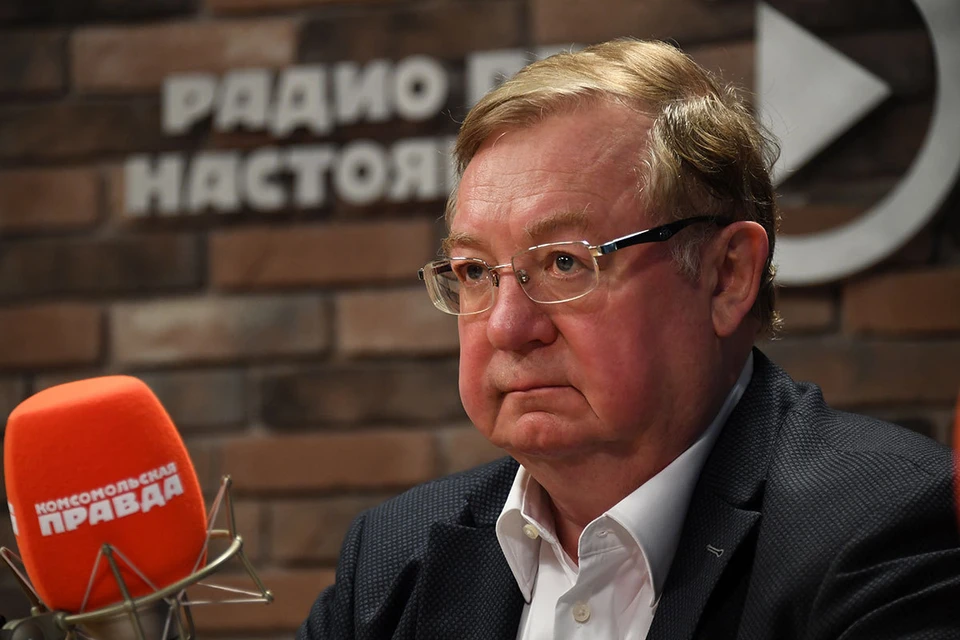 Former Prime Minister of Russia Sergei Stepashin.
A photo: Ivan MAKEEV
– … Sergey Vadimovich, as far as I know, this Wednesday, September 21, you are on a business trip …
– Well, yes, I'm in Astrakhan now, we have several topics here.
And we have already discussed here the situation related to emergency housing, with the relocation of people from such houses. (Sergey Stepashin – Chairman of the Board of Trustees of the Territorial Development Fund, which deals with these issues. – A.G.)
Just on this Wednesday, such tough presidential decisions were made …
– And they caught you on a business trip.
– Yes, and peaceful life also continues, and no one has canceled the tasks that face the country, before us.
– I know that during even such purely business trips, in addition to solving problems through the Territorial Development Fund, you always communicate with people with pleasure. It must have been the same this time.
– Well, yes, I already had a big meeting with students of Astrakhan State University.
– And How?
– 99 percent of the questions were about what is happening now in the Donbass, in the liberated territories of Ukraine. And, of course, about today's address by the President of Russia.
So, I had to explain the position, at least – my
– Now, if possible, I will also join these students and my question for Radio KP, the website and newspaper Komsomolskaya Pravda is this – what will it change? What will happen next in the country, on the fronts?
– As for the country, I do not think that there will be any cardinal changes, the only thing, of course, is that we should already think about some elements of the mobilization economy, about what many have already said – that we live in other conditions, not only with this year, but also from 2014. This is completely obvious. It is also obvious that it is necessary, of course, to seriously strengthen the defense capability of our country, including the improvement of our high-precision weapons. This is also a technological breakthrough, as many people have been talking about.
As for partial mobilization, it was obvious …
– Sergei Vadimovich, you said about the mobilization economy – what is it? How to understand?
– Elements of the mobilization economy? These are elements of state planning, state regulation.
What the President spoke about recently about the defense order and the defense industry as a whole.
Here the state should participate very strictly, and Vladimir Putin correctly said that import substitution should be 100%. This is what I mean first and foremost.
Naturally, we will not have any war communism.
– And as for the partial mobilization, which you have already talked about …
– For me here, too, as for a military man, everything is obvious.
You probably noticed that people have been saying for several months now – well, when will we finally respond to these atrocities that the Zelensky gang is manifesting by killing civilians?
They also hit peaceful settlements, cities, squares, killing children.
Therefore, now, when the people of Novorossiya, the citizens of Novorossiya, and these are Kherson, and Zaporozhye, and Donetsk, and Lugansk, have decided to become part of Russia …
– They will first hold referendums on this matter.
– Well, yes. The result is predictable.
And, it is quite obvious that we will not hear gratitude from the other side, I am talking about Zelensky and especially about the US State Department.
Therefore, we need to be prepared for a tough response to the reaction of Kyiv and Washington.
As they say in such cases – here, get it. Remember, the president told them – we have not started yet.
– Yes, of course, I remember.
– Vladimir Vladimirovich said – they … I won't trump here with interjections, it's inconvenient …
– Well, we squeal, if that.
– So they waited. That's what they've been waiting for!
Now it is important, of course, to carry out high-quality partial mobilization, there must be good equipment … preparation …
I regret one thing, that we have almost no cadre divisions left, which were in their time, before Mr. Serdyukov. (He was the Minister of Defense. – A.G.) But in the new conditions, apparently, on the basis of those military units that we have, these conscripts, well, not conscripts, but mobilized ones, must undergo retraining.
Moreover, as far as I know, these will be people who have already served, who know military affairs and own weapons – these are adults.
But we need to take care of them and their families. This is also very important.
– Let's explain what a "cadre division" is.
– Sash, these are incomplete divisions. There was a completely officer corps, ensigns, weapons, barracks, and in case of mobilization, mobilized military personnel were called there.
They immediately came and armed, equipped, retrained. All this existed in the Soviet Union.
– Sergey Vadimovich, after all, you are from a military family, your father Vadim Stepashin… Vadim Dmitrievich, he served in Port Arthur.
– He served in Port Arthur, he fought in Korea, just in case.
– Yes. Then – your father-in-law Hero of the Soviet Union Vladimir Mitrofanovich Ignatiev.
– Yes, let me remind you that he was a scout … if he woke up now, he would be horrified! I would be horrified! From what the Nazis are doing in Ukraine.
– Here, I think, you have a special attitude, especially since you are a colonel general, to the military theme, to military problems. From your military field, how do you perceive the statements of Vladimir Putin, Sergei Shoigu? Moreover, you communicated with the people today.
– Firstly, I liked the way the guys, very young – 17-19 years old – both girls and boys, asked questions. Judging by the intonation, they understand that we are defending the Motherland, we are defending the Russian world, we are defending civilization. Therefore, for me, not only as a military man, but also as a citizen of my country, it is quite obvious that this is an absolutely verified, precise and correct decision of Vladimir Vladimirovich. The only thing we regret, many of them ask me – why are you in 2014 something like this? Well, this is history does not know the subjunctive mood. The president still tried to negotiate with the same Poroshenko, with the same Merkel – we were simply deceived, let's be frank. Brazenly. Especially Zelensky. When I see this pig, my hands itch…
– Well, what is your forecast?
– And what can be the forecast? The prognosis is clear. Russian people will live in our country…
– Yes, and Colonel-General Stepashin's forecast.
– One forecast. Now we will protect not only Donetsk and Lugansk, as subjects, but Zaporozhye and Kherson are Russia. And Russia knows how to defend itself.
Let us be heard. I think that the Zelensky gentlemen will soon see it, or, more precisely, he is nobody and nothing in this story. First of all, the President of the United States, I think, will understand what he has gotten himself into.
– Understood. And Colonel General Stepashin is not going there – to the Donbass, to the liberated regions of Ukraine?
– Well, we will go there more than once, because the Territorial Development Fund is preparing the liberated territories for winter. So I will visit, of course, as well as the general director of our Foundation, Konstantin Tsitsin, who has just returned from there, and many of our employees who are now there.
– And, of course, there will be a Komsomolskaya Pravda correspondent in this front-line brigade of yours?
– Necessarily!