News
Sergei Stepashin, retired colonel general: The Ukrainian clown and his impresario in Washington must understand that victory will be ours alone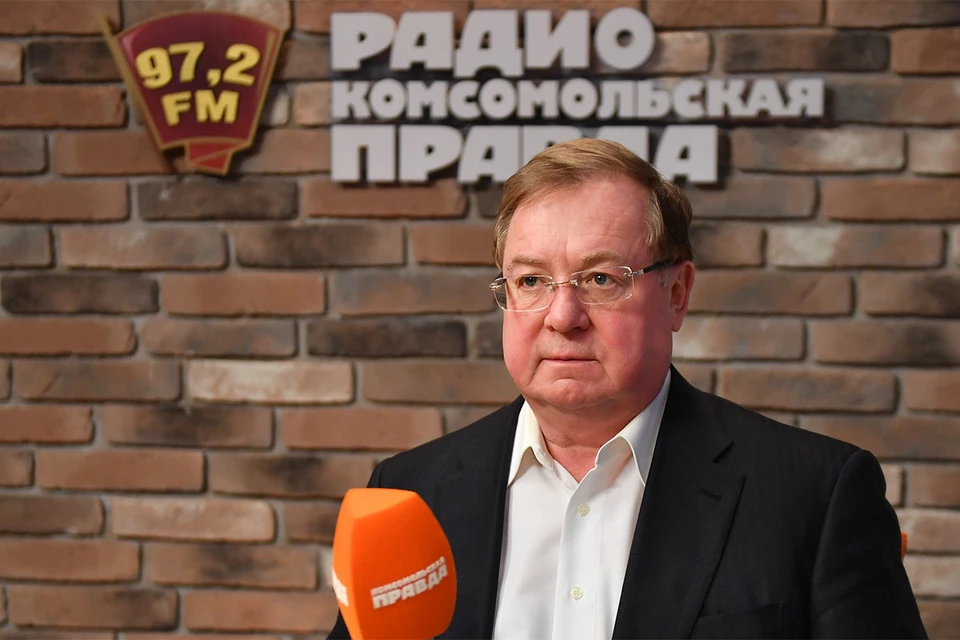 Sergei Stepashin.
A photo: Viktor GUSEINOV
… – Sergey Vadimovich, this is Radio Komsomolskaya Pravda. Is it normal to hear?
– Excellent!
– I have a couple of questions. Today there was a very important speech by the Supreme Commander-in-Chief and President of Russia Vladimir Putin.
– We have been waiting for a long time … The time has come …
After what happened on the Crimean bridge (we are talking about the terrorist attack on October 8. – A.G.) and everything else, it was no longer possible to endure. Performance is precise and clear. Precisely – as the Supreme Commander-in-Chief.
– Why do you think we waited so long, what did we hope for?
"We still hoped that they would get a little smarter there.
– In Kyiv or in Washington?
– Hope remained in Istanbul (where negotiations between the Russian and Ukrainian delegations were held after the start of the military special operation. – A.G.), there was hope even before that, even when the Minsk agreements were concluded and were waiting for their implementation.
Listen, well, eight years endured. What are we talking about?
Anyone can blame anyone now… But, simply, knowing the president as a person who is always very self-possessed and does not make decisions hastily. So, this is called – everything, everything, it should not be like this anymore!
– And it's very understandable.
– Further, it was simply impossible to endure the villainous antics of this madman Zelensky and his Kaveen gang.
– Tell me, please, did we hope that where they would "get a little smarter" – in Kyiv, in Washington, or somewhere else?
– After Istanbul, it was clear that Kyiv was not in control of the situation – and this is one hundred percent. It is obvious.
As for Washington, they have not yet understood. There is not yet understood everything.
I would still return Biden, or rather, send him to John F. Kennedy, by the 1960s. (Speech about the Caribbean crisis of October 1962. – A.G.) Let him read history, maybe he will understand something. Although unlikely.
– What else needs to be done to force Ukraine to peace?
– Win.
– To win… Have you seen today's reports, yes, from the front? Ours are coming…
– Including on the battlefield. Well, and – to be more organized within the country.
After all, Vladimir Vladimirovich honestly, openly said that many things turned out to be completely unexpected for us, from the point of view of partial mobilization, training, including army …
Therefore, it is clear to me, as for a person born in Port Arthur, that we have no right to repeat what happened in 1905. (Stepashin means the Russian-Japanese war of 1904 – 1905 – A.G.)
– And let's remind you why Sergei Stepashin was born in Port Arthur?
– Because my father served there, a naval officer. It was a naval base first of Russia, then of the Soviet Union.
– And Vadim Dmitrievich in what years he served there.
– From 1949 to 1957.
Did he have a title?
– Lieutenant Commander.
– It's clear. And yet I can't help but ask you, as a retired colonel general…. The entire special operation will now be commanded by General of the Army Sergei Surovikin. I once saw him – when, together with Iosif Kobzon, Valentina Tereshkova and Valery Khalilov, we flew to Syria, to our Khmeimim military base.
– When there was the first Chechen war, Surovikin, in my opinion, was still a battalion commander. Fighting general, now everything will be in his hands. He knows how to fight and speak. In war, as in war.
– Do you know him personally?
Well, he probably knows me personally. I just know him by his last name. But I knew and heard – and from our, my comrades-in-arms, who went through the war with me, that this is indeed a worthy officer.
He went through the entire military path. He served in the ground forces. By the way, this is the first head of the Military Space Forces who is not a pilot. Maybe right.
– But you say – he is capable of both deeds and knows how to speak. What can he say?
– The truth. The truth, the truth, and only the truth. Now this is important and understandable.
By the way, Vladimir Vladimirovich also said this, however, between the lines.
– Excuse me, this is the most, I take you at your word. I can also read Vladimir Vladimirovich between the lines. But probably not in the same way as you. What else did you see between the lines? Will you tell me a secret? We all have our own radio listeners, you know, uncensored radio.
– No, he gave an accurate and clear assessment … of the fact that somewhere in terms of mob training, on other issues, they were, to put it mildly, not ready.
He told the truth. The truth.
– And, tell me, why did the president address the heads of regions today?
– Well, because the level of mobilization preparation, and the development of the economy, and everything else depend on them. They are responsible for those who elected them, by the way.
But, my friends, let's work together. What will you do now? It's obvious to me too.
Moreover, the reason was clear. The President also met with the newly elected leaders of the regions. Well, and sent a signal to everyone else. No one will have to sit.
– Well, probably the penultimate question. Have you and Konstantin Tsitsin, Director General of the Territorial Development Fund, already begun work in the liberated regions? (Sergey Stepashin is the chairman of the Board of Trustees of this Foundation.)
– There is a very active work. Our foundation is responsible for preparing the regions of Donbass for winter. Houses and boiler houses are being built. So, work is underway.
– Figures – what has already been done – until you call?
– Later…
– Well, the final question. What are your predictions for the further development of the situation? And in Ukraine, and in general in the world – around Russia.
– Well, the world understands. We heard and saw the reaction. I did not expect another.
I was struck by the Minister of Foreign Affairs of Estonia – about the Crimean bridge. Oh…
– Do you mean "congratulations to the special forces of Ukraine"?
– Yes, it's just a shambles. Some idiot.
– So…
– And what is the forecast … There is only one forecast. Only forward.
The Ukrainian clown and his impresario in Washington must understand that victory will be ours alone.
– Here! Cool conversation.
– And Komsomolskaya Pravda, I think, should now remember our great journalists – war correspondents of the Great Patriotic War.
By the way, it was they who in many ways formed confidence in the Victory among our soldiers, as well as among those who were at home and were waiting for them.
Now, to be honest, I would publish Simonov's "Wait for me" so that they read it:
Wait for me and I will come back,
Just keep waiting…
– Our guys who are there – Sasha Kots and Dima Steshin, you know, they do a great job.
– Cool, yes. "Komsomolskaya Pravda" – well done for real.
– Sorry for asking twelve questions instead of two.
– Well, apparently I answered in such a way that you had to clarify.
– No, no, you just answered very interestingly. Thank you very much. Hugs, Sergey Vadimovich.
– We will win.
– Of course.
READ ALSO
Dmitry Peskov said that the attacks on the infrastructure of Ukraine are taking place as part of a special military operation
This was stated by the press secretary of the President of Russia at a briefing for Russian and foreign journalists. (more)
Today we must again live and work under the slogan – "Everything for the front! Everything for the Victory!
The leader of the Communist Party of the Russian Federation Gennady Zyuganov – with the political observer of KP.RU Alexander Gamov (more)