News
Secret warehouses of the Federal Reserve Agency: what kind of stew is sent to our defenders in the Donbass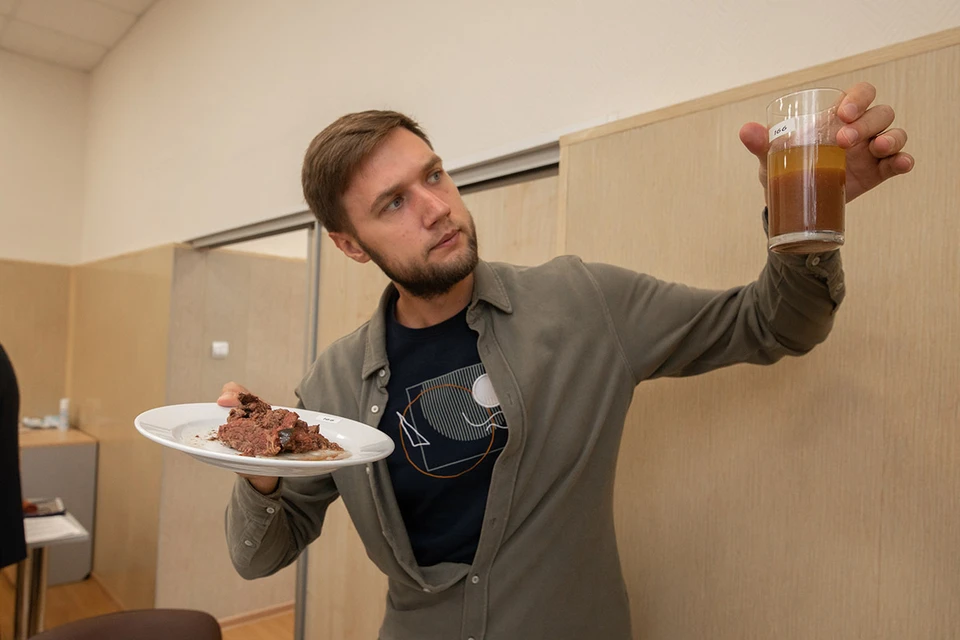 KP.RU correspondent tasted food from the bins of the motherland
A photo: Andrey ABRAMOV
The country has a strategic department – Rosrezerv. It rarely appears in the information field, although it solves the most important tasks. Suppose there is a flood somewhere. Rescuers heroically took people out of the flooded area, the authorities found a place to accommodate everyone. What about feeding the unfortunate? Rosrezerv comes to the rescue. From the bins get food and everything that people need (see "Help" KP ").
A KP.RU correspondent found out that a tasting of canned meat, the "gold" of food funds, will be held at the Federal Reserve. What the country keeps there for a rainy day is insanely interesting. Asked for it!
I come to the Research Institute of Storage Problems in Moscow. This is a scientific institution of the Federal Reserve, which was created in Soviet times. There are no analogues in the post-Soviet space. If neighboring countries have a question on the strategic topic of storage, they come here for help. Scientists are studying, for example, how to store the product more reliably, at what temperature, how to fold. Some new packages are constantly appearing, and everything needs to be tested – this is what they do here.
ONLY BEEF!
For the tasting, they collected stew from storage facilities from all over the country. From ten factories. Companies on a competitive basis can participate in tenders of the Federal Reserve and supply their products for the needs of the homeland. Canned food is taken only beef. To avoid misunderstandings with representatives of different faiths. The shelf life of each can is five years. But it is removed from warehouses much earlier. With a good "margin of safety" they are sent to power structures for food. And the vacancies are occupied by fresh products. This is called "refreshment".
Interestingly, the stew must meet a special standard. We all know the abbreviation GOST. And only GOST RO stew is taken to the storage ("distribution is limited"). This is an even more stringent quality standard. Previously, such guests were only for the defense industry. For the first time in the field of food, it was developed for stew.
The document is not public, but for example, let's explain: in particular, GOST RO states that there should be at least 213 kcal in stew. And now, in pursuit of fashion for a healthy lifestyle, companies have begun to reduce calorie content.
– Make 190 kcal. But our special consumer (as the military and security officials are allegorically called) has a caloric ration calculated. Simply put, men who defend their homeland will not get enough! Therefore, they made a requirement of at least 213 kcal, – they explained at the tasting.
"THE IS NOT IN STORES"
Samples for tasting were hidden behind the numbers. The role of stewed sommeliers is played by directors and technologists of enterprises that supply canned food to the Federal Reserve, as well as experts from the institute.
Girls in white coats carry samples on white dishes. Each is accompanied by a glass into which the liquid from the jar is drained. It is stratified into two components: the fat turns yellow on top, and the broth under it. According to GOST, there should be no more than 17% fat in a glass. Somewhere in the eye it is something like this, but somewhere it is more.
Tasters, including a volunteer correspondent for KP, conduct an organoleptic assessment. If in Russian: evaluate the color, smell, taste, consistency of the product. Perfume shops put coffee beans to refresh the receptors. At the stew tasting, after each sample, they take a sip of strong black tea and bite into a slice of white bread.
I am writing sincerely: the whole stew is excellent. In some there is more fat, somewhere entirely meat or otherwise play spices. From time to time the experts chuckled sagely and added their assessments to the bulletin.
"Don't be surprised that the stew is excellent!" It's hard to find this in a store. We once conducted an experiment: we bought canned food in a supermarket near the research institute and compared it with those we have. Stores were not nearby! — told in Rosrezerv.
I willingly believe. Before accepting products to Rosrezerv, they are analyzed in laboratories and tested. They say that they understand the full responsibility of the mission. Imagine a heartbroken person affected by a natural disaster will also receive poor-quality food. Such incidents should not happen.
Who has won
The ratings of the tasters were summed up and the arithmetic mean was taken. No one got bad scores: everyone is above average. The highest ratings for the products of these suppliers:
1. Agrotorg Troitsk;
2. "Cherepanovsky MZK";
3. Veliky Novgorod meat yard.
BY THE WAY
In stores you can find cans of stew, on which they beat the word "reserve". As if hinting, they say, these products are stored in the warehouses of the Federal Reserve, which is considered a sign of the highest quality. In fact, manufacturers do not have the right to advertise work with Rosrezerv in their advertising. And streamlined wording and names are ruthless marketing that has nothing to do with reality.
HELP "KP"
Rosrezerv is a department, although not a power, not a military one, but a very secret one. Where the warehouses are located, what and how much is stored is a state secret. It is known for sure that there is fuel, resources, materials (for example, lead for the sarcophagus of the Chernobyl nuclear power plant was quickly found in reserves) and food. Moreover, knowledgeable people say: the volumes are colossal. Everything is purchased at the expense of the budget.
What kind of food, besides stews, is also a secret. But when a rumor is spread in the country: "Buckwheat will rise in price by five times, urgently buy it!" and groats grow in price due to demand, the state releases to the market (i.e. takes out of the bins) the same buckwheat so that everyone has enough and the price tags calm down. This is called commodity intervention. At the same time, the vacated space is immediately replenished.
Now Rosrezerv is actively sending aid to the civilian population of Donbass and refugees.
BDI!
Ideal stew according to GOST
Appearance. Each piece of meat in a jar is at least 30 g. And if there are very small ones, then they are no more than 10%. There are no coarse veins or large vessels between the pieces. lymph nodes. Pieces should retain their shape, if they fall apart, then quite a bit.
Bouillon. From yellowish to light brown, slight haze and white flakes are allowed (this is coagulated protein).
Smell and taste. Beef meat with spices, without foreign smells and tastes.
Meat texture. Juicy, undigested.