News
Russia must not be allowed to steal another territory – Czech Foreign Minister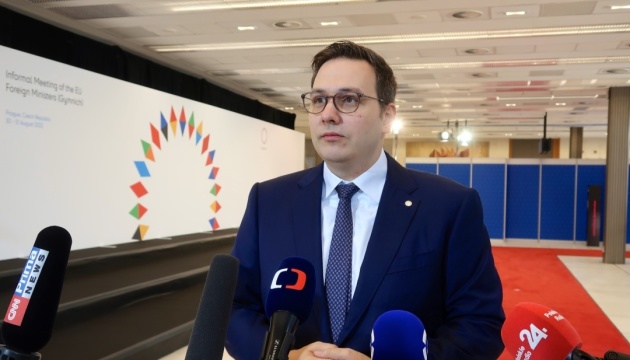 The international community, the UN cannot allow Russia to again steal part of the territory of another power.
Czech Foreign Minister Jan Lipavsky said this at a meeting of the UN Security Council at a ministerial level, an Ukrinform correspondent reports.
"Russian aggression is probably the most dangerous challenge to global peace in recent decades. Today we are talking about Ukrainetomorrow it could be another country," Lipavsky warned.
He recalled August 1968, when Moscow-led troops occupied what was then Czechoslovakia, crushing the Prague Spring and turning the country into an occupied colony. This was a gross interference in the internal affairs of another country.
Now there is talk of early preparations for "referendums" in certain regions of Ukraine, but "Russia will not deceive the international community and will not steal the territory of another state again," Lipavsky stressed.
The Russian aggressive, imperialist policy, he said, must be put to an end. Ukraine has refused to become a slave and courageously fights for its freedom, for a world where the rules protect the world.
The head of the Ministry of Foreign Affairs of the Chechen Republic said that the atrocities of Russian soldiers in Ukrainian cities, as well as the existence of so-called "filtration camps" are shocking. Hundreds of thousands of Ukrainians were deported to Russia, the diplomat said. All these crimes must be thoroughly investigated and the perpetrators brought to justice. The Czech Republic welcomes the UN mission to Olenevka, more than 40 countries, including the Czech Republic, are involved in the efforts of the International Criminal Court, which began its investigation back in March. Prague fully supports the work of this court and the creation of a special international tribunal for those who committed crimes against Ukraine. The Czech prosecutorial authorities, for their part, have begun investigating individual cases on the basis of the principle of universal jurisdiction, the diplomat said.
Lipavsky called on the UN Security Council to act in order to achieve peace in Ukraine, restore respect for international law, protect victims and prevent impunity for the perpetrators.
The Czech Republic presides over the Council of the EU.