News
Roses, an aquarium and a black cat: How they voted in a referendum in the Kherson pre-trial detention center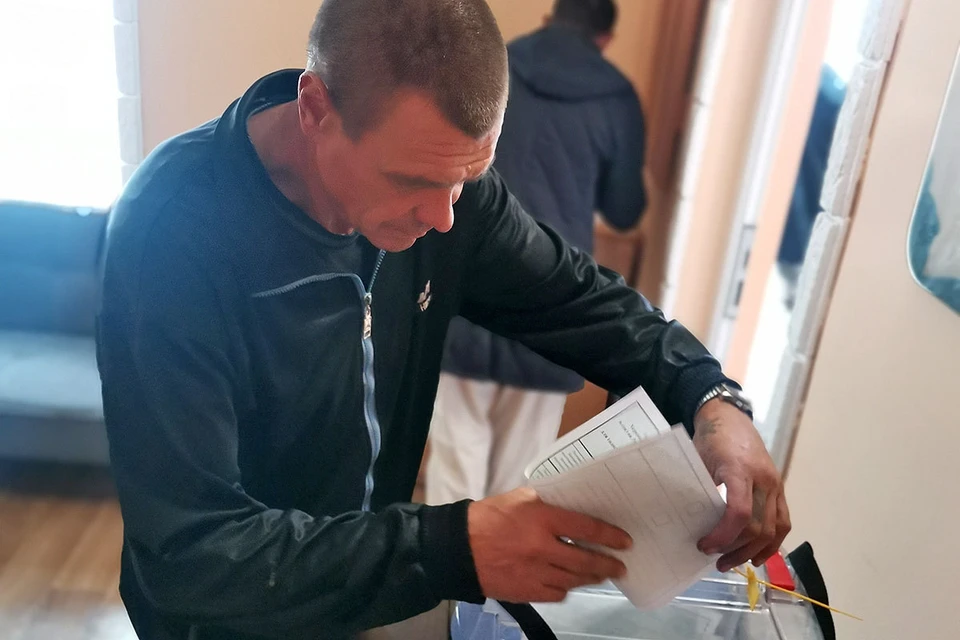 At the referendum on joining Russia voted in the Kherson pre-trial detention center
A photo: Igor EMELYANOV
The pre-trial detention center is located on Druzhby Street, which rolls down to the Dnieper. But it is unlikely that the defendants can see the great river – except perhaps pyramidal poplars behind high walls with clusters of barbed wire.
There are chic rose bushes planted along the walkway, somewhat more elegant and slightly less thorny than the formidable spiked steel rings on top of the wall.

Luxurious rose bushes have been planted along the control strip
A photo: Igor EMELYANOV
An administration official says there are now 294 people behind these walls. And these are not only those who are under investigation, but also convicted in Russia for crimes committed there, but sent to serve their sentence in Kherson. At the place of harsh residence, so to speak.
For those here who are understandably looking forward to trial and verdict, the referendum is the sum of the possibilities.
What?
You can find out about this if you take a few steps without an escort towards those who once stumbled (however, until the court decides, these people are definitely not guilty or innocent of what they are suspected of).
WOMAN'S LOOK
Well, let's take the defendant Olga Chebotareva. This spectacular lady (yes, in the Kherson pre-trial detention center under one, in general, roof, but in different blocks a heavy share of both men and women toss around), born in the Khabarovsk Territory, the curve of fate brought to Ukraine. And she has been waiting for four years (!) for the end of the investigation into her robbery case.

Under investigation Olga Chebotareva.
A photo: Igor EMELYANOV
– Olga, why do you need a referendum at all?
– And we want, everyone here wants this war to end as soon as possible. To have peace. In Russia, justice is better than we have here in Ukraine.
– Sure?
– We've heard about it.
– Does it matter that further your fate will be decided not according to Ukrainian, but according to Russian laws?
– Maybe yes. The investigation under "my" Article 187 of the Ukrainian Criminal Code – this is robbery – has been going on for a very long time. Well, these are Ukrainian laws. Here you can sit under investigation for four years. In Russia, all this is happening faster.
– Are you sure?
– That's what we say. I have a lawyer. I will not change it after the referendum.
– Have you discussed with other defendants how to behave in this situation?
– Of course. People here don't mind joining. People for Russia. Many want the referendum to be held as soon as possible so that we can already join the Russian Federation.
– Why sooner?
– Because each of us wants the courts to finally open. And so that we can all resolve our issues in the courts.
– Can't you now?
– Since at the moment martial law – we are stuck here. Of course, we want the join to happen faster.
That is, for those who sit in the Kherson pre-trial detention center, the referendum is one of the ways to ensure that the courts open and start working faster, which will finally consider their cases.
MALE LOOK
As, for example, the case of the person under investigation Roman Rybalko.
– When did you find out that you could participate in the referendum?
– Well, everything happened so quickly – I barely had time to shave, put myself in order. I am happy with the event taking place here. And I'm glad to be a part of it. Yes, I am serving lines in a pre-trial detention center, but this is temporary.
– What do you expect from the results of the referendum?
– I'm waiting for this war to end soon. I think the referendum will decide everything. And people will choose the right position. We are brotherly peoples with the Russians, why should we fight?

Under investigation Roman Rybalko.
A photo: Igor EMELYANOV
– That is, you are for joining Russia?
– I expressed my civil position in favor of the Russian Federation. And I believe that peace will come after the referendum. The potential of the Kherson region is great. Many believe in it. We are talking to each other here. And the majority support this position.
Has anyone put pressure on you?
– No, everything is simple, everything is easy. Everyone votes the way they want. No one tells us: do this or that. In general, there are positive aspects of our stay in a non-positive place.
– What are the moments?
– Well, the referendum has such a good moment – they began to feed us better.
– What are you accused of?
– I'm accused of robbery. But there are so many controversial points in the case that all this should come up in court.
VOTING AT THE AQUARIUM
In a square room three by three meters, where voting takes place, two tables, two plastic chairs for members of the election commission, a mirror, a flat-screen TV, a narrow sofa and … an aquarium with thoughtful fish fit in.

Outside the walls of the Kherson pre-trial detention center – 294 people.
A photo: Igor EMELYANOV
In the courtyard of the SIZO, the first two dozen voters lined up in twos. Then they bring more. There are pretty decently equipped ones: jeans, a leather jacket, an expensive tracksuit and branded sneakers.
The command sounds:
– Become two by two, facing me!

In the courtyard of the SIZO, the first two dozen voters lined up in twos.
A photo: Igor EMELYANOV
A strict lady in glasses, a member of the electoral committee with a sealed transparent ballot box in her hands, passes by two lines of people under investigation with a swift step.
The tightly packed captain orders them to enter the voting room in threes.
On her doorstep is an optimistic orange rug with black flowers. The inmates walk with their hands behind their backs.
It is more interesting to observe the behavior of women.
Anna Ashikhminova, a snub-nosed, dyed-blonde born in Kyiv almost 40 years ago, looks striking in her black jogging suit and acid pink light jacket. When she is given a ballot, she leans low towards it, clearly reading the text of the referendum wording. And after half a minute of studying, he takes a pen and decisively ticks the top box. That is, for joining Russia. Quickly, taking a couple of steps towards the ballot box, he squeezes the ballot into the slot of the ballot box and automatically puts his hands behind his back.
Victoria Glushchenko, 45, a brown-haired woman from Kherson, leans over to the second member of the election commission so that he can clearly hear her name, creating a slight wave of a jacket with a lurex and a short sleeve. Her registration address is on Perekopskaya Street, which is a stone's throw from the pre-trial detention center, where she spends time before the trial.

Women from the pre-trial detention center vote.
A photo: Igor EMELYANOV
Victoria, approaching the ballot box, for some reason, carefully re-reads the text of the ballot again. And asks:
– Well, we put a tick here?
– Any sign that you consider necessary, you can put – answers a serious member of the election committee.
– For the Russian Federation – here?
– Yes, here.
Another bulletin with another mark in the top line falls into a transparent ballot box – for entering Russia.
While the most politically literate detainees carefully, weighing their words, communicate with the press, a black cat wanders completely unsupervised across a strictly protected area.

A black cat wanders around a strictly protected area completely unsupervised.
A photo: Igor EMELYANOV
He does not run across the road to anyone: he is simply interested in what kind of holiday – and without it.
By the way, the improvement in supply clearly affected him.
Another positive outcome of the referendum.