News
Referendum in the DPR: "Don't give up! Put a bird, a dove of peace!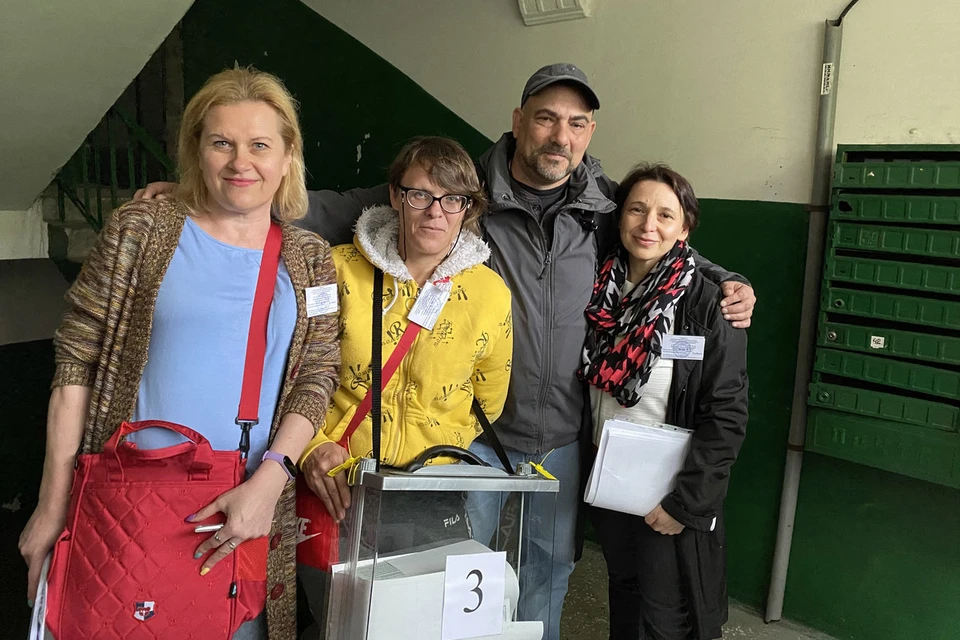 On the first days of voting, election commissions go house by house, apartment by apartment.
A photo: Dmitry STESHIN
MEN'S CHANGE
This referendum was expected for 8 years, but it happened suddenly. Although, back in the summer, sources told me that on local, republican TV channels, clips had already been prepared. But no one knew the exact date, although I personally felt that it would not be possible to take a vacation in September. The authorities, recalling me from the village to Donbassfound such words that in response it was only necessary to mumble or quickly pack up and go: "How can you miss the Referendum, you have been there for eight years, from the very beginning!".
There was nothing to complain about.
I did not know when I would return home, so I decided to immediately put winter tires with spikes on the car. In September. Tire fitters near Moscow, at first they were surprised at my act, then they were imbued with it. One had a father from the Luhansk region. The men recalled their military specialties. One marine, the second air defense officer. Groaning, pulling the wheels, they complained that their backs were torn off, but the general summary was "it will be necessary, let's go to war." In parting, they treated the hubs of my car with some kind of cunning copper spray, with the words: "This is for you from us, bro."
EVEN TRAFFIC OFFICERS ARE OTHER
Another bell, a sign of a change in the internal life in the country, is the behavioral reactions of the Rostov traffic cops, famous for their cunning and ruthlessness. The lieutenant who stopped me was already rubbing his hands, imagining how he was writing me a fine for driving on tires out of season. Then I saw a Kevlar body armor pulled over the back of the seat instead of a cover – at least some kind of theoretical protection against shrapnel or bullets. Bales with humanitarian aid, my general semi-military, worn and washed out look … I thought about it, but asked:
– Dmitry Anatolyevich, do you drive far on winter tires?
– To Donetsk. I just don't know when I'll be back.
– Bon voyage, only come back with a victory. And sooner.
The border passed with a whistle, something happened there too, changed. The only one who suffered from customs was a guy who drove an old Niva into the DPR, but prepared for military hardships. For the front. They tortured him for 15 minutes, but let him through.
RUSSIAN CARDS ALREADY WORK
Already in Donetsk, at one in the morning, I realized that there was no water at home (I lost the habit in Russia in two weeks), and there was no water – neither technical nor drinking. There is no food either. Went to a gas station with a store open during curfew. The store was, of course, closed and the legendary military commander Yevgeny Poddubny wandered around it.
– Everything is bad! I said to Poddubny.
– And it will be even worse! – Eugene remarked optimistically and encouragingly.
They laughed, gritting their teeth.
They smoked my Moscow ones, the time for the Debaltsevo tobacco factory has not yet come. A shop has been opened here. Zhenya, with the words, "Look how I can!", Paid for cigarettes and coffee with a Russian bank card. It was an eloquent gesture.
Operation "Referendum"
From midnight it rained over the Donbass so that all the fields and country roads turned into sticky jam. Visibility is nil. The artillery is silent. The Donetsk comrade, who voted almost in the first seconds of the referendum, remarked with satisfaction:
– What a beautiful weather! No adjustment of Ukrainian artillery is possible, neither from Turkish drones, nor from American satellites. God is on our side today.
But, he refused the offer to drink coffee in the center:
– I was at the Covered Market when it was covered with artillery two days ago, so after that I try not to leave the house once again … Somehow it broke me mentally.

They come in minibuses, put up a column – notify about the beginning of voting, take ballots. Those who did not have time to vote will come on the last day to stationary polling stations in schools, recreation centers and other institutions.
A photo: Dmitry STESHIN
The comrade says that he remembers well that spring day in 2014, when thousands of people with Russian flags in the center of Donetsk chanted just one word – "Referendum!". No one then even suspected that years of bloody trials were ahead and the Referendum itself would not look like a long-awaited holiday, but like a carefully thought-out military operation. There was no doubt that polling stations would be the main targets for Ukraine. Bandera outplayed. They expected to cover a couple of polling stations with cannons at the time of the accumulation of people there, there would be panic, the rest would simply be afraid to vote. The referendum will fail.
For Russia and Donbass, this was unacceptable. The event is serious – the whole region is returning home. Therefore, they did so. In the early days, election commissions go house by house, apartment by apartment. They come in minibuses, put up a column – notify about the beginning of voting, take ballots. Those who did not have time to vote will come on the last day to the polling stations in schools and recreation centers. But, there will be no more crowds that can become a target.
return point
Principal of School No. 70 in the long-suffering Kiev region, explains the way to me:
– And right at the entrance, there is a mine clearing car, behind it is the door, knock. I will be glad to see you, we all read Komsomolskaya Pravda.

In a neighboring school, a hundred meters from the gymnasium, a mural painted in the summer with a "grandmother with a red flag" has already been pecked out by fragments.
A photo: Dmitry STESHIN
I am surprised:
– Really mined?
Victoria Litvina calms me down:
– No, we just stopped by to check the building, just in case.
There is something to check here. In a neighboring school, a hundred meters from the gymnasium, a mural painted in the summer with a "grandmother with a red flag" has already been pecked out by fragments. And yet, this part of the Kyiv region was densely bombarded with petal mines. They give me an escort so that I can catch up with the election commission going through the apartments and not step on anything.
On this gray wet day, the underside of the Kievsky district looks deafening. There are almost no whole windows, everywhere you look, the walls are cut with fragments – the traces are old, the traces are new. 8 years of shelling… We find the entrance with the commission unmistakably – at the entrance there is a young policeman in a helmet, armor and with a machine gun on his chest. It can be seen that the "favorite" and combat machine gun is camouflaged, with an abnormal collimator sight. The first thing I hear in the gloomy entrance of the house is laughter.
Natalya Manuylova, art and technology teacher explains:
– We advise you to put not a cross, but a bird. We call it the "dove of peace".
A middle-aged man displays a bird with the words: "Yes, the cross is not necessary in this case." I ask a stupid question:
– What did you vote for?
– For returning home, not to Ukraine, to Russia. I don't want to be with Ukraine, there are fascists there. And the people are intimidated, and the government is scum.
A militiaman with the call sign "Basmach" comes to our votes, he has been fighting since 2014. He lowers the ballot into the ballot box with the words "For Russia!". The women from the commission thank him: "Thank you for fighting for us!"
I had a short talk with Natalya Manuilova. According to her, people meet the commission with joy, some even cry. Of course, there are those who do not want any referendum. There are not many of these:
– They are felt, everything is clear from the facial expression, but they do not confess, they say, they say, we will come to the polling station later. But, for the majority, this is the hope for a peaceful life. Our area, of course, is not the most problematic, it can be worse …
Here I internally disagree with Natalia. It is difficult to imagine something worse and more dangerous than the Kyiv region, and, confirming my thoughts, artillery begins to rumble outside the window. Natalya's face didn't twitch a single muscle:
– These are our "exits".
The thought suddenly cuts through me: I am a citizen of the DPR! (And this is an extremely rare case, since it is more difficult to get a Donetsk passport than a Russian one. But in the last 8 years I have lived here, probably no less than in Moscow, which is why I got confused – I got it). I ask:
– Can I vote in your precinct?
Natalya laughs:
– You can, I will only be glad, I'm your reader! According to a separate list for those living outside the place of registration.
I take out a DPR passport, fill out a form, put a "dove of peace", push through a piece of paper and even stroke the lid of the ballot box with my hand. The metal cover clicks, closing the slot. I, like all my countrymen from Donbass, believe that my vote will change something.

I, like all my countrymen from Donbass, believe that my vote will change something.
A photo: Dmitry STESHIN
While I am writing these lines, the sky over Donetsk has cleared a little and … it has begun. At first, air defense began to work, knocking down some targets. And then came the arrivals of artillery: Kyiv, Voroshilovsky, my Kalininsky district. Everything is as usual. In operational telegram channels specially created for these purposes, the mayor of Donetsk addressed the townspeople, asking them to be extremely careful. But no matter what kind of artillery the enemy brings to Donetsk, he will not be able to defeat three laughing teachers with a glass ballot box. Such is the paradoxical fact, inaccessible to neo-Banderists. This means that they will soon have to explain this in additional classes, since they have not understood in 8 years.
MORE RELATED
Referendums in the DPR, LPR, Kherson and Zaporozhye regions on the issue of joining Russia on September 23-27, 2022: online broadcast
Referendums in the DPR, LPR, Kherson and Zaporozhye regions on the issue of joining Russia will be held within five days (details)