News
"People still think I'm a Jew": how Donald Trump married his daughter to a millionaire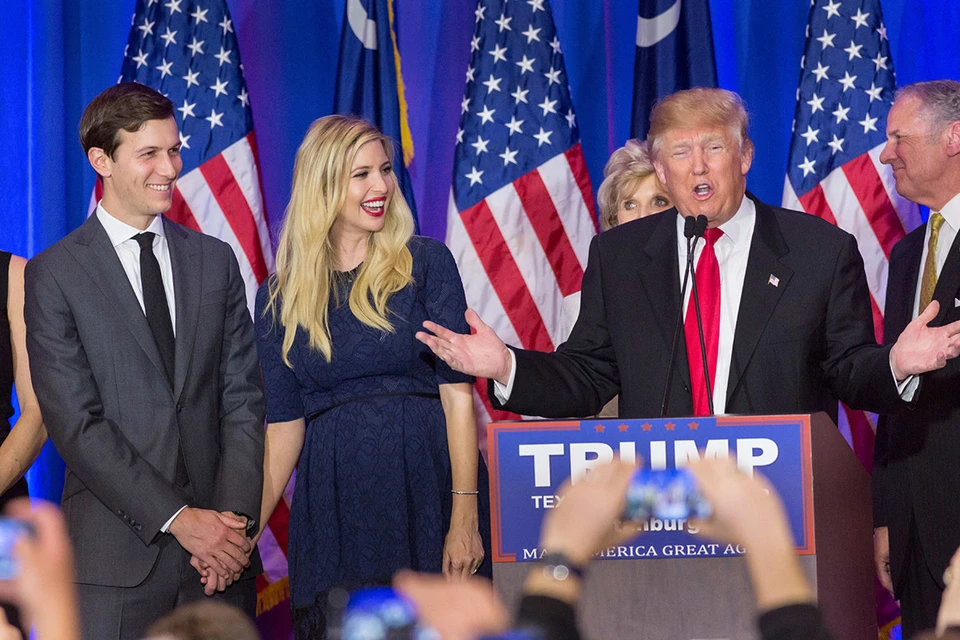 When a young man becomes the husband of a billionaire's daughter, everyone begins to click their tongues together and talk about how lucky he is. And so it was when one of Donald Trump's daughters, Ivanka, married Jared Kushner.
A photo: GLOBAL LOOK PRESS
The Talented Mr. Kushner
When a young man becomes the husband of a billionaire's daughter, everyone begins to click their tongues together and talk about how lucky he is. And so it was when one of Donald Trump's daughters, Ivanka, married Jared Kushner. But a few years later, the vector of this kind of talk has changed: many are sure that, in fact, the former US president was lucky.
Jared Kushner, a young successful businessman of Jewish origin, has become one of Trump's most influential advisers since Trump came to the White House. Only he had constant access to his father-in-law. And he acted in his post almost imperceptibly, without giving any reason to be in the center of political storms. For what he was awarded … a nomination for the Nobel Peace Prize: it was Kushner who became the main ideologist of the so-called. Abraham Accords – a comprehensive agreement on the normalization of relations between the State of Israel and a number of Arab countries, as well as the reform of American criminal law, a number of "green" initiatives.
Jared Kushner is an exemplary and far from poor son-in-law: he was born into a wealthy religious family, graduated from Harvard and, before going down the aisle, became a rich man, having made a fortune in real estate.
After Trump left the presidency, the 41-year-old Kushner wrote the book Breaking History, at the same time breaking the stereotypes that memoirs are the lot of older politicians. Her first, rather big circulation was sold out immediately.
"Komsomolskaya Pravda" cites some excerpts from this book:
About meeting Ivanka
The unwitting initiator of our union was Donald Trump himself. He asked Ivanka to meet with me to negotiate the purchase of a number of properties. It was a business lunch. We talked about business, but soon the conversation turned to interests that, as it turned out, seemed to have no chance of being common to us. But they turned out to be common to us. I realized that I fell in love with Ivanka.
And about parting with her
A few months later, I began to worry about the fact that we belong to different religions. And he decided to part with Ivanka. She later said that it was the worst decision of my life. And she was right. Some time later, I met her on the yacht of the then-wife of media mogul Rupert Murdoch. The guests were received by the singer Bono in his house on the French Riviera. After dinner, we enjoyed the songs he sang especially for us. And we realized that we can not live without each other.
Religious compromise
At one point, Ivanka hinted that she was ready to consider converting to Judaism. We began to meet with the rabbi, to have lunch together on Shabbat. And when our relationship became more serious, she offered to meet her father. I called Trump and he invited me to dinner, which he rarely did. When we sat down at the table, my voice trembled. I said that Ivanka was in the process of converting to another religion. "Okay," Trump said. "But let me ask you a question: why should she convert, why can't you do it?" I agreed that the question was appropriate and said that Ivanka made the decision herself, and that suited both of us. "Well, great," he breathed. "Most people still think I'm Jewish." But he could not resist and inserted a hairpin, hinting that he had a completely different groom for his daughter in his plans and even called his name. It turned out to be Tom Brady (one of the best American football players – Ed.). I laughed it off: "If I were Ivanka, I would marry him."
Deciding to make a formal marriage proposal to Ivanka, I told her father about it. And he couldn't hide the news. As soon as I left him, Trump picked up the phone and alerted his daughter. The surprise didn't work.
Unpredictable father-in-law
Donald Trump has accomplished more than any other US president in my life. He was cautious and prudent when making political decisions. Our enemies feared us, our partners respected us, and our allies could once again count on us. Yes, he didn't take himself too seriously. But this is precisely part of what ultimately made Trump successful in achieving his foreign policy goals, because the leaders of other countries considered him unpredictable.

Ivanka Trump had to convert to Judaism for her lover
A photo: GLOBAL LOOK PRESS
Unexpected Assault
Trump did not know about the impending provocation, which was the storming of the Capitol. And even if I had known, I would never have allowed it. The violent assault on the Capitol was illegal. He did not represent the aspirations of tens of millions of Trump voters who are decent, good, and law-abiding citizens.
Decent Prince
Saudi Crown Prince Mohammed bin Salman is determined to modernize the kingdom and ease restrictions on women there. As for the brutal murder of journalist Jamal Khashoggi, the prince took responsibility for what happened, although he was not at the scene of the murder. The prince claims that he personally is not involved in this. The top-down reforms he brings are far more important than condemnation.
Another failure
The Palestinians are to blame for the failure of the Israeli-Palestinian settlement plan "From Peace to Prosperity". The president of the autonomy, Mahmoud Abbas, is corrupt, afraid of his people and satisfied with the current status quo. I met with him several times. He smoked constantly, taking a new cigarette from the table every few minutes. He put it in his mouth and waited for the servant to light it. Abbas is more like a king than a representative of the people that the refugees form.
And, of course, the Russian trace
The investigation into Trump's alleged ties to Russia was an unsubstantiated attack that created enormous difficulties during the first 15 months of the presidency. Prosecutors never found anything. There was nothing to look for.
Quite personal
One day I was flying on board the presidential plane, Trump was heading to Texas. White House doctor Sean Conley took me aside and told me that my recent tests had confirmed I had cancer and that I needed immediate surgery. It was decided that it would take place on the eve of Thanksgiving, so that in the bustle of the holidays no one would notice anything, so that the diagnosis would be kept secret from everyone. But Trump was told about it. The day before my trip to the hospital, he called me to the Oval Office, motioned me to close the doors, and asked, "Are you nervous?" I was surprised that he knows everything. And to my question – "where from?" Trump replied: "I am the President. I know everything. I understand that you want to keep everything under wraps. I also like to keep these things to myself. We'll be fine."