News
On the last day of the referendum in Donetsk, Ukraine shelled Democratic Street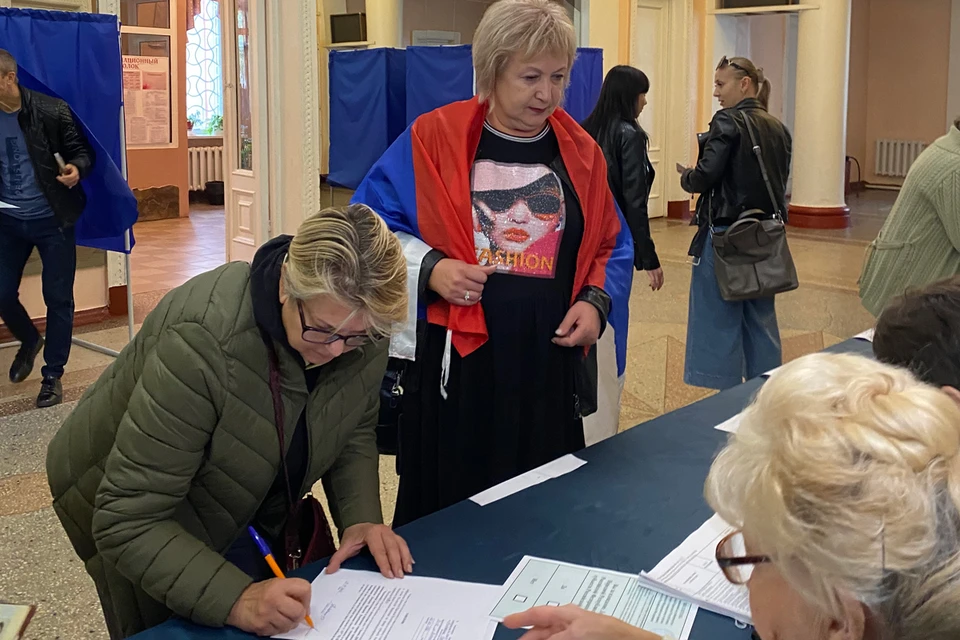 A woman with a Russian flag on her shoulders enters the DC and immediately becomes the object of close attention of everyone, including a couple of Western journalists
A photo: Dmitry STESHIN
Of course, on the day of the final departure of the Donbass to Russia, everyone expected some meanness from the Armed Forces of Ukraine. We were waiting, which means we were ready. From 8 am, air defense began to work in my area. That is, the first Ukrainian rockets went through Donetsk as soon as stationary polling stations opened.
All past voting days, election commissions went around apartments and private houses with ballot boxes. Or they drove minibuses into the quarters, played, for example, the anthem of Russia, and the townspeople began to gather at these sounds. This was done on purpose so as not to turn polling stations into targets for Ukrainian artillery. The tactics paid off. The only thing is that two women from the election commission were shell-shocked in Gorlovka the other day, but they were simply hit by a random shell. Think about these words…

At the Palace of Culture, the roar of guns was drowned out by music bursting from speakers
A photo: Dmitry STESHIN
I'm going to a polling station named after Motorola. The Budenovsky district, which was considered at all times the calmest district of Donetsk, but a few months ago everything changed when NATO howitzers began to reach any point in the city. The area is clearly visible from my window: both yesterday and today, when I write these lines, I see gaps rising above Budyonovka. However, our counter-batteries did not get off the dill in the morning, put pressure on preemption, and answered many times. This is how the last day of the referendum went under continuous cannonade. However, at the Palace of Culture everything was drowned out by music bursting from the speakers and people went to vote in an endless chain, periodically accumulating in an impressive crowd in the foyer …

The chairman of the election commission copied my data from the accreditation, and asked hopefully:
– Well, you won't demand numbers from me?
I made a worried face.
– What, they vote badly?
– No, we will block 90% of the district, but some preliminary data will be available only in the evening. Wait. We'll make it.
I'm waiting. I meet my old friend and colleague Sergei Makarenko. We remember how in 14, near Debaltseve, we walked 300 meters for 40 minutes – we were covered from an automatic grenade launcher and mortars. Then I sat down on a pile of broken glass on a grand scale and didn't even tear my pants. Serega talks about voting in Mariupol:
– I found a woman, the chairman of the electoral committee. Her whole family was shot by dill snipers, four people. They squeezed their nine-year-old daughter on the stairs and did not let her out, they fired, they had fun. Then the apartment was set on fire. I asked her not to take it off.
– Why?
– Afraid for now. That is, she agrees, but after the referendum, how will everything here become Russia. On the other hand, she was not afraid to head the election commission …

The young ladies from the electoral committee in the Kievsky district turned out to be good psychologists, they say, they can see right away who is against
A photo: Dmitry STESHIN
Here Sergei recollects:
I didn't vote myself!
Some kind of disheveled and sweaty comes out of the booth. I ask:
– How are you feeling? Feel? But Sergey is serious:
– Goosebumps on the back of the head. I have been walking towards this day for many years. And as one woman from the Crimea said – "further, let at least stones fall from the sky." Have you met at least one person who voted against?
I shake my head. But I notice:
– The young ladies from the election commission in the Kiev region turned out to be good psychologists, they say, they can immediately see who is against them by their faces. But, yulat, they hide, they say, "we ourselves will come to the site, on Tuesday." But for someone to say – "I don't want to go to Russia", I have never heard such a thing.
I have been looking for these and haven't found them…
A woman with a Russian flag on her shoulders enters the Palace of Culture and immediately becomes the object of close attention of everyone, including a couple of Western journalists. Terribly shy:
– I am for Russia, I want to live in Russia, and I vote for it. Well, what else can be said. I am Russian and I want to live normally.

Everyone answered the same way. And the grandfather, a miner, on crutches, crippled by arthritis, which he "got at the same time in the mine" and the girls from the medical college and the saleswoman from the Mechta store. From the confusion of the minds of 2014, doubts and throwing, a thought was forged, pure and solid, like damask steel.

All ballot boxes are sealed
A photo: Dmitry STESHIN
Are there still citizens of Russia in our country who have endured so much to become our compatriots? Moreover, everyone understands perfectly well that there will be no magic, nothing will end tomorrow. There will be no holiday in honor of the return to Russia, the head of the DPR Denis Pushilin said so, they say we will celebrate "when the situation allows." In the meantime, saying goodbye, Ukraine destroyed several private houses on Democratic Street. In my area where I live for many months. In honor of the Referendum, the democratic expression of the people's will, this was done by former fellow citizens. So that no one is sad about this parting. There are no casualties and thanks for that.