News
Nazi crimes during World War II and Russians in Ukraine – photo exhibition opened in Warsaw
On the next anniversary of the start of the Warsaw Uprising in 1944, a photo exhibition was opened in the capital of Poland, the purpose of which is to compare the crimes of the Nazis during the Second World War and the Russians in Ukraine in 2022.
The opening ceremony was attended by Polish President Andrzej Duda, Vice Marshal of the Sejm of Poland Malgorzata Gosiewska, diplomats from various countries, Polish scouts, media representatives, an Ukrinform correspondent reports.
Polish President Andrzej Duda said that just as the Nazis ruthlessly killed Warsaw rebels in 1944, Russians are killing Ukrainians today. He drew attention to the similarity of photographs 78 years ago and current ones from Ukraine.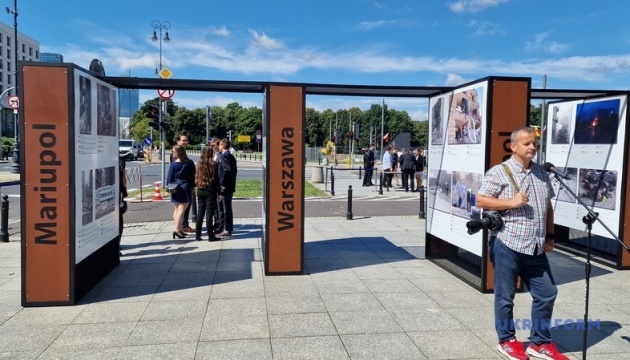 A photo exhibition "Warsaw-Mariupol: Cities of Ruins, Cities of Struggle, Cities of Hope" has opened in Warsaw / Photo: Yury Banakhevich, Ukrinform


"These photographs are dramatic, some even very dramatic, but what was so dramatic was what happened in Warsaw during World War II, in particular during the Warsaw Uprising, when there were battles here and when the Germans ruthlessly killed civilians in the capital. And, unfortunately, Russian aggression against Ukraine is just as ruthless today," Duda stressed.
Read also: Photo exhibition "Look! Mariupol!
The Polish leader stressed that all those responsible for crimes in Ukraine must be punished.
According to him, it is necessary to show history and modernity as they are. "This is a warning for present and future generations," Duda said.
In turn, Vice-Marshal of the Seimas of the Republic of Poland Gosevskaya stressed that these photographs testify: "German totalitarianism is the same as modern Russian imperialism." She noted that genocide and barbarism are carried out to implement these painful ideologies.
"We know well what totalitarianism and imperialism are. We felt them ourselves, so this exhibition is here. We want to shout out loud: enough! Stop this baseless aggression! Stop making a war criminal a gentleman with whom negotiations are underway!" Gosevskaya stressed.
She emphasized that this exhibition should show the Poles that there is a war going on beyond the eastern border that threatens all of Europe and the world.
Gosevskaya said that the organizers want to show the exhibition in all 16 voivodeship cities, and then abroad. On this occasion, negotiations are underway with the Polish Foreign Ministry and diplomats from other countries.
The exhibition presents 16 pairs of photographs, where, next to a black-and-white photograph of the Warsaw Uprising period, there is a color photograph of one of the Ukrainian cities destroyed by the Russians – Mariupol, Borodyanka, Bucha and others. The photographs are signed in Polish, Ukrainian, English and German.
One of the media partners of the photo exhibition is Ukrinform. The exhibition also presents the works of photojournalists of the agency.
During the Warsaw Uprising, which lasted from August 1 to October 3, 1944, the Nazis killed 150-200 thousand civilians in the Polish capital, practically leveling the left-bank part of Warsaw as a result of shelling and bombing.