News
Muscovites mobilized are being trained at the Alabinsky training ground for combat in urban areas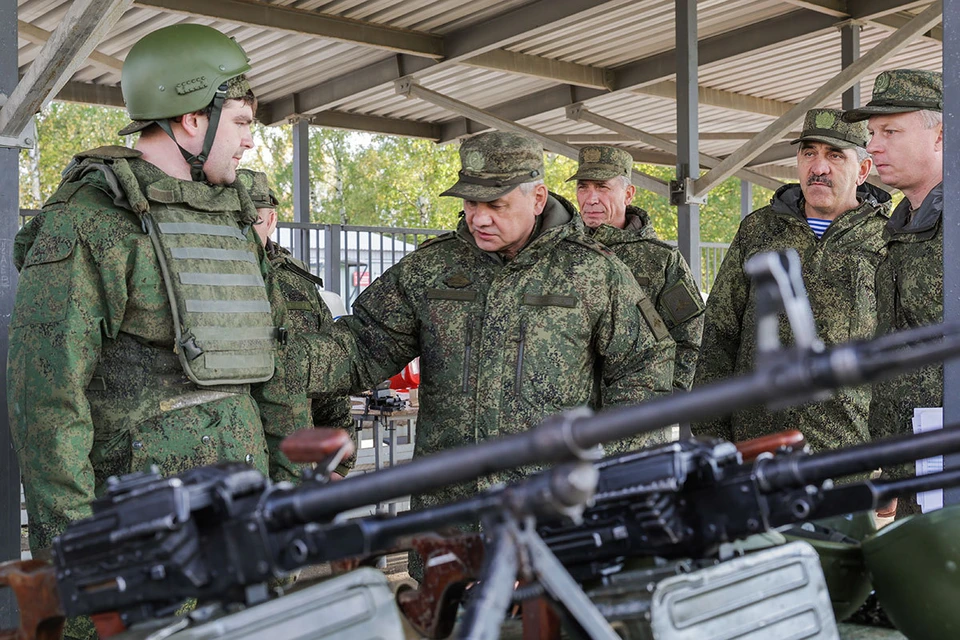 Russian Defense Minister Sergei Shoigu personally checked the preparations for the coordination of units called up from the reserve of citizens at the military training ground in Alabino. Photo: Press Service of the Ministry of Defense of the Russian Federation / TASS
After Russian Defense Minister Sergei Shoigu personally checked the preparations for the coordination of units of citizens called up from the reserve at the military training ground of the Western Military District, journalists were able to talk to the mobilized servicemen.
"He served in Tskhinvali in 2010, and we didn't know about any drones then," says Maxim Isaev, a mobilized soldier. – Compared to those years, you can clearly see how the approach to combat has changed technically and tactically. Drones are different, their quality pleases.
– How about security?
– We were equipped with everything necessary, we were given new uniforms, we were provided with all the material base necessary for the exercises. The training ground, as you can see, is divided into training points: there are places where they separately talk about mines, there are places where we shoot different weapons and armaments. The enormous potential of this weapon is undoubtedly felt.
– Have you used a drone before?
– Familiar. I have at home. Sometimes played outdoors. But the requirements for military drones are completely different. Those at home had a simple camera, here a 30x optical zoom, thermal imagers, drones rise up to 2 kilometers, which allows for excellent reconnaissance.
The journalists looked at how the reserve servicemen were trained in firearms, tactical and medical training.
"Classes are held at the Alabino training ground, they are conducted with increased intensity, including at night," Colonel Sergei Zolotarev, deputy head of the Moscow Higher Command Combined Arms School, commented on the training of the mobilized to journalists. – Combined arms training, tactical exercises are carried out here. The lost skills of military personnel in shooting and driving military vehicles are being restored, and training in drone control is underway. Necessary thing. As they say, whoever has "eyes" in battle will complete his task. We deployed a special training place for training army tactical shooting indoors. We teach combat in urban areas. Such skills for military personnel during a special military operation will be relevant. Separately, in groups, we train on the BMP director as part of the crews of gunners-operators, tank gunners, shooters, grenade launchers, snipers, PC machine gunners. The servicemen understand that we are ready to win, and we will win!
Shoigu drew special attention of the command to the conditions for accommodating and providing mobilized citizens with hot meals both at the location of the unit and at the training grounds.
It should be noted that combat training sessions with military personnel called up for "partial mobilization" are not held in military registration and enlistment offices or military units where doctors, rear services employees work with them and units are being formed. Combat training classes are held on the territory of military training grounds, where servicemen go after handing them personal weapons.