News
Muscovites are buying micro-studios of 14 square meters: experts told what is the benefit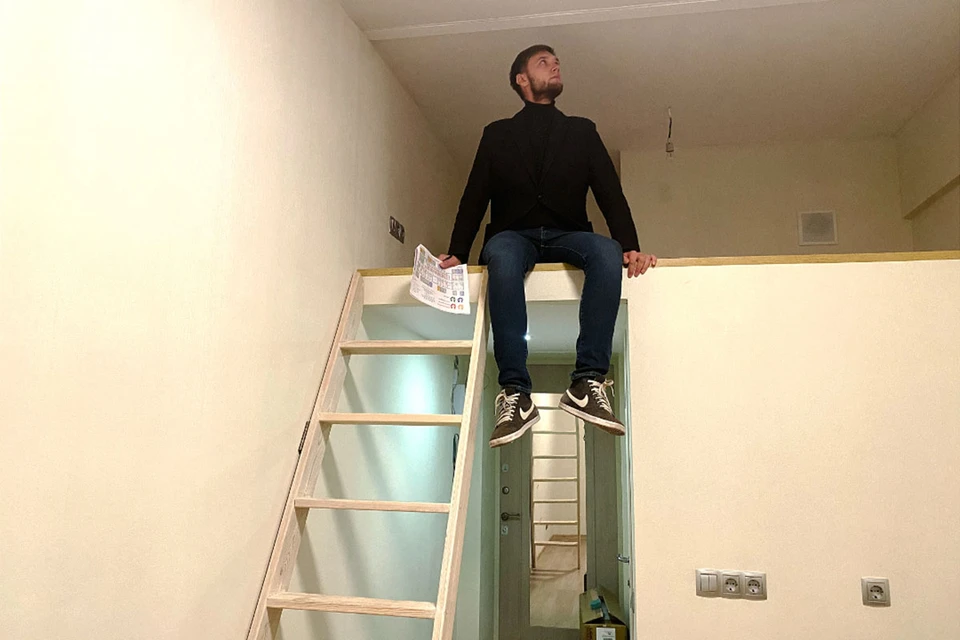 Mezzanine studios are popular. They have a small second floor where you can throw a mattress or make a storage space.
A photo: Andrey ABRAMOV
About seven years ago, someone very important had the imprudence to say that there was a trend to reduce living space. Like, Muscovites and residents of other megacities have long chosen apartments of 20-25 square meters. meters. And this is not a kennel, but the choice of practical people. Indeed, in a big city you are at work 16 hours a day, in a fitness club, theater, nightclub (underline as appropriate). And you actually come home to spend the night.
People then scratched their heads and decided: but it's true! There is a rational grain. Only in the COVID-19 lockdown did some of it settle down. But not the businessmen of the real estate market – developers, real estate brethren and others like them. Now in Moscow it is in the order of things to see an advertisement for the sale of a micro-studio of 10-15 meters. Some don't even have windows.
AND YOU CAN TRADE WITH REGISTRATION
– This is not a micro-studio, but a very good apartment – 16 "squares", – snorted the realtor, whom the KP.RU correspondent called under the guise of a buyer.
I went to the metro station "Rokossovsky Boulevard" – the end of the red line in the East. In the yards there is a former dormitory for medical workers. 1955 built. The building was bought from the city by an investor, changed communications, made cosmetic repairs and please – a newfangled residential complex from tiny apartments of 14 – 18 sq. m ready.
We have apartments in the basement. They are 3-4 million rubles each. And from the first to the fifth floor – apartments (what's the difference – see "By the way") already from 5.5 million rubles. Young man, why are you rolling your eyes? Must take! In this area, an apartment for rent is 40-50 thousand, and it costs from 10 million. You can easily rent in our house for at least 25 thousand. Plus registration to trade! What are you frowning at? What do you think, 50 thousand is superfluous now? Yes, yes, such a tariff is unspoken, – said the representative of the sales office who met me.
I immediately announced: I don't have much money (to be honest, I don't have any at all). So take me to the basement, where you have a windowless micro-apartment.
We go. Neat room. I can't even believe that it is only 15 "squares". Blank walls, kitchen area around the corner. Small bathroom with shower tray. I thought it was something like Raskolnikov's closet, in which bad thoughts about grandmothers climb. But the impression was favorable.
I liked micro-apartments with a window even more. I wouldn't want to live in them myself, but they look cozy. There is even a small niche for a closet, in the bathroom there is a place for a washer. They made a bunch of sockets, wiring – everything is chin-chin.

This is what the complex looks like from the outside. The former dormitory for medical workers after reconstruction looks soundly.
A photo: Andrey ABRAMOV
TOILET WITH A WINDOW
The seller lured:
– Can you get a mortgage? And then you and I will be able to buy a real apartment, not an apartment in the basement. You can also sell it for more. Or take it on the ground floor, then rent it out to a nail salon or a hairdresser. Legal entities also pay well!
I'm interested in the utilities and taxes. For housing and communal services about 2500 rubles a month. The situation with the tax is still uncertain. The house was recently handed over, the tax authorities have not yet contributed to the database. For residential premises (apartments) the standard rate is 0.1%. And for apartments it can be up to 2%.
– According to experience, on average they pay 27 thousand rubles of tax per year. But the rate can be determined even less. You can't guess here, in your tax directives, the seller explained.
Apartments are more interesting. They have a mezzanine: the ceilings are 3.5 meters high, so they make a shelf on which you can put a mountain of things or throw a double mattress. That's just a mezzanine right above the bathroom. Its walls are the thinnest. In some micro-studios, even because of the layout, incidents happen: right behind the toilet and near the shower room there is a huge window.
"It's a matter of life, you'll make blinds," the realtor reassured. — Buy ​​soon, there are only a couple of options left…

Apartment without windows in Moscow is a trend! True, doubtful. The area of ​​this studio is 16 "squares".
A photo: Andrey ABRAMOV
Expert comment
The risks are high, but so is the payback!
Having sobered up emotionally, I thought: this is a conspiracy of realtors! They specifically tell how great it is to own such little ones.
"Most realtors, on the contrary, dissuade clients from buying a micro-studio," a real estate expert, investor, owner of the Trend House real estate agency discourages me. Xenia Avers.
The expert names the main problem of such objects: people fall for fashion, but do not understand documents.
– Half of the studios are now with illegal, illegal redevelopment. For example, wet spots are located above living quarters. It's categorical that you can't do that. People, not understanding, buy, and then they cannot do anything about it. The Moscow Housing Inspection comes to them.
At the same time, according to the interlocutor, the demand for micro-studios is high. The reason is simple: the buyer cannot afford a large apartment. People are trying to save money in real estate.
And it's super profitable! An ordinary apartment in Moscow pays off in 20 – 25 years, and a micro-studio in 6 – 8, maximum 10 years (if you rent out housing, you will recoup the cost in this period – ed.).
And yet, despite such an attractiveness of "babies", Muscovites prefer housing of normal size.
The metropolitan department of Rosreestr (it registers real estate transactions) said that according to the results of a year and a half, apartments on the secondary market were most often bought from 30 to 60 "squares" – one or two rooms. Next come the "mansions" ranging from 60 to 100 square meters. m. Microvariants less than 30 sq.m. — only in third place. Less often they buy housing of a very large area – from 100 "squares".

Correspondent "KP" trying on their dimensions to the microbath. Get in! Confused only by the window in the whole room.
A photo: Andrey ABRAMOV
BY THE WAY
How are the apartments different?
According to the documents, the apartments are non-residential premises. But this does not mean at all that you cannot put furniture, appliances there and live for your own pleasure. Apartments are often built in densely populated areas where, for example, a residential building cannot be built. After all, for each high-rise building there is a standard for the number of clinics, schools, etc. And the apartments are formally non-residential – a loophole in the law.
You can't register there. "Kommunalka" and the tax in them is higher, you can not get a preferential mortgage, spend your mother's capital, issue a tax deduction from the purchase.
HELP "KP"
How did these little ones come about?
In 2014, large country houses were not sold, prices fell seriously during the crisis. But they took loans for their construction. In order not to give the unfinished bank (which will sell for cheap, just to pay off the loan), they began to split up large mansions into parts.
After suburban facilities, attention was paid to large-scale studios. They were often without walls, so that the new owner would do everything to his taste. When the demand for such huge areas fell, they began to divide the apartments in half.
As a result, they realized: but you can divide the area into shares in many places (the main thing is to properly separate wet spots, which, unfortunately, not everyone cares about) and sell. They began to turn former communal apartments, premises on the ground floors into micro-studios. So there were apartments of 18 – 20 square meters. meters and even 8 – 10 meters. As the supply increased, so did the price. If in 2014 it was possible to buy a studio for 790 thousand rubles, now in Moscow it is impossible to find anything cheaper than 3-4 million.