News
Model libraries: technologies, innovations and individual approach to readers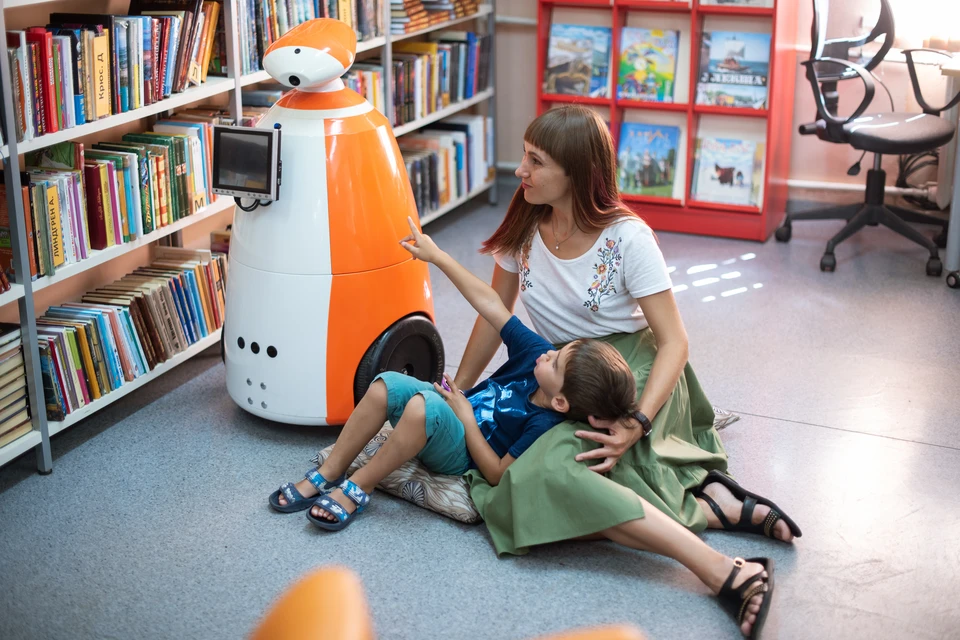 Robot librarian.
A photo: Ksenia TIMOFEEVA
For four years now, libraries across Russia have been actively modernized: from ordinary municipal libraries, they are being transformed into model ones – modern, creative and very bright. Today, they make designer repairs, replenish book stocks, buy robot librarians, organize circles for linguists and bloggers, open art cafes and music lounges. Visitors have more opportunities for cultural leisure and talent development. Experts note that such institutions are becoming real cultural spaces in small towns and cities.
We will talk about some of them in more detail.
IN THE FOOTSTEPS OF ANNA KARENINA
…Zheleznodorozhny is one of the districts of the largest city in the Moscow region – Balashikha. The place is legendary in its own way. It was here near Leo Tolstoy that Anna Karenina (Zhelezka) was founded on the site of the Obiralovka station, threw herself under the train, here is the house-museum of Andrei Bely, a bright writer and poet, who is considered one of the pillars of Russian symbolism. There is also a library number 4 named after Andrei Bely, which was modernized just two years ago.
I will not hide – I come here quite often. Before, about 10 years ago, I took books only for myself. Need Karl Marx's Capital for work? I run "to Belinsky" – they will definitely find it. Although, I confess, I didn't particularly want to visit it without the need: windows that had not been washed for a long time, old books, a booming echo in empty corridors. But lately, more and more often I come with children. Now it is a library-holiday: newly renovated, bright colors… Many illustrated publications for schoolchildren appeared there, comfortable chairs where you can lie with a book in your hands.

Modern libraries look like this.
A photo: Mikhail FROLOV
Also, there are a lot of events taking place there. From the last: on October 16, third grade students of the Orthodox Gymnasium named after John of Kronstadt took part in the action "The miracle in the grain ripens". And on the eve there was a poetry evening dedicated to the 130th anniversary of the birth of Marina Tsvetaeva and the 127th anniversary of the birth of Sergei Yesenin. On October 12, we went to the library for a creative evening of guitarist Alexander Feldberg and his students …
The library has a VR zone, which allows everyone to dive to the bottom of the sea, fly into space or be on the ISS. There is also a cinema hall, there is an opportunity to access the Internet. By the way, the library staff will help young visitors to arrange "Pushkin card"thanks to which young people from 14 to 22 years old can visit museums, theaters, exhibitions, philharmonics, cinemas and other cultural institutions free of charge.
Do you think it's because the library is a stone's throw from Moscow? You are wrong. The work of model libraries is built according to uniform standards, no matter in what remote corners they are located.
URBAN LIVING ROOM
In August 2022, after the renovation, the Central Library of the city was reopened in the city of Uvarovo, Tambov Region. According to the head of the city Vladislav Denisov, it has changed dramatically.
"Our library has become a "city living room", – He speaks Mayor of the city of Uvarovo. – The whole space – the design of the premises, furniture, equipment – is modern. First of all, new opportunities have appeared for those who like to work with electronic versions of the book, since the library has subscriptions to them. It is possible to work on computers. Children are very happy with the multimedia play area, it has become in demand from the first days of opening. At the same time, they not only play, but pay attention to new books, willingly take them to read, that is, the reader's interest of young Uvarov residents is formed.
The head of the city noted that middle and older schoolchildren come here to do their homework. In addition, there was also a creative platform. For creative youth, the library has an art studio, where they are engaged in photography, image processing and video editing.

Now you can work with electronic versions of the book.
A photo: Viktor GUSEINOV
Similar metamorphoses occurred with the Nizhneilimsk central inter-settlement library named after A. N. Radishchev in the Irkutsk region. Its modernization ended at the end of 2021. And since then, its walls have never been empty. According to director of the institution Tatyana Mesnyankinathe library has become absolutely popular.
"Today we have a full house every day, a lot of visitors. It's great to see that we're in such high demand. By the way, residents of the city of Zheleznogorsk-Ilimsky note that our book fund has changed – only industry literature has remained from the old one, we replenish it regularly, " – notes director.
The institution also has a stationary planetarium with a good set of films. A media studio was opened for children – in it, the guys learn to put on the light, shoot, post photos on blogs. There are also a large number of board games, or "board games", as their youth are called. There is also a place to play them – teenagers come to play with whole companies. They also like to use virtual reality helmets, and also take courses in robotics and 3D modeling.
"Even those guys who have 3D pens at home still come to us. They are more interested in doing this with friends, with peers, – He speaks Tatyana Mesnyankina. "And sometimes girls and boys come just to lie in our cocoon chairs to think about something and be alone with themselves.".
It seems that for these children the "smell of the library" is their own. Now it smells not of dust, but of the future…
NEW RENAISSANCE
To date, more than 800 model libraries have been opened in Russia. The project is developing much faster than originally planned. In early October, Russian President Vladimir Putin held a working meeting with Minister of Culture Olga Lyubimova. She informed the head of state about the successful development of the national project "Culture"including support for municipal museums of local lore, rural houses of culture and the creation of model libraries.

Within five years, 110 institutions will be updated annually.
A photo: Mikhail FROLOV
"Three years ago we thought about how to modernize the library, how to make it popular with young people? Now they have turned into both an Internet cafe and a meeting place, and this is an opportunity to bring a small child who is getting acquainted with books for the first time. On the other hand, older people also come there, who read poetry together, celebrate anniversaries, meet artists from regional theaters, – noted Olga Lyubimova. – Now model libraries, local history museums and, perhaps, houses of culture are our basis for working with regions, where we can then send someone on tour. And most importantly, they become places of power, where people of all ages gather."
The expert community also positively assesses the changes that are taking place in domestic libraries. For example, Director General of the Russian State Library (RSL) Vadim Duda believes that libraries in Russia are now experiencing a renaissance, they are undergoing changes that radically change the approach to culture, make it accessible and inclusive.
"We are coordinating activities to modernize libraries as part of the implementation of the national project "Culture" since 2019. It approved a schedule – within five years to annually update 110 institutions. As a result, we have not only achieved these indicators, but even exceeded them. Already, more than 780 model libraries have been opened in the regions, and by the end of the year their number will exceed 850," – noted in an interview with a KP correspondent Vadim Duda.
The head of the legendary Leninka newspaper notes that the project includes not only renovation of premises, connection to modern electronic resources and purchase of equipment, but also support for changes in the intellectual landscape of the regions, innovative approaches to working with readers and interacting with the book.
"In the new generation of libraries, users of different ages enter fashionable spaces with unique concepts, where everything is designed for those who want to work hard, and for those who come to relax, – noted Vadim Duda. – For example, recently in Vologda model library No. 8 opened its doors with the warm name "Literature and Family" – abbreviated as "LiS". It became the symbol of the institution. In these libraries of the project, you can fall in love with reading again, including through the resources of the National Electronic Library (NEB) or its mobile application "NEB Light".
NEXT GOAL – 1000
Over the four years of development of the National Project "Culture" The largest number of modernized libraries was built in Sevastopol – 13% (of the total number of libraries in the region), in the Chechen Republic – 8% and in the Republic of Ingushetia – 6%.
By the end of 2024, it is planned to open at least 1,000 model municipal libraries in Russia. You can find the one closest to your home on the website newlibrary.rf. These are not only book depositories and reading rooms, but also art halls for presentations or multimedia co-working areas for work, communication and learning. There, visitors hold master classes and theatrical performances, go into virtual reality. When creating new cultural spaces, the location and wishes of local residents are taken into account. So, for example, some rooms are decorated in accordance with modern design projects and are focused on the folk motifs of the region. Such institutions quickly respond to the challenges of the time, follow trends and listen carefully to their readers. Employees undergo advanced training and now not only give out books, but also talk about robotics and flights to the moon. And they do this not only with the help of literature, but with the use of new technologies – robots, VR glasses, master classes in 3D modeling.

VR glasses and 3D modeling are already available in some libraries.
A photo: Evgeniya GUSEVA
BY THE WAY
Innovation guarding the culture of the future
Recently, the first high-tech employee appeared in the Republic of Sakha (Yakutia). In the Anabar Central Library, he advises visitors and issues certificates. He can also act as a host of events and talk with visitors on various topics.
The guests of the model library in Yeysk (Krasnodar Territory) are met by the robot Boris – he jokes and communicates, recognizes regular readers by face, greets them and calls them by name, which always brings a smile and a good mood.
This year, the family reading library "Istoki" opened in Nizhnyaya Sogra, a remote area of ​​the city of Abakan (Republic of Khakassia). Thanks to the modernization, new projects were launched here: "BiblioTherapy", "There is such a profession", "School of good manners", a mini-cinema. The book fund was replenished with 2800 new copies. Purchased local history, historical and fiction literature for adults and children, books on family psychology and education, publications about hobbies and hobbies. Young readers will be delighted with interactive toy books, publications with augmented reality technologies.
Library-branch No. 4 in Murmansk received the status of "Smart" after modernization. Almost all processes are automated here: lighting, microclimate, heating and water supply systems work according to "smart home" technology. With the help of the latest high-tech equipment, services are provided here efficiently and quickly. A competent combination of traditional reading, digital information, modern devices and intellectual leisure provides a comfortable stay for both adults and children. The subscription for readers of middle and senior school age has also changed – it has become modern, spacious, with unusual shelving-portholes, which teenagers immediately fell in love with.
One of the most important areas of work of model libraries is the service of readers with disabilities. An inclusive environment is being formed here, specialized equipment is being purchased. For example, for the Otradnenskaya Central Library in the Krasnodar Territory, an electronic hand-held video magnifier was purchased that will help visually impaired children read talking books, publications with enlarged and embossed Braille. All this makes the library an open space accessible to everyone.