News
Maria Zakharova: The Western elite are now being shuffled like a deck of marked cards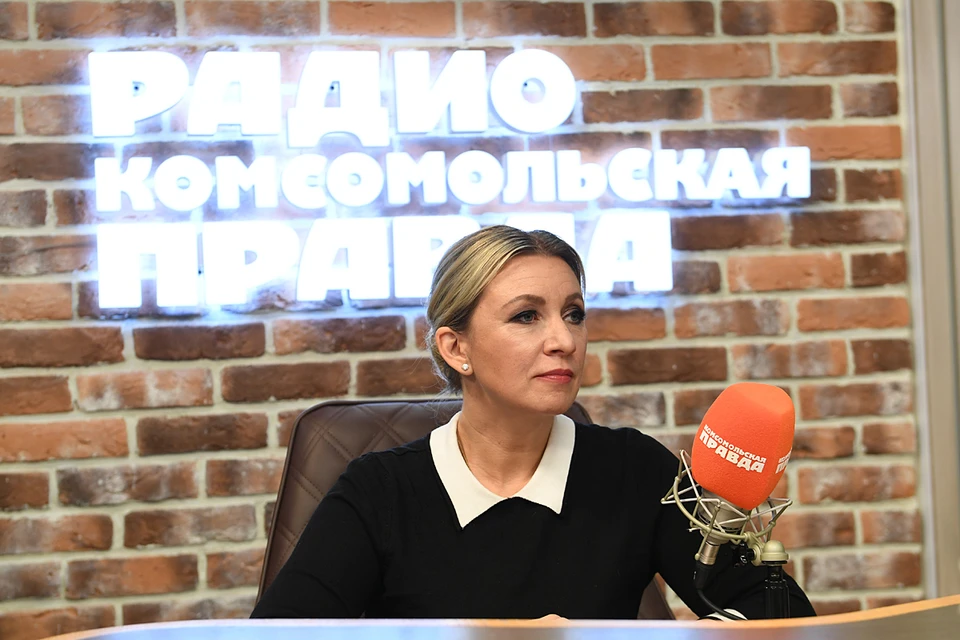 Here is the text version of the conversation
A photo: Ivan MAKEEV
Russian Foreign Ministry Spokesperson Maria Zakharova became a guest of Radio "Komsomolskaya Pravda". Here is the text version of the conversation.
WHOSE JOB IS DONE?
– Maria, the first message question, which allegedly ex-British Prime Minister Liz Truss sent to Anthony Blinken, head of the US State Department, a minute after the sabotage was committed on the Nord Stream. And this message, translated into Russian, literally meant the following: "It's done." Is it really so vulgar that the Anglo-Saxons were pierced? To what extent are the Foreign Ministry sure that it was they who were behind this sabotage?
– About the so-called SMS. For about three days now, the British press has been shocked by the information that Liz Truss, at the time when she was prime minister, had her phone hacked. They immediately gave that these, of course, were Russian hackers. That is, the British audience had to pass by – what exactly was in these very materials from Liz Truss's phone. Amazing story, right? No, wait a minute. Let's figure out what is there.
And then something interesting began. Over the past 24 hours, information has begun to circulate in the Internet sphere that among the revealed information was exactly the very message you are talking about – "It's done." Let me emphasize once again that this data began to circulate in the media environment. What am I doing? I ask London a direct question – did British Prime Minister Liz Truss send a message to the US Secretary of State immediately after the explosion of the gas pipeline with such content. What do you think the Western mass media, which we have declared to be foreign agents, are doing right away? They immediately publish an article that Russia is spreading fakes. No, wait a minute, we don't attribute anything to anyone. We don't distribute anything. We officially, having seen the message, ask the question: "Tell me, was it really or not?" This is an open, honest, professional question. "Yes or no?"

Let me remind you how the British behave. Do you remember when Theresa May was the Prime Minister of Britain? As soon as she received incomprehensible information that some people were walking around somewhere in the Salisbury area. "Highley Likely", they are very similar to those who could be involved in the fact that he carried out an attack on Britain – no less – with a chemical warfare agent. This is just fake. And our question is direct and open.
– You've directly communicated with Liz Truss, haven't you?
– I would ask us not to unite on any basis.
– The President recently called her "a girl a little crazy." This fits a little into the story that is now going through the media – that she could …
– No, the question here is not that she is a girl or someone else. Here the question is that the statements that she makes are from the category of crazy. You will remember how she said she would use nuclear weapons, if anything. It's because she didn't finish her studies. And in fact, this is a big question for the inflated myth of British education – here we see a bright representative, the British Prime Minister, who does not know where which seas are and who freely talks about the use of nuclear weapons. But the problem is much broader. This is a crisis of the Western system as it is. No one chose Liz Truss as prime minister. Can you imagine? Here we are now talking about the model, as they call themselves Western democracy. Nobody chose her. That is, the British did not vote for it either directly or indirectly. That is, if the President of the United States is still at least indirectly elected by people through the electoral system, then no one chose it at all.
– As well as Rishi Sunaka, who came to replace her.
– This deck of marked cards is shuffled as the political elite needs. We are accustomed to the fact that the word "elite" is always used in the highest meaning. But in reality, this is not the case now.

MANIPULATION WITH NUMBERS
– The President stressed that Russia did not withdraw from the grain deal, but only suspended it. What kind of guarantees do we expect from Ukraine and is there any progress on the other side to give them?
– Some time ago, all the world's media, at the suggestion of, of course, the US State Department, the White House, the British Foreign Office, began to shout that world food security is in danger. There was a classic world-class PR company, behind which stood those who made huge money on this, both on the PR company itself and on this very food. The UN Secretary General came to the fore in this situation a few months ago and proposed a package deal. The passage of Ukrainian food should be unblocked and at the same time Russian fertilizers and agricultural products will also be able to get some promotion on world markets. And since this initiative comes from the UN Secretary General, everyone should believe in it, because he is like an honest broker.
Relevant agreements were indeed concluded. Only then did some very interesting facts begin to emerge. Firstly, only the first part of the deal worked, which ensured the promotion of Ukrainian food to these very world markets. Secondly, none of the poorest, neediest and starving countries began to receive it. All this began to come to the so-called western base. That is, to private Western offices, companies that made huge money on this.
But you can't do anything against numbers! Although the numbers are manipulated.
Let me quote Mr. Price, a representative of the US State Department. He stated literally the following at a briefing on October 31: "As of yesterday, over 9.5 million tons of grain and other food products were transported from Ukrainian ports as part of the initiative, a total of about four hundred flights. The vast majority of wheat exported under this initiative – 66% or two-thirds – was sent to developing countries. Moreover, 19% of these 9.5 million tons were sent to the least developed countries of the world."

How interesting! It's just tears welling up in our eyes, what disinterested, pure and sincere people the employees of the US State Department are. You know how – I can't eat, just let others feed. Look at how cleverly concepts are being substituted before our eyes. 9.5 million grains and other food products – corn, sunflower seeds, soybeans, rapeseed, sunflower oil. All this is substituted for wheat alone, which gives percentage excerpts that coincide with the convenient picture of the UN structures. But according to UN data, a slightly different figure for the volume of wheat exports from Ukraine appears as part of the implementation of the grain deal. This is 2.3 million tons. Or 30% of all deliveries, not 9.5 million, as Price said. Great, right? And about the distribution of the remaining seven million tons of food, Price does not want to say anything at all.
And it would have to. Here, in the same UN report, the volume of corn supplies under the grain deal is 3.3 million tons. 68% of them are exported to developed countries. Not developing, but developed. 68%. And only the rest, that is, only a third – to developing ones. Do you know how many for the poorest? Zero.
You know, it's like that every day. The second part is even scarier. This is what happened early in the morning of October 29, when, under the cover of a humanitarian operation, the armed forces of Ukraine, led by British specialists, they tried to strike at our ships, which provided this very food deal. When asked – who do you want guarantees from? Yes, from everyone who signed up for this deal. And first of all from the United Nations, which acted as an intermediary and guarantor, and offered these schemes itself. And we need to make sure that all those who are behind the Kyiv regime, as long as they are the beneficiaries of this very grain deal, understand that no such provocations, and this is no longer a provocation – this is a terrorist act – will no longer take place.