News
Loneliness, a nursing home and a terrible disease: why the death of Boris Moiseev is deliverance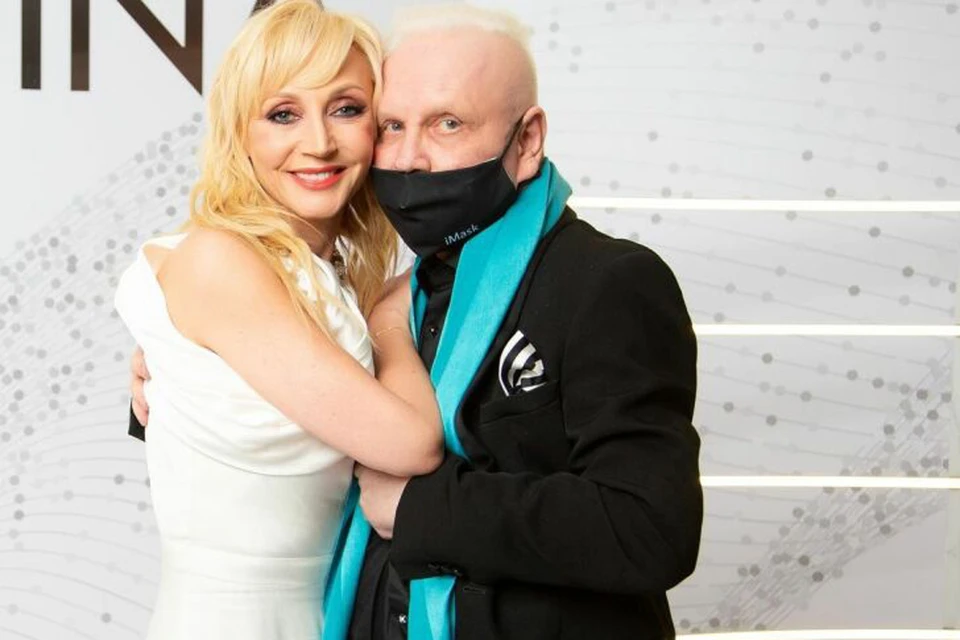 Boris Moiseev sometimes called Christina Orbakaite a daughter – he did not have his own children. As a child, Boris took little Christina to rest. A couple of years ago, he gave her his apartment in Jurmala. In the photo – Boris in 2021 at the anniversary of Christina
A photo: SOCIAL NETWORK
Singer, choreographer and dancer Boris Moiseev died at home. The artist was sick and rarely left the house after the third stroke. However, the day before the death of Moiseev visited by his director Sergei GorokhBoris also communicated via video link with a friend, an honored artist Giey Eradze – nothing foreshadowed trouble. Boris Moiseev was 68 years old, but once a fortune teller told him that he would live to be 86 … In 2006, Moiseev was awarded the title of Honored Artist of Russia and now they say that the funeral will possibly take place at the Troekurovsky cemetery.
In the meantime, friends and colleagues are waiting for messages about the exact date and place of the funeral and remember Boris Moiseev.
Elena Sparrow before Moiseeva's illness, she recorded duets with him, but in recent years she did not communicate – she called, but he did not pick up the phone. Boris himself decided after the second stroke to communicate with a narrow circle of star friends, among whom were – Nelli Kobzon, Alla Pugacheva, Kristina Orbakaite, Lolita, Gia Eradze, Nadezhda Babkina and other artists. Moiseev had partial problems with speech and motor skills after strokes, so he did not want a wide audience to remember him in this state. I wanted to stay in my memory full of strength and cheerful. Elena Vorobey shared her emotions: "For me, this partner was like an actor, as a person, priceless, unique. This is a piece goods – there is a paradox in it. In the past, I can't talk about it yet. Unique! He was a real artist, showman. He was loved by the audience, he was always in the spotlight."

Moiseev with his closest friends – Sergey Gorokh and Alla Pugacheva
A photo: social network
Nadezhda Babkina always supports fellow comrades who find themselves in a difficult life situation. The artistic director of the Russian Song Theater did not forget about the honored artist. Including attracted to various activities: so Moiseev participated in the action of the Starry Hour theater: the audience could buy tickets for performances from the cashier-star – Boris responded and came; he sold tickets in a chic chair from the administrator's window, and people asked for a photo as a keepsake – he did not refuse anyone. Moiseev often attended performances of the Russian Song. After a stroke in 2011, Boris Moiseev recovered, and in 2015 he gave two concerts at the Russian Song Theater – they were the last in his career. Then there was a second stroke, due to which speech was disturbed, then the artist said that he was now a "deserved pensioner". Nadezhda Georgievna honored the memory of her colleague: "My friend, the brilliant artist Boris Moiseev, has passed away. We all knew about his illness. Borya did not go on stage, lately he could not appear in public … Borya invented a genre in which he had no equal. It was a melodic reclamation to music framed by a bright show with amazing choreography. No wonder Borya is a professional choreographer. We repeatedly went on the same stage with him, once participated in the filming of "Blue Light", performing the folk song "I'll go out into the street, I'll look at the village." The number was a huge success with the audience … Bitter. Painfully. It's a shame. But everyone has their time. I express my sincere condolences to the relatives of Boris Moiseev and to us, his viewers."

Lolita and Boris with her gift Lorik the clown. This doll stood by Moiseev's bed until the last day of his life.
A photo: social network
Lolita before Boris Moiseev's illness, she spent a lot of time with him – they were friends. When I got sick, I visited. Lolita said that lately she did not understand everything that Boris said – the director of the artist Sergey Gorokh became the "translator". Lolita in the Malakhov program recalled stories from communication with Moiseev. Many years ago, Lolita vacationed with Boris Moiseev in the United Arab Emirates, where she bought and gave him a life-size puppet. Boris called her Lolik the Clown, and she always stood by his bed – until the last day. And Lolita left a lot of gifts from a friend – earrings, jewelry: he was always very attentive. So far, Lolita has only tragic memories, not up to joyful stories – although there were many of them: "Over time, we all went into our experiences … But Goroshek (Boris Moiseev's director Sergey Gorokh – ed.) Always reminded: call Borya, write Bora He enjoys when he reads. Yesterday I remembered in a conversation with Serezha Gorokh: how Borka and I often gathered in my kitchen after concerts and sat; total loneliness connected us, and so we planned with him – that someday we will sell all our property and open a nursing home with him, where we will live together. And Borka and I were both afraid that someday it would happen that one of us would die, and the apartment would be opened when it was already too late – we joked and said: "The main thing is not to stink the apartment with cadaveric poison …" For Borya this is deliverance. This is a man with an irrepressible sense of humor, ability to work, inner spiritual beauty, intelligence – and for him not to work and be unclaimed is a disaster: leaving for that world is a great deliverance for him. And for us, another reminder that our profession is hellish. Think a hundred times before sending your children into this profession. Few of us can count on such a Sergey who will open the door and generally babysit you for so many years. Serezha Gorokh did a lot to get Borya to start working after his first stroke. And thanks to the TV people for editing his interview – because Borya did not speak well … "
Vladimir Vinokur notes Moiseev's talent as a singer, showman and dancer, as well as personal qualities: "The most important thing is Borya Moiseev is a kind and sympathetic person!"
Christina Orbakaite as a child, she went on vacation with her mother's friend Boris Moiseev when her parent was on tour. In August 1986, Moiseev was vacationing with Christina in Dagomys and decided to go on a cruise with the child on the Admiral Nakhimov – an invitation was received. Before I went to the telegraph office – I called Pugacheva and asked permission: is it possible to go on a cruise with Christina, Alla Borisovna categorically forbade even going on board. Then the ship "Admiral Nakhimov" sank, killing hundreds of people. So Pugacheva saved the life of a friend and daughter – many say that the singer has the gift of foresight. Orbakaite was very friendly with Boris: "The brightest, most cheerful, talented and courageous Boris, Borenka, Boryusik flew away from us."
Stas Sadalsky speaks about the main phobia of artists: "How terrible it is for an artist to lose the opportunity to go out to the audience. Borya said that he still dreams of the scene, and how he performs on it: "If after death I could reincarnate and start a new life, I would like to be a moth." Farewell, Borya! Fly high!" Sadalsky recalled that in Paris, a soothsayer told Moiseev that he would die at 86, and at 55 there would be many creative successes – heyday. And it's true: at the age of 55, Moiseev recorded an album, there was a successful tour, a lot of filming. But after such an intense creative flowering, a stroke occurred two years later. So the heyday was short-lived. Moiseev hoped that the fortuneteller was not mistaken with the first digit of the forecast – she was not mistaken, but simply saw the numbers 55 and 68 as mirror ones.