News
Larisa Luzhina told how Sergei Gerasimov "imposed" her on Stanislav Rostotsky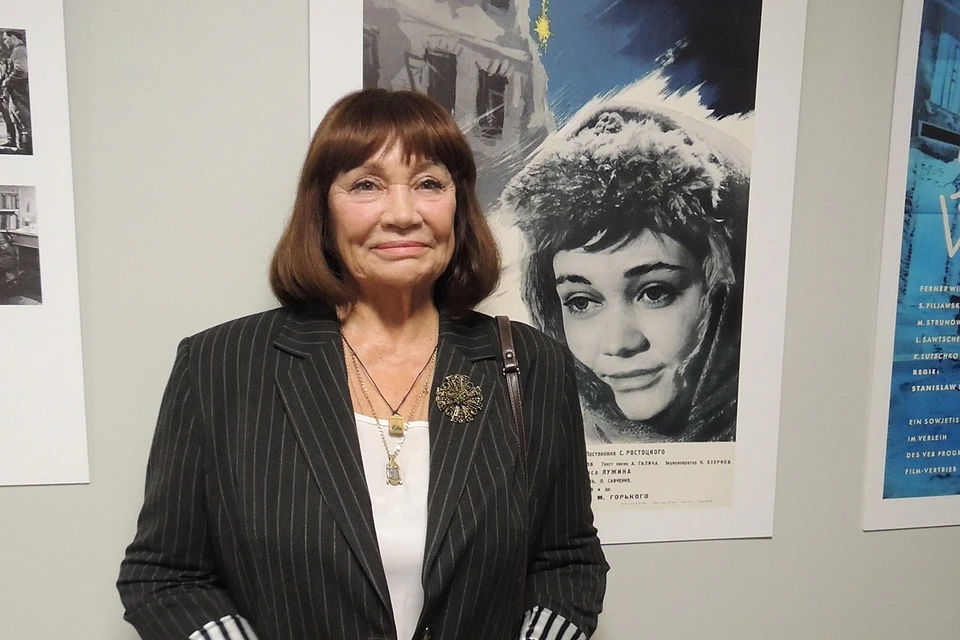 The idea to turn the diaries into a full-fledged interesting book was proposed by the AST literary agent, book producer Svetlana Winter
A photo: Anastasia PLESHAKOV
It's hard to believe, but about director Stanislav Rostotsky, People's Artist of the USSR, recognized as a film classic during his lifetime, who shot "The Dawns Here Are Quiet …", "We'll Live Until Monday", "White Bim Black Ear", "It Was in Penkovo" … not Not a single book has been published to this day. All of his colleagues have been written about, and more than once. Nothing about Rostotsky. Inexplicable.
He restored justice himself … Rostotsky thanks to enthusiasts and his daughter-in-law Marianna Rostotskaya, who discovered the director's diaries. These manuscripts formed the basis of the book, which was published by the AST publishing house – "Happiness is when you are understood." The famous quote from the movie "We'll Live Until Monday."
The idea to turn the diaries into a full-fledged interesting book was proposed by the AST literary agent, book producer Svetlana Winter.
"What we have done is not a biography of Stanislav Iosifovich, not a life invented by someone, not a story invented," Svetlana Winter told KP. – These diaries are such a personal space where you can be free in the wording, where Stanislav Iosifovich was not afraid to be misunderstood and wrote everything he considered necessary. Rostotsky seemed to have lived two lives. The first is public life: People's Artist of the USSR, director of the most famous films, a front-line soldier-order bearer, winner of several State Prizes and twice nominated for an Oscar (for the best film in a foreign language). Few knew about the second life of the director. It bears little resemblance to the life of an eternal victor. Harassment, prohibitions, losses, unbearable physical pain, doubts…
The diaries are not only a sincere story about oneself, but also reflections on how to overcome difficulties, how to behave in extreme situations when it seemed there was no way out. It was very important to release the book in the anniversary year. April marked the 100th anniversary of the birth of Stanislav Rostotsky. Half a century ago, his film about the war "The Dawns Here Are Quiet…" was released. Another of his film masterpieces – "White Bim Black Ear" and 60 years of the film "On the Seven Winds" turned 45 years old. For "Dawns …" and for "Bima …" Rostotsky was nominated for an Oscar.

The AST publishing house published the book "Happiness is when you are understood"
A photo: Anastasia PLESHAKOV
The book contains a story by Stanislav Iosifovich about his many years of friendship with Sergei Eisenstein, whom he considered his teacher in the cinema, and whom he met when he, a 14-year-old boy, was selected for the main role in the film "Bezhin Meadow". Eisenstein then wrote on his photo test: "He laughs well." But Rostotsky's parents decided to protect their son from the cinema and refused to shoot without his knowledge.
But the cinema of his life still has not gone away. Largely thanks to the same Eisenstein, to whom Rostotsky brought his first script when he was already 16. And then there were many more amazing meetings with the world famous film classic.
Actress Larisa Luzhina came to the presentation of the book. She recalled how she was casting for Rostotsky's painting "On the Seven Winds".
"We didn't make friends with Stanislav Iosifovich at first," Luzhina said. – He wanted to shoot another actress in the lead role – Nelli Kornienko. I was literally imposed on Rostotsky by my master at VGIK, Sergei Gerasimov, who had to accommodate his students for the duration of another long film expedition. Sergei Apollinarievich was the artistic director of young directors at the Gorky film studio. Rostotsky could not fail to fulfill his urgent "request". But at the same time, he did not see me as a heroine. Because of this, difficulties arose. He begged Gerasimov to change me for Kornienko, as he wanted. Like, I'm still an inexperienced actress, I won't pull out the main role. To which Gerasimov answered him: "Yes, Luzhina is still raw clay, but that's why you are a sculptor. Go work with her." Rostotsky resigned himself – there was nowhere to go. Then, during the filming process, we became friends. I am grateful to fate for bringing me together with such a director. He was a charming, witty, cheerful, sociable person. Rostotsky was very fond of women and actresses. It is no coincidence that in his films there are such stunning female portraits, although this is also the merit of the cameraman Vyacheslav Shumsky. But it was Rostotsky who gave a start in life and in the profession to so many actresses: Irina Pechernikova, Olga Ostroumova, Ekaterina Markova, me … Almost everyone was in love with him. Nevertheless, no matter how much sympathy he had for his heroines, he adored his wife Nina Menshikova. And always came back to her…
The book "Happiness is when you are understood" tells not only about filming a movie, but also about doubts, searches, disappointments and loves of the great director.