News
Kuleba at the UN urged not to let Russia block the Black Sea Grain Initiative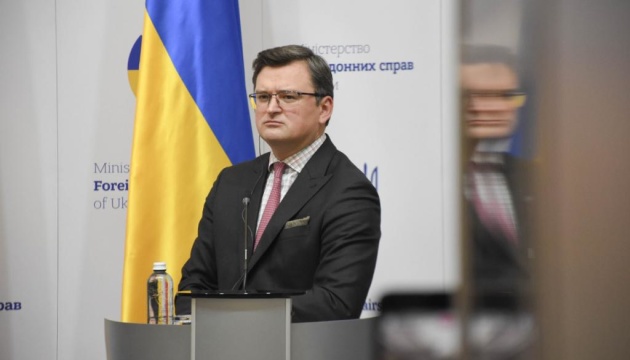 Ukraine calls on the UN states to put pressure on Russia and prevent it from blocking the continuation of the Black Sea Grain Initiative and starting new "hunger games" with the world.
According to an Ukrinform correspondent, Ukrainian Foreign Minister Dmytro Kuleba said this at a meeting of the UN Security Council at the ministerial level on combating impunity in connection with the Russian war in Ukraine.
"Today, the Black Sea Grain Initiative is under threat. Russian officials are jeopardizing the effectiveness of the corridor and may prepare to block the extension of this initiative after the agreed 120-day deadline has passed. We cannot allow Russia to resume these hunger games with the world," he said. he.
The head of the Ukrainian Foreign Ministry called on all countries, "especially those that depend on Ukrainian food exports," to exert "maximum public and diplomatic pressure on Moscow so that the Black Sea Grain Corridor remains open after November." "We must protect the vital grain initiative together," he stressed.
Kuleba recalled that earlier Russia blocked Ukrainian ports and the export of grain through them, thereby demonstrating its readiness "to endanger millions of people in Asia and Africa in the Middle East and create a threat of starvation only to achieve its imperialist goals." This threat of starvation was averted after the unblocking of ports thanks to the Black Sea Grain Initiative, brokered by the UN and Turkey.
The minister also pointed to the Russian leader's lies about the functioning of this initiative: "Putin recently lied when he said that most of the grain was sent to European countries. In fact, two-thirds of the grain was sent to consumers in Asia, Africa and the Middle East" .
He also added that Ukraine, despite its own difficult humanitarian situation, decided to allocate humanitarian aid to Ethiopia and Somalia by sending additional volumes of grain to these countries.
As reported, on July 22, an international agreement was signed in Istanbul to unblock Ukrainian ports for the export of grain. Ukraine has signed a document with Turkey and the UN. The mirror agreement was also signed by Russia. The preliminary term of the agreement is 120 days.
Photo: Ministry of Foreign Affairs of Ukraine