News
Krasny Lyman, the latest news on the situation on October 3, 2022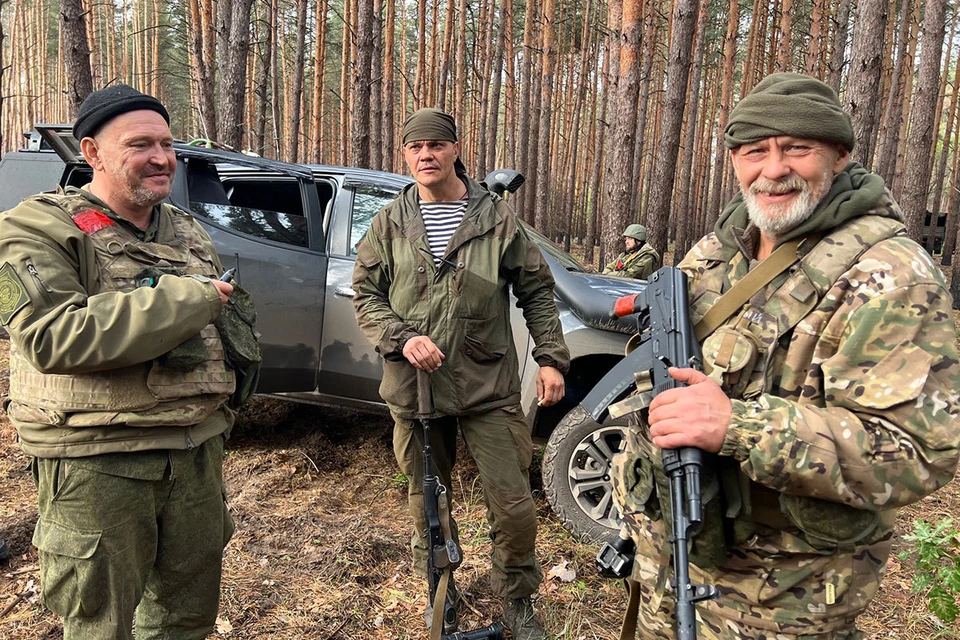 Volunteer battalion BARS-13 takes up new positions and is waiting for replenishment.
A photo: Alexander KOTS
The officer of the volunteer battalion BARS-13 with the call sign "Magician", as they say here, is on experience. In 1990 he graduated from the paratrooper school, got to serve in the Odessa region. From the moment when the Union cracked at the seams, it began to wander around the flaming republics, then a unit was withdrawn to Ivanovo. As part of a combined battalion, he fought in Chechnya. And he graduated from the service as the head of the airborne training service in the 38th separate communications regiment of the Airborne Forces. My own. I served there in the mid 90s.
In May, "Magician" came to "surrender" to the military registration and enlistment office, but the retired major was told that he was already old for the army. At the age of 53. In Telegram, I saw an announcement about the recruitment of volunteers for BARS-13, commanded by an experienced battalion commander Sergei Fomchenkov, and without hesitation went to fight.
– In the first Chechen one, there was mostly shooting. And artillery – only from our side. And here rockets, guns – against each other. Infantry – in rare cases, when we are already entering settlements, – the "Wizard" compares his wars.
While he and his battalion are digging trenches near Kremennaya in the Lugansk region, his eldest son, a paratrooper, is fighting near Nikolaev, as part of his father's native 98th Guards Division.
– Pashok, hello! the major smiles at me for the camera. – Hang in there, guys!

Battalion soldiers with battalion commander Sergei Fomchenkov.
A photo: Alexander KOTS
– You have a dynasty, just like Simonov in The Son of an Artilleryman.
– Exactly. "Major Deev had a comrade – Major Petrov," he immediately recalled the first lines.
Bars-13 is one of those units that retreated for the second time. First, from under Izyum, where the battalion first stormed Bogorodichne, then stood in the so-called "Sherwood Forest" – one of the most "hot spots". Then, after withdrawing from the Kharkov region, they held the defense in Drobyshevo, on the right flank of Krasny Liman. It is immediately clear from them that these are ordinary war workers on whom the front has been held up throughout our history. No show-offs, excesses in equipment, bravado.
What kind of people are fighting next to you? – I ask "Wizard".
– Ordinary men who do their job. These are real heroes. When they stood in Drobyshevo under this shelling, when they beat the Poles, Romanians, they just did their job. Motivation? To be honest, Sasha is different. Someone came to pay for the mortgage, someone for ideological reasons. Someone to prove to himself that he CAN.

Officer of the volunteer battalion BARS-13 with the call sign "Magician"
A photo: Alexander KOTS
– I see that you are not discouraged after two failures in a row …
– Yes, it turned out that this time the adversary turned out to be stronger, wiser, more cunning. We departed, forgot, took into account the experience, mistakes, and now, taking this into account, we are working further. That's all. Despite the fact that I live in the suburbs, this is my land. Yes, this is Ukraine. I think this is one country, one big Russian people. Just a little foolish. And that's it.
One of the commanders of BARS-13, Luber, was once an entrepreneur, deputy director of a commercial group of enterprises. A man who has taken place and is quite wealthy. He doesn't like to talk a lot about himself, he stands up more for his brothers in arms.
"I want to tell you about this man," he points to a huge fellow with a gloomy face. – I do not know what award the Motherland will give him, but he has already received the most important award. This is the gratitude of mothers, sisters, children, fathers, brothers of those whom he saved. Those whom he brought out of Novoselki.
– My call sign is Cannibal, – the platoon leader introduces himself innocently. – We were repulsing the fourth attack, mortars, ACS were working on us. Our armored personnel carrier was burned, but we stood. The order was given to evacuate within an hour. I had to run under fire to gather people. We put the AGS on the armor and left, firing back. Brought out 24 people.

The fighter with the call sign "Luber" was a businessman.
A photo: Alexander KOTS
– How long have you been serving?
– 3 months.
Who was before the army?
– Worked at the cemetery. director.
– Did you serve in the army?
– Contractor in the border troops, then in the marines. But here, of course, everything is different, everything here is real. Life, death, friends. People open up. Here your adrenaline – you have to have fun. From fighting, from the fact that we remain alive.
Now the "survivors" after leaving Krasny Liman occupy the next line of defense – in front of Kremennaya, already in the LPR. A strategic transport artery passes through it. To the North – towards the Matchmakers. And to the south, towards Rubizhne and Lysichansk. The most beautiful pine forest, porcini mushrooms, generously scattered over the light thicket. If it were not for the close explosions of shells launched from our former positions, one could forget for a couple of minutes that the enemy is trying to break through on courage. DRGs are already approaching a section of the Kremennaya-Svatovo highway. Kremennaya itself is under fire all day. The locals pack their things and leave towards Lugansk. Military engineers are digging tank ditches and laying minefields – they are doing something that was not in the same Liman.
A fighter with the call sign Old – a gray beard, wrinkles of wisdom on his forehead, born in 1961 – grumbles about sore.
– We do not have enough air support. There are not enough ODABs (volumetric detonating bomb). Perhaps they should not be used everywhere, but for certain positions, where there is no local population, where there is a forest, they should be abandoned. Firstly, this psychological motive is very strong. And fortified strongholds can be opened, and the advance of our forces will be much higher.
The old one is from Kyiv. Served in aviation. Once he worked as a technician on the MiG-17, then he flew on the An-26 aircraft as an onboard technician … After the army, he settled in Kharkov. He worked a lot abroad, in Africa. When it became clear how the Maidan ended, he sent the children to Belgorod and went to Luhansk, to the battalion of Mozgovoy "Ghost". Since then, he has been fighting.

Soldiers of the volunteer battalion (call signs "Lyuber", "Cannibal", "Old") say that they are waiting for the arrival of mobilized people to their positions.
A photo: Alexander KOTS
– Hands do not fall after failures?
– No, hands do not fall, – he says firmly and even with a challenge. But don't underestimate the enemy. The enemy is strong and experienced. They have been preparing for this for eight years. They are all dug in, concreted. Therefore, the use of ODABs would be justified. And there would be fewer losses on our side. I believe that a person is the most important value. Moreover, a military man, especially one who has been at war for 3-4 months … They must be protected. Need support, absolutely. And the personnel, by the way, is rushing forward.
– Our mood is like in Lermontov's poetry, – sums up our poetic "open air" Luber. – We retreated silently for a long time, It was annoying, we were waiting for the battle, The old people grumbled: "What are we? For winter quarters? Do not dare, perhaps, the commanders Aliens to tear off their uniforms O Russian bayonets? We feel cared for when we receive humanitarian aid from the mainland – we feel a large country behind us. And this is very important for our soldiers. We know that the Motherland remembers us, will not forget about us. And we will overcome these temporary difficulties. Of course we will overcome.

ADVICE TO THE MOBILIZED
At my request, the men who had been in the thick of this conflict turned to those who would soon arrive at the front.
Magician:
– Guys, what can I say? What is happening here could have happened in Russia. That's why you're being mobilized, men. So that all this trouble does not come to your streets. Firstly, do not lose heart, lament, the devil is not so terrible as he is painted. Believe me, you can beat them and you need to beat them. You don't have to be afraid of anything. What they teach you, if, of course, they teach you, shake it off. We are waiting for you like manna from heaven. Here, for our part, we will prompt, teach, so do not worry, everything is fine here. Relatively, of course, but good. And now don't complain about living conditions, we read in the "cart" about dirty barracks, something else … Guys, believe me, there are no barracks here, here is a forest, here is a field, here is mud, here are puddles. So you have to sleep anywhere, however you like, sometimes you don't even have to eat. But we will always turn our shoulders and cover our backs.
Cannibal:
– It must be experienced. You must survive the first attack. Mentally be prepared. We are all ready to move forward. We are retreating now and are worried about this. We need an offensive. We wait. Come. People are needed. This is the most important resource. The infantry decides the issue. Do not be afraid. Together we will win.
I saw destroyed houses and schools here. It can happen in the city of each of us. We are also looking for people with experience. We will adopt combat experience, they will adopt from us, we already know how to do something … We are waiting for the order to attack.
Luber:
– Do not be afraid, you will fall into our teams, fired, trained, we will help you in everything. Someone still needs to defend their homeland. This is our land. And we didn't just come here. It is watered with the blood of many generations of our ancestors. And we must return it. Otherwise, these Bandera fascists will come to us, to our homes. And if you saw what they do…
I think that Belgorod and Rostov regions understand this very well. And I saw the attitude of the people. When I recently went to Russia for replenishment, I saw the attitude in these border areas. At any request of a soldier, they are ready to do anything. The heroes are real, they are not only here. Heroes across the country. Whoever makes weapons for us, who grows bread for us, who honestly does his work, is a real hero.
READ ALSO
Departure from Krasny Liman: "If necessary, we would have remained there to die. But the command came"
A column of trucks crouched sadly on the side of the road. Dirty peasants with empty eyes smoked thoughtfully, spitting through their teeth. They smelled of sweat and gunpowder. One of the units that had just left the Krasny Liman with a fight, breaking through Torskoye to Kremennaya. We had to leave this city so that a large group would not be surrounded (details)