News
In two regions, employees of recruitment centers were detained for taking bribes
The State Bureau of Investigation detained bribe-takers in the Donetsk and Dnepropetrovsk regions who helped men of military age avoid mobilization.
This is reported press service of the GBRreports Ukrinform.
In particular, in the Donetsk region, employees of the State Bureau of Investigation detained the head of one of the regional territorial recruitment and social support centers of Kramatorsk and an intermediary, a law enforcement officer, who demanded a bribe from a conscript.
"For $2,000, a resident of Kramatorsk liable for military service was promised to provide a certificate of unfitness for military service with his exclusion from military registration. A law enforcement officer was detained in the city of Dnipro while handing over a certificate of unfitness for military service to a person liable for military service," the SBI informed. .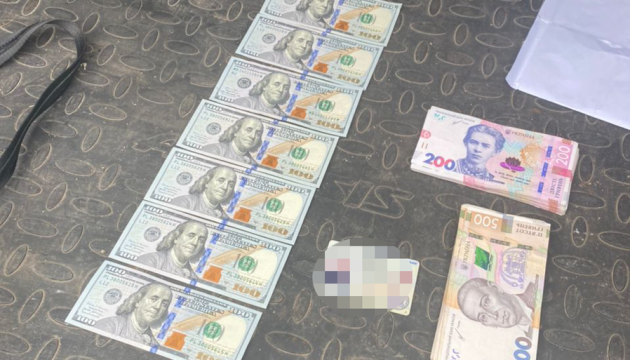 In two regions, employees of recruitment centers were detained on bribes / Photo: dbr.gov.ua


On the same day in Kramatorsk, the head of one of the district military registration and enlistment offices, who had drawn up this certificate, was detained. During the searches, the attackers found money, as well as weapons and ammunition, the origin of which is being investigated. The issue of choosing a measure of restraint in the form of detention is being decided.
In addition, in Dnipro, SBI officers detained a serviceman from one of the departments of the Dnipro Territorial Center for Recruitment and Social Support on a bribe.
Read also: In the Kirovohrad region, teachers of the NAU Flight Academy were detained for bribery
"For UAH 130,000, he promised his conscript friend to help him avoid mobilization. His friend has not been on the agenda several times, and the military registration and enlistment office employee promised to talk to the" right people "and thus help avoid mobilization," the report says.
The attacker was detained while receiving illegal benefits.
A law enforcement officer from Kramatorsk and a serviceman from Dnipro were informed about suspicion in fact
receiving an unlawful benefit for oneself for influencing the decision-making by a person authorized to perform the functions of the state, associated with the demand for such benefit (part 3 of article 369-2 of the Criminal Code).
Read also: SBU officer detained on $60,000 bribe
The head of the regional territorial center for recruitment and social support of the Donetsk region was informed of a suspicion on the fact of obtaining an unlawful benefit by an official, by prior agreement by a group of persons (part 3 of article 368 of the Criminal Code).
Such actions are punishable by up to 10 years in prison.
As reported, according to the materials of the State Border Service, more than 170 criminal proceedings were opened on the illegal transportation of Ukhilians across the border.