News
"In the current situation, it's so calmer": Sheremetyevo Airport is actively switching to its own technological developments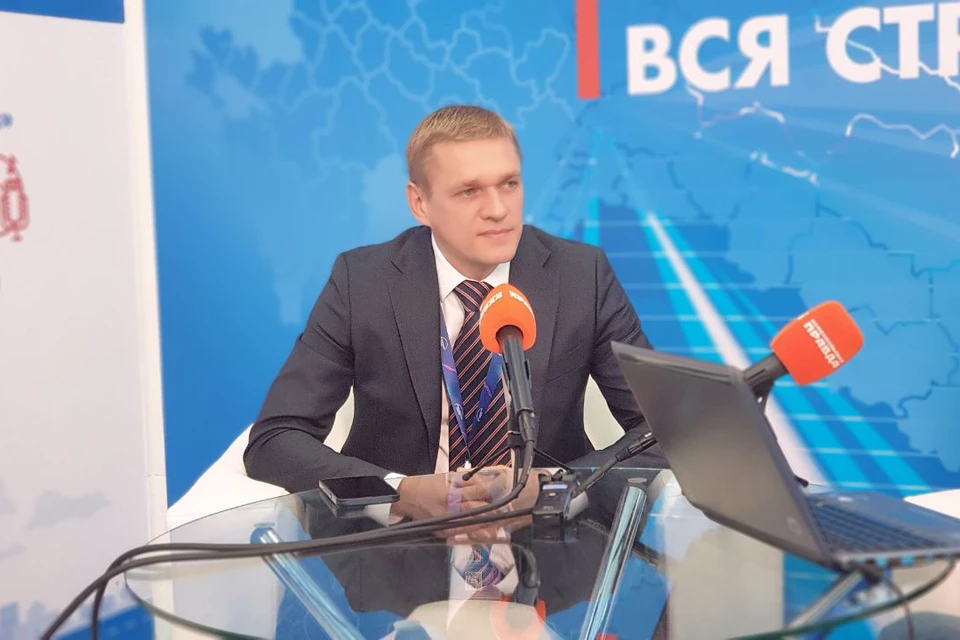 Dmitry Ilyin, Deputy General Director for Information Technology at Sheremetyevo International Airport, in the open studio of the Komsomolskaya Pravda media group
As part of the Transport Week, which takes place in Moscow from November 14 to 19, Dmitry Ilyin, Deputy General Director for Information Technologies of Sheremetyevo International Airport, visited the open studio of the Komsomolskaya Pravda media group.
"ALLOWS TO TAKE LEADING POSITIONS"
– Dmitry Anatolyevich, as part of the Transport Week, Sheremetyevo management demonstrates its own developments and implementation of a digital ecosystem in airport management. Does the airport already use them?
– The digital ecosystem itself combines a whole range of products. For several years we have been developing various pieces of these products. And now we combine all this into a single ecosystem. Of those blocks that we have already developed, this is the airport operational management system – AODB is the airport management operational database, we have been developing it for quite a long time, about 20 years. And this system allows us to take a leading position in terms of punctuality of flights from the point of view of other airports. Moreover, now, as part of the creation of the ecosystem, it will be completely redesigned for domestic software.
The second block is a digital model of the airport. We have been developing this model for more than five years. And it will also become an essential part of our ecosystem.
Therefore, yes, we can say that we have already developed some essential parts of the future ecosystem. They are used in our operations. And they allow us to take first place both in terms of the quality of passenger service and economic efficiency.
– Have you used Western products before?
– Yes, because there are no domestic products on the Russian market of this magnitude. We used world famous manufacturers – Inform, Resa, Amadeus and so on. Specifically, we have now installed a resource management system from the Inform company. And as part of creating an ecosystem, we are changing this system to our own. We are preparing our own product. Given that we use all modern technologies in it, it would probably be more correct to say that we are creating a new level product that will significantly outperform the one that we currently use.
– And those products that you used, they do not suit you with something? Or do you just switch to your own developments?
– Of course, in the current situation it is more peaceful to live. This, of course, is an important component. On the other hand, current products have a fairly large legacy. They were developed over 20 years ago. And despite the fact that they were updated annually by foreign manufacturers, they evolved, they still retained the root elements of the twenty-year-old IT architecture. For some reason, until now, Western manufacturers are in no hurry to apply new and modern digital technologies, such as artificial intelligence, the Internet of things, microservice architecture. Of course, we include all these elements in our new product. I believe that this will allow us to create a product of a completely new generation, which will surpass foreign analogues by an order of magnitude.
TIME TO UNITE
– The role of the Industrial Competence Center is also being discussed at the forum today. How could he contribute to the development of the industry?
– During the time that has passed since the creation of the Industrial Competence Centers, we have spent a lot of effort to understand what problems all enterprises in our industry have. We discussed our products with key players, these are large airports or large airport holdings. Everyone has the same problems. Everyone used foreign products, everyone sees the potential of using modern digital technologies. It is clear that not everyone can afford it, given that airports are of very different sizes. There is a Moscow aviation hub, where there are quite large enterprises, regional airports, as a rule, are smaller. But everyone has the same problems.
Probably, it is large enterprises that will take the lead here that will play a key role. And taking into account the requirements that regional airports have, they will create the product that suits everyone. That is where we are aiming. The product will be modular. Many thanks to all the participants who tell us about their specific requirements, which we, of course, will take into account.
– Is the industry ready to unite in the current situation?
– I think I'm quite ready. Probably, within the framework of the Moscow aviation hub, yes, we have some competition. But we have no competition with regional airports.
– There, as a rule, there is one airport per city …
– … And Moscow airports are not competitors. Therefore, we have nothing to share. Of course, we are ready to unite.