News
In Russia, planes are being dismantled for parts due to sanctions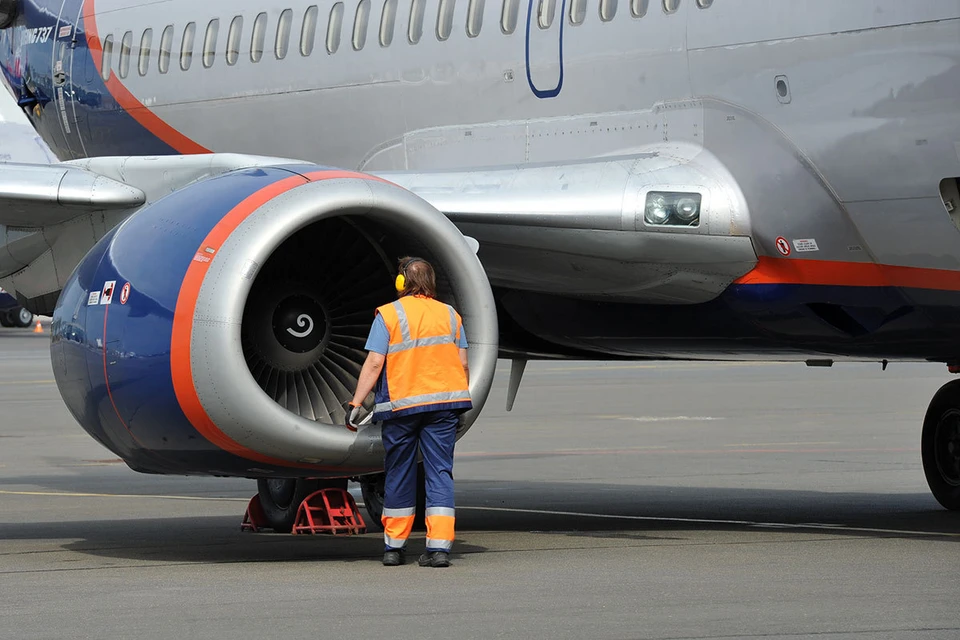 Today, Russian aviation is going through hard times.
A photo: Anatoly ZHDANOV
GO "TO THE AUTHORITIES"
Today, Russian aviation is going through hard times. At first glance, everything is in order. Yes, because of the sanctions, international flights collapsed, but the workload of domestic flights jumped sharply. The summer season set another record, and as a result, compared to last year, the drop in traffic is expected to be minimal.
But the future is in the fog. Planes constantly need to replace parts, repair… Two-thirds of our fleet is imported, and if we take long-range and medium-range transportation, then only "foreigners" fly there. The situation with spare parts falls into a tailspin. Boeing and Airbus refused to supply not only aircraft, but also components for repairs to Russia. And already next summer, if we do not find a way out, our aviation runs the risk of being overwhelmed.
However, there is a way out – for the first time. It's…cannibalization. This terrible word is called a method of repair, when a serviceable part from one aircraft is moved to another. One liner "devours" the other – hence the name.
In world aviation, this is a common practice. But our laws do not provide for such a provision. It is going to be introduced only in March 2023.
– The law is the law, but in fact we have been doing it for so long, – admitted to KP the deputy editor-in-chief of the Aviapanorama magazine, Major General, Honored Military Pilot of the Russian Federation Vladimir Popov. – On one plane, for example, the engine blade flew off, on the other – the aileron (wing element. – Ed.) was hooked during towing. They take a good paddle from the plane where the aileron was damaged and put it on another one. And all, at least one, yes flies. And that one, without a blade and with a broken aileron, is placed at the wall, as they say in our aviation, in the "Kalash row" … This is a normal "donation," Popov explains. – We don't say "cannibalization" in aviation. Failed parts and assemblies are sent for repair, which can last a month or two. What, to stand idle all this time?
But in the current situation, there will be no repaired parts for aircraft cars. And cannibalization will lead to a reduction in the import fleet. If in April there were 592 foreign-made long- and medium-haul aircraft in the country, then by the end of the year there will be 551, according to the government's "Program for the development of the air transport industry of the Russian Federation until 2030", adopted this summer. That is, 41 aircraft will be allowed for spare parts. And by 2025, 30% of the imported aircraft fleet will go to organs.

Only numbers.
A photo: Dmitry POLUKHIN
WILL THE ABROAD HELP US?
Professionals do not see a special tragedy in this. "Given the existing redundancy of capacity, a partial dismantling of some part of the aircraft fleet is acceptable," the said program says.
But the real losses may be higher. And if we abuse "donation", in the near future we risk being left without large aircraft. The domestic aviation industry may not have time to start producing liners to replace Boeings and Airbuses in the required volumes.
Are there other ways to be saved? It turns out that there is: abroad will help us. The old satirical slogan now takes on an absolutely serious meaning. Negotiations between Russian companies and foreign countries are now in full swing. The main hope is in China. China's ambassador to Russia, Zhang Hanhui, said that China is ready to supply aircraft parts to Russia.
"There are two types of enterprises in China that produce parts for aircraft of the world's leading airlines," Surana Radnaeva, general director of Sinoruss (promotion and support of Chinese business in Russia), told KP. – Some work under the license of these companies, receive technical documentation from them and are actually controlled by them. A part from such an enterprise cannot be sent to Russia: this is easily traced, and in case of violation, the same Boeing can impose a fine on the Chinese enterprise or refuse to cooperate at all.
But there are other factories in the PRC.
"Practically the same spare parts are made on them, but such enterprises are not controlled by Boeing and Airbus," continues Radnaeva. – This does not mean that counterfeit or substandard products are made there, the products are certified by the Civil Aviation Administration of China (CAAC). Aircraft components produced at these plants, with the permission of the CAAS, can be sent to Russia. The question is that we promptly carry out certification of such products: according to the current standards, it lasts about a year and a half, since it involves lengthy tests.
By the way, the Program for the Development of Air Transport also mentions the need to switch to a simplified procedure for recognizing a number of foreign certificates of validity. It is curious that, in addition to Chinese, documents from the United States, Canada, Great Britain will be recognized in this mode … It turns out that sanctions are sanctions, but the possibility of delivering these parts to Russia is considered quite real.
However, how exactly this will be done is a purer military secret. Neither the Ministry of Industry and Trade nor the Federal Air Transport Agency answered a single question on the import of spare parts to Komsomolskaya Pravda.
CANNIBALIZATION IS EXAGGERATED
– There will definitely be deliveries from abroad, – Surana Radnaeva is convinced. – There is a law in business: if the transaction is beneficial to all its participants, then it will take place. Russia needs components, it is profitable for China or another country to sell them. Boeing and Airbus also have a benefit: no matter how their parts get to Russia, the money still goes to them. And none of the Western airlines will be too strict about where the part that, say, Turkey ordered is actually located: on a Turkish liner or on another.
Some experts are convinced that foreign spare parts are already coming to Russia.
"It looks like the supply has already been established," Roman Gusarov, editor-in-chief of the avia.ru portal, told KP. – Our civil aviation flies very intensively, in the summer the fleet was used by about 85 percent. At the same time, I have not heard of cases of flight cancellations due to technical reasons. All planes were on the move. If there were not enough spare parts, we would definitely observe long-term postponements of flights, a shortage of aircraft.
According to the expert, it would not have been possible to maintain aviation in working condition only through cannibalization.
– In this case, half of the park would have been dismantled in two months! – the expert is convinced. – We were predicted back in March that in 2-3 months the park would be up and running. Six months have passed, and we are flying. Somewhere they wrote that two aircraft in Aeroflot were allowed for spare parts. So what? The company has almost 200 aircraft (178 foreign and 4 Russian. – Ed.), And two aircraft is a drop in the bucket.

In Soviet times, our fleet consisted entirely of domestic aircraft, so there were no problems with a shortage of spare parts.
A photo: Vladimir VELENGURIN
HOPE FOR IMPORT, BUT DO NOT BAD YOURSELF
In addition to China, there are other countries that are ready to supply us with aircraft parts.
– It is planned to create a consortium with the participation of Iran, India, China and Russia for the repair of aircraft, – Andrey Litvinov, a 1st class pilot, an excellent student of Aeroflot, told KP.
Entrepreneurs have already figured out that they can make good money on this: offers from various companies have appeared on the Internet to supply aircraft components to Russia using parallel import technology.
There is even a conflict of interest.
– There are situations when the Ministry of Industry and Trade, which is also involved in the negotiations, severely limits some supplies, – said Surana Radnaeva. – Because it stands for maximum import substitution – for our airlines to buy products made in Russia, and not just imports.
The experts interviewed by KP generally highly appreciate the capabilities of the domestic aviation industry. We can even organize the production of imported spare parts.
– Our production workers say that if such a task is set, then literally in six months we will present the same parts as imported, only Russian-made, – says Vladimir Popov. – In the end, after the war, we were able to copy the American B-29 bomber that came to us and release our Tu-4, so there will definitely not be any special problems with individual parts.
Although, of course, there are complex components that we are unlikely to handle on our own.
– For example, we will not be able to reproduce a wing or stabilizer for a foreign aircraft yet, – says Popov. – And if they fail, it's probably easier to put the plane into spare parts. We will not be able to carry out serious repairs of foreign engines that require replacement of parts. But you can not repair, but simply put a domestic one instead of a foreign engine. It is only necessary to take into account that ours are heavier, and you will either have to remove a number of seats, or take less cargo.
Verbatim
"It will not be possible to quickly replenish the retiring fleet of foreign aircraft with domestic aircraft – the degree of import dependence of the domestic aviation structure is still high."
(From the Program for the Development of the Air Transport Industry of the Russian Federation until 2030.)
TO THE POINT
Barrier to fakes
The main danger is that if we fail to ensure a steady flow of legal spare parts, then companies will be forced to buy counterfeit products: you have to fly.
Of course, pilots and aviation experts do not even allow the very thought of this in a conversation with a journalist.
But the problem of the "aviation leftist" exists, and it became known even before the sanctions. So, in 2019, the technical committee of Rosstandart "Means and methods of countering falsification and counterfeit" drew attention to the presence of falsification in aviation. Every year, twin parts were identified, that is, having the same numbers. There were up to seven parts with the same number! And there were also cases of falsification of documents and interruption of numbers. Unlicensed parts have sometimes led to serious accidents…
At the same time, then the necessary spare part could be freely bought from Boeing and Airbus. But they bought counterfeit, because it is cheaper.
So cannibalization is better than falsification – especially when the lives of passengers are at stake.