News
In just a day, Biden gave out a whole extravaganza of his new eccentricities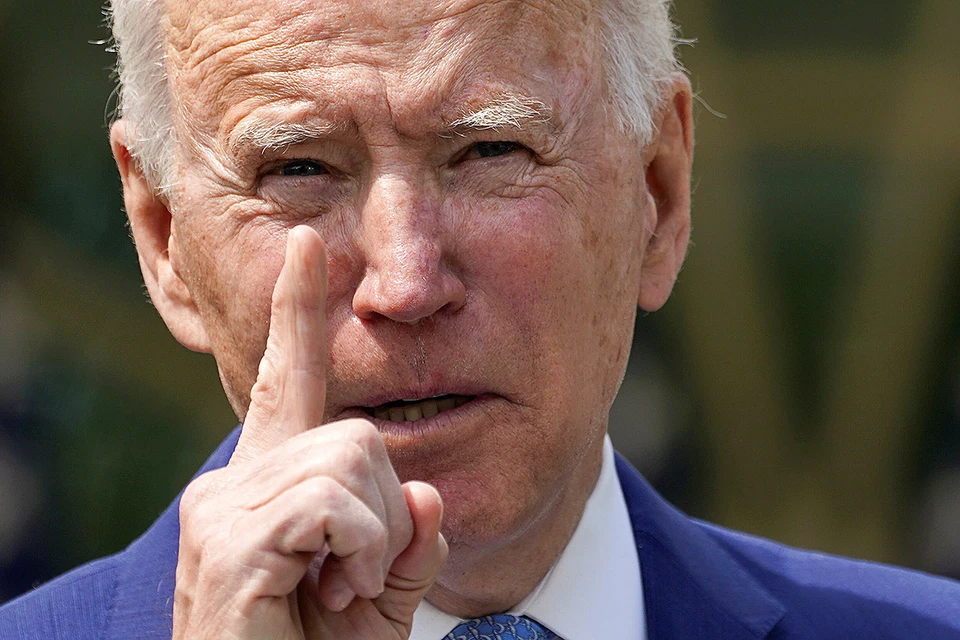 US President Joe Biden.
A photo: REUTERS
Looking at the stooped figure of American President Joseph Biden, briskly trotting off to who knows where, more and more often I want to ask: "Who is this powerful old man? Is he really the father of American democracy and the leader of the most powerful country on the planet?" Joseph Robinnet Biden Jr. is becoming more and more an object of ridicule every day, not only in other countries of the world, but also at home. And the subject of sorrowful torment of members of the American Democratic Party about whether "grandfather" will last until the end of his presidential term.
It only cost the Wall Street Journal writethat Saudi Crown Prince Mohammed bin Salman Al Saud, in private and in a small circle of friends, ridicules Biden's slips of the tongue and unsuccessful improvisations, "Grandpa Joe" added material for ridicule.
In just a day, Joseph Robinnet managed to regain attention with his solo performances. First, he planted some kind of tree in the park in front of the White House, 40-50 meters from the entrance to his residence. Having finished with this difficult task (however, he did not dig anything there himself), the US President, as he likes to do, went to unknown distances. Usually, at such moments, the wife is always on the hook, a couple of times there was a bodyguard from Secretservice in a hare suit, and at Biden's election rallies, the organizers of the event are guarding the podium.

Crown Prince of Saudi Arabia Mohammed bin Salman Al Saud.
A photo: GLOBAL LOOK PRESS
It is characteristic that Biden, with his chronic topographical cretinism, tries to move ostentatiously cheerfully, sometimes even runs a light jog of 5-6 meters, after which he sharply slows down (just like that horse from a gypsy who pumps it with something super-invigorating before selling it) . Probably to prove that he is in good physical shape. Although the president is required to have a head, not legs. As the paralyzed Franklin Delano Roosevelt convincingly proved.
But Biden has his own priorities. Each time, it seems that he wants to run away from everyone. At this crucial moment, the main task of the encirclement and the US Secret Service officers guarding the president is to catch him in time and deploy him in the right direction. So it was this time: before Biden had time to trot even 30 feet, he was "caught".
– Are we going there? Joseph Biden was surprised.
– There, sir, – gently, but insistently prompted him.
– And I wanted to go there, – only the most powerful man on the planet said and showed his hand in the other direction.
"As you wish, sir," the employee answered him, but he did not change the direction in which he turned the president, and Biden obediently trotted in the right direction.
A few hours later, speaking at an event from his work plan, Biden suddenly remembered that his vice president Kamala Harris had a birthday a couple of days ago (actually October 20th) and decided to congratulate her publicly. It would be better to keep silent. Not only did he mix up the dates and age, he also called her a "great president", leaving those around him at a loss: then who is in front of them?
But the main fireworks for the day, the US president arranged, saying that the UK has a new prime minister.
Speaking from the podium on the Indian holiday of Diwali, Biden could not ignore the fact that Rishi Sunak, a Hindu by origin, became the head of the British government, and his speechwriters clearly had to taste to link the holiday with this news.

British Prime Minister Rishi Sunak.
A photo: REUTERS
– We have news that Rashid Sanuk now prime minister. An innovative milestone, and this is important, – said the head of the White House, clearly not understanding why a cheerful healthy laugh suddenly arose around, and then waved his hand and continued. – As my brother would say – go figure it out.
He got out, it even turned out that he didn't mix it up, but troll, hinting that a complete leapfrog is going on with the premieres in the UK.
At the same time, it is difficult to say that he is constantly not aware of where he is, what he is doing, what and with whom he is talking. There are enlightenments. Biden, for example, said he did not want to meet Saudi Crown Prince bin Salman during the G20 summit.
But such insights are becoming less and less common. and on American television, medical experts are already demanding a medical examination of the incumbent's intellectual abilities, and political scientists are increasingly saying that Biden comes across as a clockwork toy that is "wound up" before every event. And then he deflates and begins to "surprise".
But this, for sure, will not happen. No one will ever admit that America is run by a deep old man with dementia, who is less and less aware of where he is and who he is.